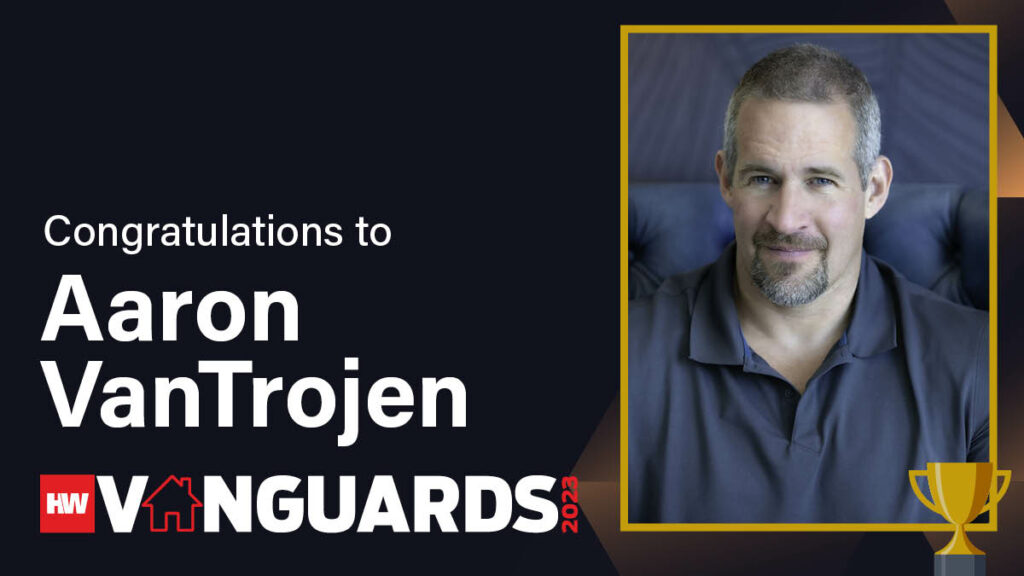 Geneva's Chief Executive Officer and founder, Aaron VanTrojen, has been named a 2023 Vanguard award recipient. VanTrojen is 1 of 100 honorees selected for this prestigious award published by HousingWire.
VanTrojen was chosen by HousingWire's selection committee for the dynamic way he leads Geneva Financial to newer and broader heights.
Aaron believes, "When you work with good humans, success in all forms comes easier." He continues, "Put in the hard work, push yourself in new ways each day, but always prioritize good human character. It'll take you farther, build longer-lasting relationships, and solidify your reputation in any industry."
At Geneva Financial, the #1 Core Value is "Be A Good Human". Geneva works hard to develop a culture that is conducive to the needs and wants of the consumer and employee experience. From day one, Aaron's goal has been to deliver the most inclusive, passionate, and efficient work environment possible.
This is more than just a motto to Aaron. He strives to be the best human he can be day in and day out.
Geneva looks forward to expanding all markets across its 48-state licensure in 2024 by bringing on high-quality branch managers and originators who share our good human ethos and commitment to extend those values to our customers.
Geneva Financial offers a robust line of home buying and refinance products. This includes Conventional, FHA, VA, USDA, Refinance, Reverse, Jumbo, and Condo Financing as well as Down Payment Assistance Programs, First-Time Homebuyer Programs, Physician Loans, and Hero Loans for First Responders, Police, Firefighters, Nurses, and Teachers. The national lender has consistently been awarded Best Mortgage Companies to Work For by multiple sources since the company's inception.
If you are looking to join a top-ranked company with a deeply authentic, human-focused culture, Geneva Financial Home Loans is currently expanding in all markets and seeking team members across the United States. Geneva Financial currently has mortgage job opportunities in 48 states.
Founded in 2007 by Aaron VanTrojen, Geneva Financial is a direct mortgage lender headquartered in Chandler, Ariz., with more than 130 branch locations in 48 states. To learn more about Geneva Financial, visit www.GenevaFi.com.