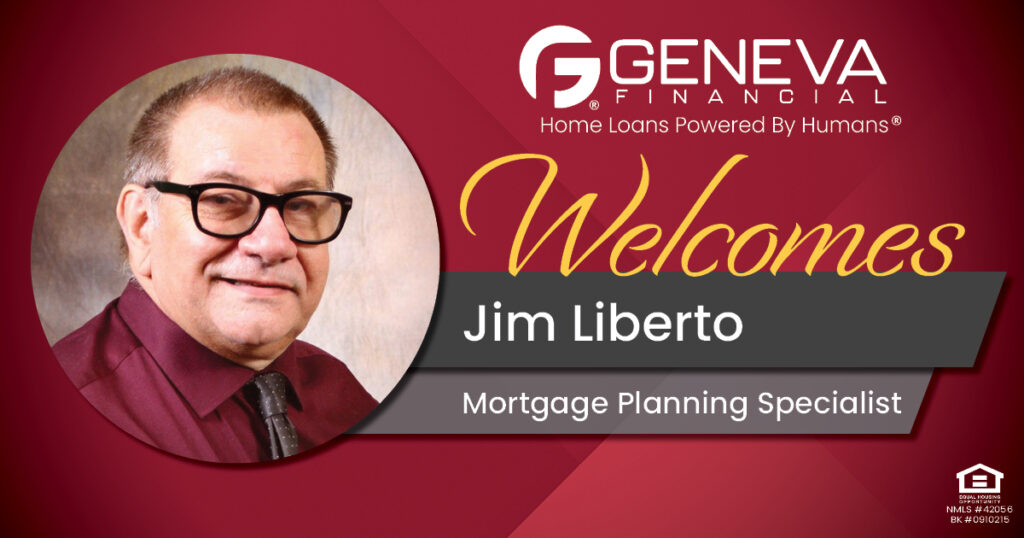 August 9, 2023 – Modesto, CA
Geneva Financial Welcomes New Mortgage Planning Specialist Jim Liberto to California Market
Jim Liberto (NMLS#346145) serves the state of California for purchase, refinance, FHA, VA, USDA, renovation loans, debt consolidation, mortgage refinancing, down payment assistance, and more mortgage options.
Jim Liberto can be reached at:
818-723-7398
About Jim Liberto:
Jim Liberto, a remarkable individual with an extraordinary commitment to his community, proudly serves as a Mortgage Planning Specialist at Geneva Financial. His unwavering dedication to making a difference sets him apart from the rest.
Born with a compassionate heart and a deep sense of responsibility, Jim has always sought to uplift those around him. Joining Geneva Financial as a Mortgage Planning Specialist was a natural fit, as it allowed him to combine his expertise in the mortgage industry with his passion for community service.
Jim's unparalleled commitment to his community is evident in every aspect of his work. He goes above and beyond to support local organizations, sponsor events, and volunteer his time to causes that benefit the less fortunate. Whether it's raising funds for homeless shelters or organizing food drives, Jim is always at the forefront, leading by example.
As a Mortgage Planning Specialist, Jim fosters a culture of giving back within his team. He encourages his colleagues to actively engage in community initiatives and provides them with the resources they need to make a meaningful impact. Under his leadership, the branch has become a beacon of hope, consistently lending a helping hand to those in need.
Beyond his professional achievements, Jim's genuine care for others shines through in his personal life as well. He is known for lending a listening ear, offering a helping hand, and spreading kindness wherever he goes. His dedication to his community extends far beyond the confines of the workplace, touching the lives of individuals from all walks of life.
Jim Liberto's unwavering commitment to his community is truly unparalleled. As a Mortgage Planning Specialist at Geneva Financial, he leads by example, inspiring his team and community to join him in making a positive difference. With his compassion, dedication, and tireless efforts, Jim is a true role model for all who strive to create a better world.
——
About Geneva Financial
Founded in 2007 by Aaron VanTrojen, Geneva Financial (NMLS 42056) is a direct mortgage lender headquartered in Chandler, Arizona with more than 130 branch locations nationwide. Our mission at Geneva Financial is to approach every aspect of our business from the "inside-out". With a culture-forward mindset, we focus on our loan originators and support staff first in order to ensure an unbeatable experience for our customers.

Our Core Values were created as a daily reminder to operate with the inside-out approach in mind. Core Value #1 is the backbone of all our Core Values, our mission, and our brand vision: Home Loans Powered by Humans®. Geneva Financial offers Home Purchase, Conventional, FHA, VA, USDA, Refinance, Reverse, Jumbo, and Condo Financing as well as Down Payment Assistance Programs, Low Credit, First-Time Homebuyer Programs, Physician Loans, Renovation Loans and Hero Loans for First Responders, Police, Firefighters, Nurses, and Teachers. Learn more about Geneva Financial Mortgage Home Loans at www.GenevaFi.com