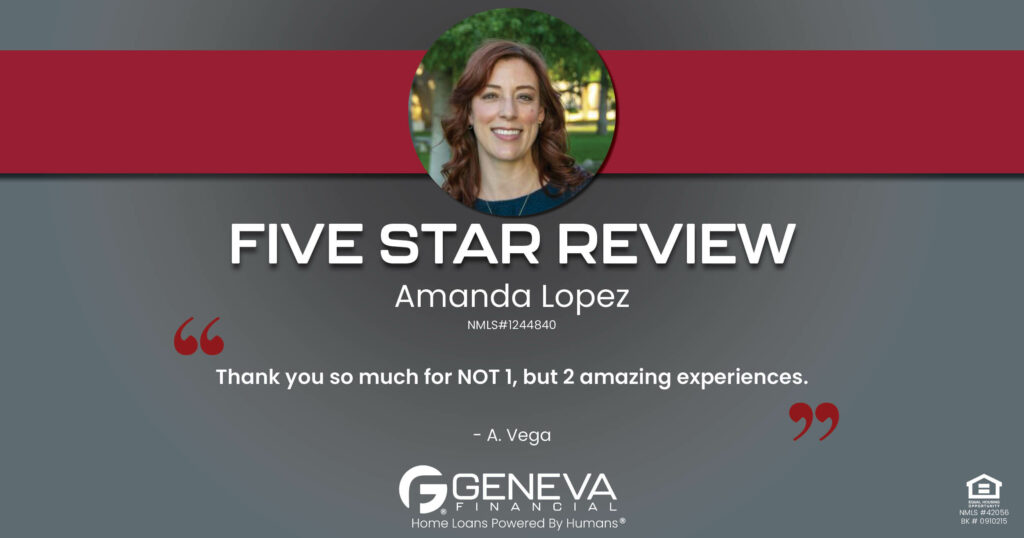 Loan Officer Review
Phoenix, AZ March 9, 2022
Hard for me to even put into words how much love, respect, and gratitude I have for this God-sent soul'dier who was my lender and is now someone I consider a good friend, Amanda Lopez, Thank you so much for NOT 1, but 2 amazing experiences.
My 1st was the purchasing of my childhood/family home… I couldn't see it be sold to the public bc of my pa's blood, sweat, and tears that went into actually helping build the house and all his work inside and outside. Amanda, you made such a scary, anxiety-filled experience feel like a day at the park. From crunching numbers and keeping me well informed/updated on how anything and everything needs to be done; you were with me every step of the way even on your days off when needed.
My 2nd and most recent experience being the refi on the house, and pulling some equity out and still, I was able to close with an AMAZING deal in just a few weeks!! I can't thank you enough!!! You truly are a Godsend.
Amanda Lopez (NMLS#1244840) serves the states of Arizona, California, Indiana, New Mexico, and Oregon for purchase, refinance, FHA, VA, USDA, renovation loans, debt consolidation, mortgage refinancing, and more mortgage options!
Amanda Lopez can be reached at:
602-618-2268
About Geneva Financial
Founded in 2007 by Aaron VanTrojen, Geneva Financial (NMLS 42056) is a direct mortgage lender headquartered in Chandler, Arizona with more than 130 branch locations nationwide. Our mission at Geneva Financial is to approach every aspect of our business from the "inside-out". With a culture-forward mindset, we focus on our loan originators and support staff first in order to ensure an unbeatable experience for our customers.

Our Core Values were created as a daily reminder to operate with the inside-out approach in mind. Core Value #1 is the backbone of all our Core Values, our mission, and our brand vision: Home Loans Powered by Humans®. Geneva Financial offers Home Purchase, Conventional, FHA, VA, USDA, Refinance, Reverse, Jumbo, and Condo Financing as well as Down Payment Assistance Programs, Low Credit, First-Time Homebuyer Programs, Physician Loans, Renovation Loans and Hero Loans for First Responders, Police, Firefighters, Nurses, and Teachers. Learn more about Geneva Financial Mortgage Home Loans at www.GenevaFi.com