Home>> Chicken Tom-Kha Recipe
This Chicken Tom-Kha Recipe will have your friends and family raving. A Geneva favorite, one of our loan officers wanted to share with all of you her most popular dish!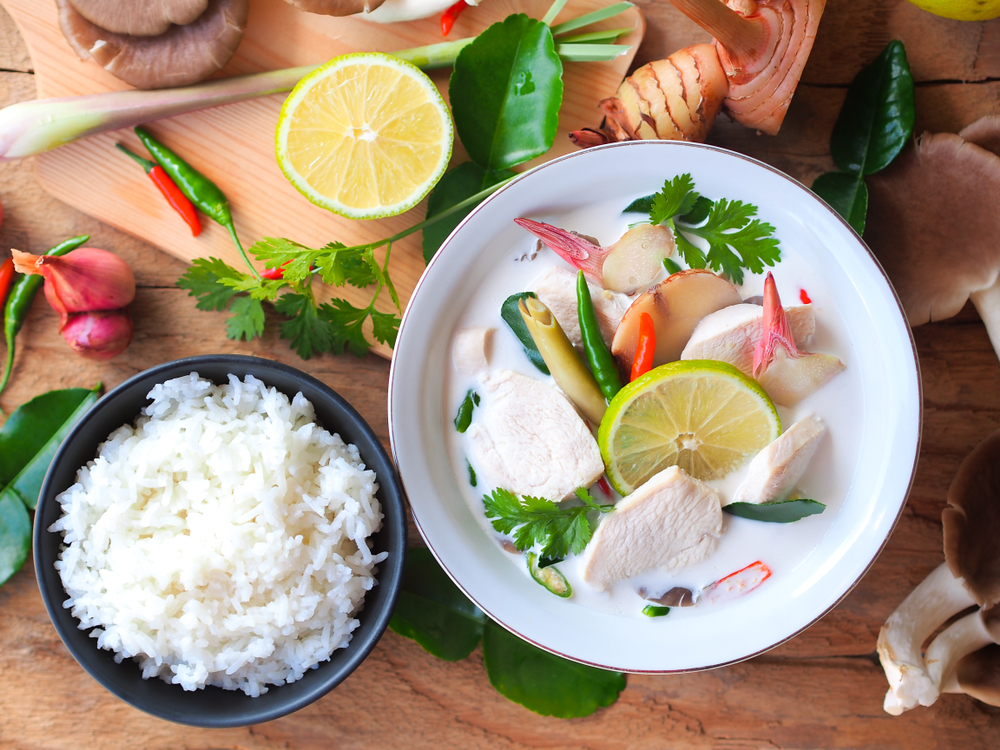 ---
Ingredients
Lemongrass
Kaffir lime leaf
Thai chili
Galanga (look like ginger but different) -These are ingredients that you can get from most Asian markets.
Lime or lemon
Coconut cream in can
Chicken
2-3 cherry tomatoes (to make the soup sweet)
2-3 shallot (small red onion)
Cilantro
Green onion
Chicken broth
Fish sauce
Pink salt
Mushrooms (white mushroom, straw mushroom, oyster mushroom) **White mushrooms are easier to find in an American grocery market. **Straw mushrooms and oyster mushrooms are usually in the Asian market.
Instructions
Dice chicken
Lemongrass – use the hard part. Cut it about 3 inches and crash it. I love the smell, so I usually use 3-4 of them.
Galanga – if it is frozen, just use maybe 4-5 pieces. The fresh one is better. If you can get the fresh one, slice it and use 2-4 pieces.
Thai chili. I just smash it with a knife and chop.
Chop cilantro and green onion
Wash mushrooms and cut them
4-5 Kaffir lime leaves, take the middle part off. You can cut it or use your fingers to hold on the middle part and use another hand and pull down both sides of the leaf.
Add lemongrass, galanga, tomato, and shallot (optional) in chicken broth until boil.
Add chicken but don't stir it. Let it sit in the pot.
Use medium heat not too hot, add coconut cream in the pot. The broth and the coconut cream ratio is 1:2. If you use 200 g of broth then use 400 g of coconut cream. I like it a bit thicker than in a restaurant.
After you add coconut cream, add all mushrooms to the pot.
Add fish sauce, and salt if you don't like the smell of fish sauce. I usually use both. Then add Thai chili.
Grab Kaffir leaf with your hand and crumble them, add them to the pot.
Chef Notes:
I don't add lemon or lime juice inside because the heat will somehow make it bitter. Before you serve, add the lime juice to the bowl and if you love spicy, add more chop chili to the bowl. Add Tom-Kha in the bowl and add chopped cilantro and green onion on top. I eat it with Thai jasmine rice. So good and yummy!
Reach out to Teerena if you have questions or are interested in more incredible Thai dishes!