Home>>Crock Pot Teriyaki Chicken
This week, WellPlated brings us this healthy and easy slow cooker teriyaki chicken recipe, perfect for those with busy schedules wanting to maintain a healthy diet!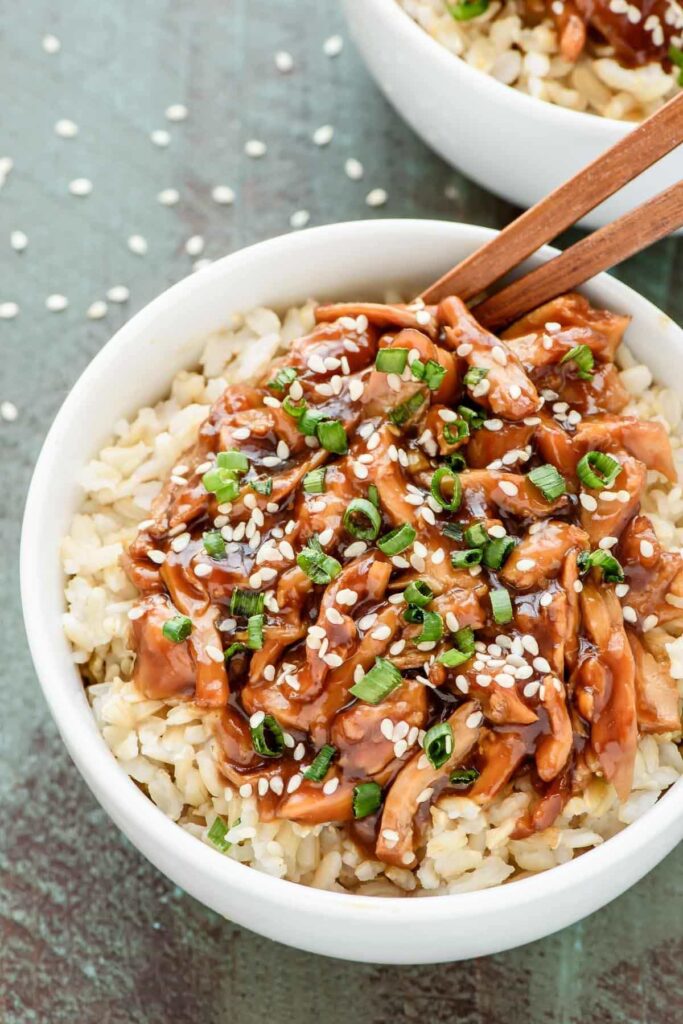 ---
INGREDIENTS
1 1/2 pounds boneless skinless chicken thighs
2/3 cup low-sodium soy sauce
3 tablespoons rice vinegar
3 tablespoons honey
3 tablespoons brown sugar
1 clove garlic minced
1 tablespoon minced fresh ginger
2 tablespoons water
1 tablespoon cornstarch
Toasted sesame seeds for serving
Chopped green onions for serving
Prepared brown rice quinoa, or other whole grain, for serving
PREPARATION
Place the chicken thighs in the bottom of a 6-quart or larger slow cooker.
In a medium bowl or large measuring cup, whisk together the soy sauce, rice vinegar, honey, brown sugar, garlic, and ginger. Pour over the chicken thighs.
Cover and cook on high for 2 hours or low for 4 hours, until the chicken is tender and cooked through. Remove the chicken to a plate and shred with two forks. Strain the cooking liquid through a mesh sieve and into a medium saucepan.
In a small bowl, whisk together the cornstarch and water until smooth. Add to the strained cooking liquid, whisk to incorporate, then heat the saucepan over medium high, stirring constantly until the sauce bubbles. Continue cooking and stirring until glossy and thickened, 1 to 2 minutes. Remove from heat.
Add the chicken to the sauce. Toss to coat. Serve warm with rice or quinoa, garnished with sesame seeds and green onions as desired.
Nutrition
SERVING: 1(of 4), without rice
CALORIES: 319kcal
CARBOHYDRATES: 28g
PROTEIN: 35gFAT: 7g
SATURATED FAT: 2g
CHOLESTEROL: 162mg
POTASSIUM: 505mg
FIBER: 1g
SUGAR: 22g
VITAMIN A: 41IU
VITAMIN C: 1mg
CALCIUM: 30mg
IRON: 2mg