Home>> DIY Fall Candles
Looking for the perfect hobby to pick up this fall? The season of fall is perfect for making candles! Candles bring the warm and relaxing atmosphere that is synonymous will fall, are super fun to make, and you can also give them to your friends and family as a gift to let them know that you are thinking about them.
Wondering how to get started making candles this fall? Take a look at our guide for all the information you need to make amazing candles!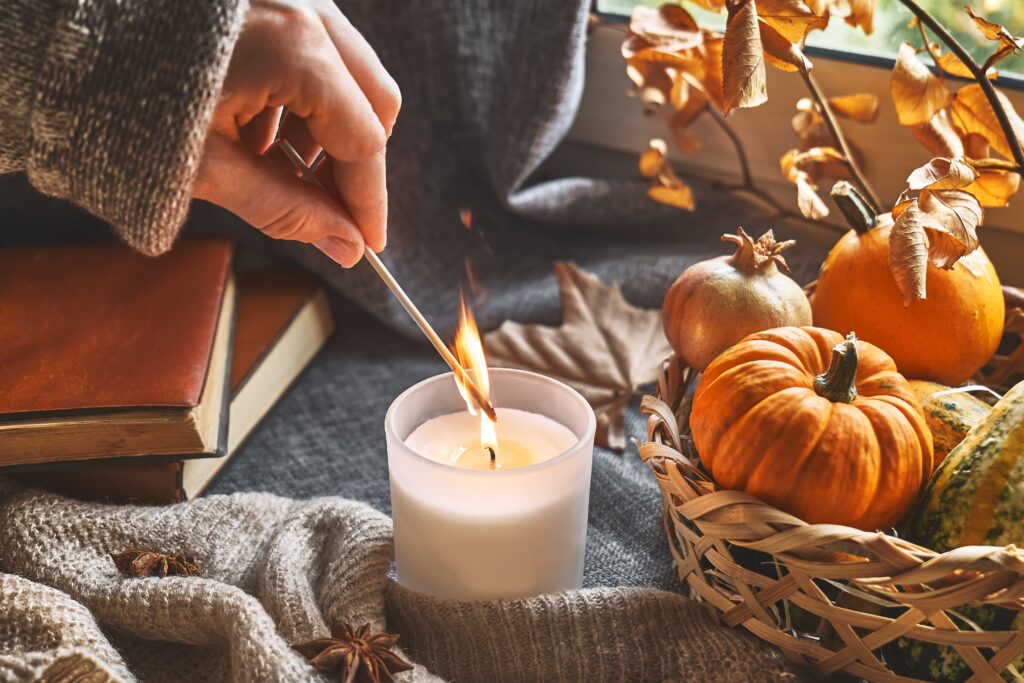 ---
WHAT YOU WILL NEED
Wax Flakes
Candle Wick
Candle Container
Your Favorite Fragrances, Essential Oils, and Colorings (make sure they are candle-safe)
Thermometer
Glass Measuring Cup
Heating Source (Stove, Microwave)
Melting Pot
Popsicle Stick, Chopstick, or Pencil
Clothespin
Scissors
A Workplace Protected with Paper Towels, or Newspapers
INSTRUCTIONS
Begin by gathering your materials and protecting your workspace with paper towels or newspapers.
Find how much wax can fit into your container, fill your candle with wax flakes, and once full, pour the flakes into your glass measuring cup, then repeat one more time so there are two containers worth of wax flakes in your glass measuring cup.
Fill your pot with water, then place it on the heating source of your choice. If microwaving: microwave for 1 minute, stir, then repeat.
Heat water to ~ 180 degrees Fahrenheit, place a glass measuring cup into the water, then it is time to get creative! Mix the essential oils, colorings, and fragrances you desire, and stir until the mixture turns into liquid.
Place your popsicle stick, chopstick, or pencil on the top of your container.
Use the clothespin to bind the wick to the top of your popsicle stick, chopstick, or pencil, and make sure your wick hangs and falls to the bottom of your container.
Pour your liquid wax into your container, and make sure there is ample space above the liquid for your wick to stay.
Wait for the wax to cool, if you would like to place any extra decorations into your candle, now would be the time!
Once your wax is cooled, cut the wick with scissors to however long you would like, and place any toppings you would like for extra decoration!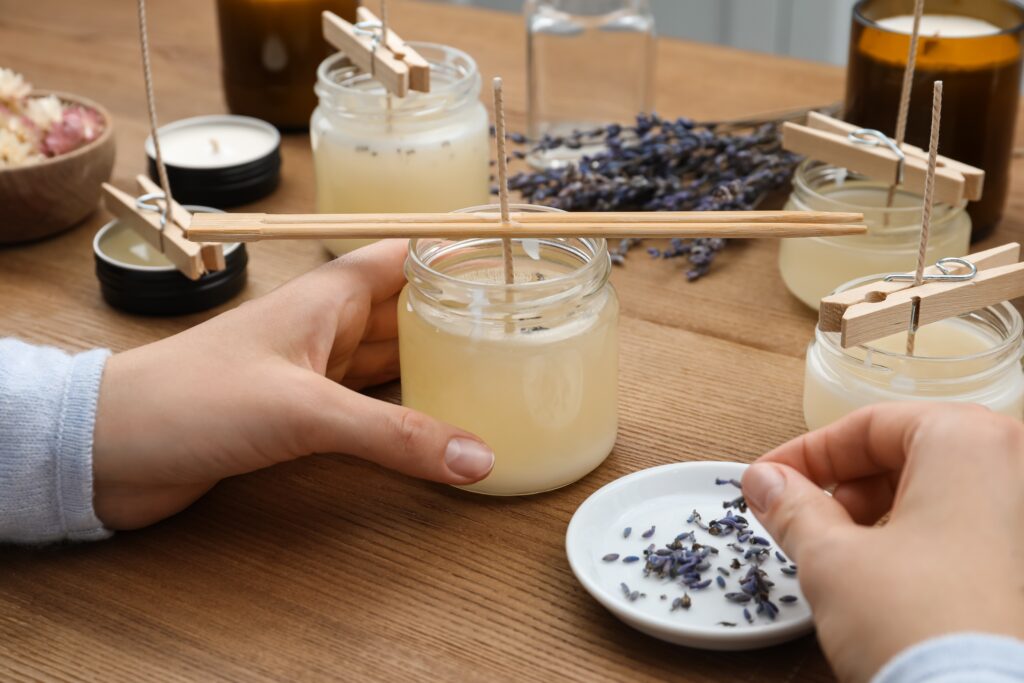 Your candle is now made! The possibilities are endless for creations you can make, not only in terms of fragrance and color, but container type, decoration, and toppings as well!