Home>>Holiday Sangria
This delicious holiday sangria is perfect for any occasion this winter season. From The Modern Proper, sparkling and festive, this brandy-spiked ruby-red holiday sangria recipe brims with yuletide cheer.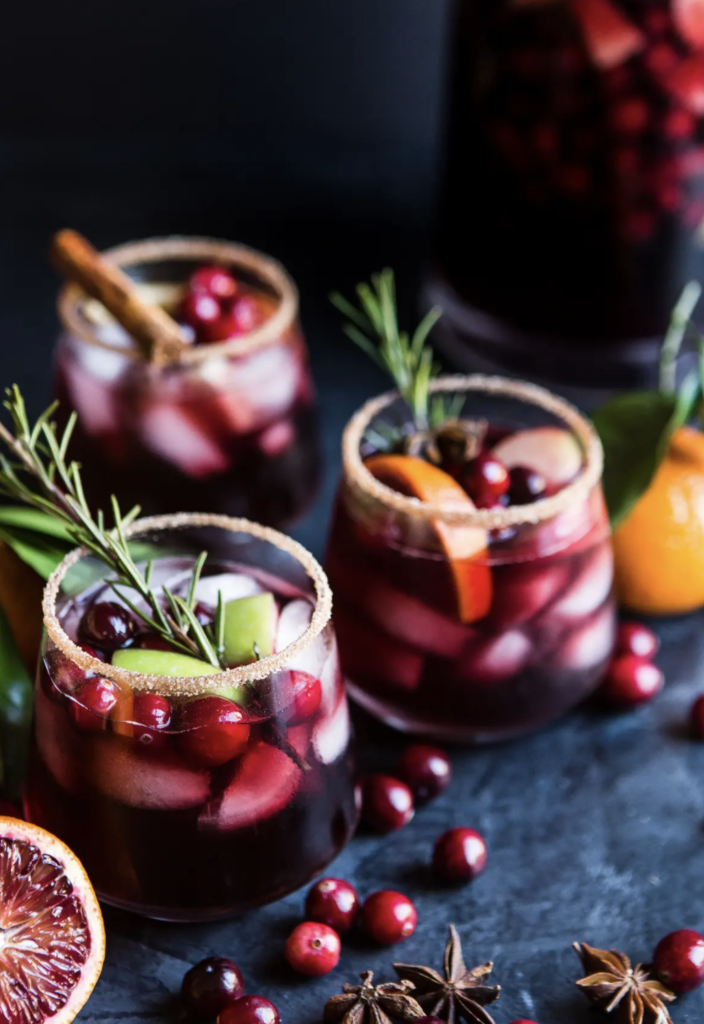 ---
1 (750 ml) Bottle red wine
1 cup Brandy
1/4 cup Sugar
2 cups Cranberries
1 Orange, sliced
1 Apple, cubed
2-3 Cinnamon sticks
4 Star anise
4 Sprigs rosemary, plus more for garnish
1 Bottle sparkling apple cider, chilled
Equal parts cinnamon and sugar, for rimming the glasses, optional
Maple syrup or honey for rimming the glasses, optional
PREPARATION
In a large pitcher (or punch bowl) combine the red wine, brandy, sugar, cranberries, oranges, apples, cinnamon sticks, star anise and rosemary. Mix well, cover and place in the refrigerator overnight to allow flavors to come together.
Just before serving add the sparkling apple cider, stir to combine. Serve over ice, in a glass rimmed** with a mix of cinnamon and sugar, garnished with fresh rosemary sprigs.
** If you'd like to serve this sangria in a glass rimmed with cinnamon-spiked sugar, here's how.
Mix equal parts cinnamon and sugar together in a small and spread it out evenly on a small plate. On a second small plate, pour out some maple syrup or honey. Dip the edge of your glass in the honey or syrup and then press the rim of your glass into the sugar mixture. Fill the glass with ice and carefully pour the sangria without hitting the side of the glass, garnish with rosemary and serve.