Home>> Low-Carb Bacon Burger
This low-carb bacon burger is absolutely delicious! You can customize it with buns if you prefer, or leave it as is! Whip this up with your father this Father's Day. Recipe brought to us by The Modern Proper.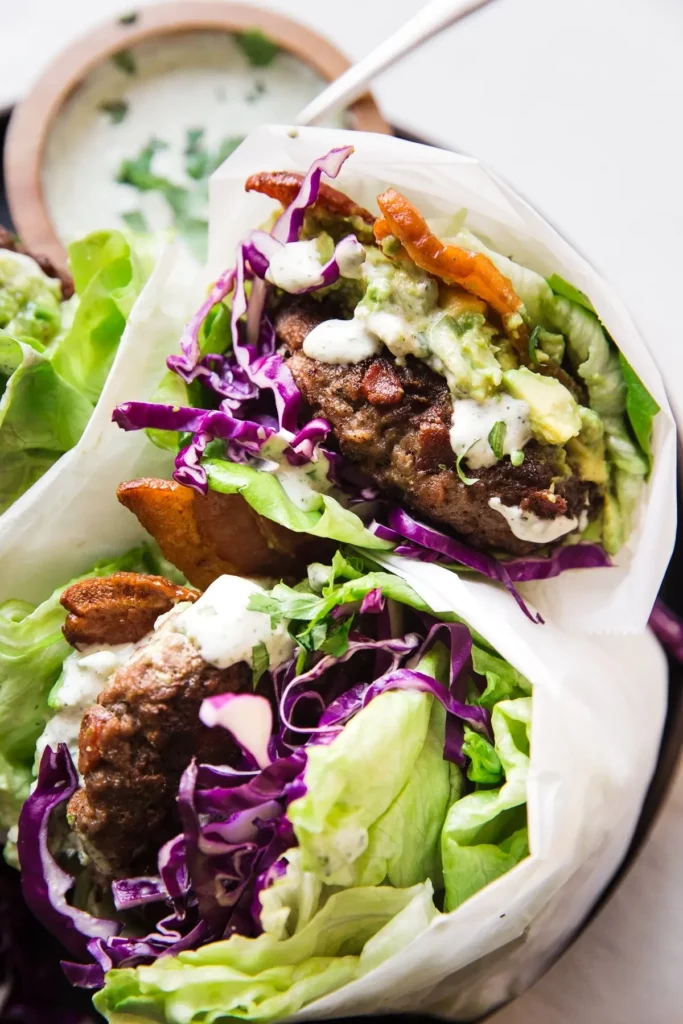 ---
Ingredients
2 lbs ground beef
1 lb cooked bacon, divided
1 tsp salt
½ tsp pepper
1 tsp garlic powder ​​
1 tsp onion powder
1small head purple cabbage, shredded
1 1/2 cups guacamole
1 head iceberg lettuce, leaves carefully separated to make wraps
Jalapeño Aioli
1 cup mayonnaise
1 jalapeno, seeded and minced
1 lime, juiced
1 clove garlic, roughly chopped
¼ cup cilantro, minced
Instructions
Set aside 6 slices of cooked bacon to put on your burgers. Roughly chop the rest of the bacon and place it in a large mixing bowl. Add the beef, salt, pepper, garlic powder, and onion powder and mix until ingredients are thoroughly combined.
Form 6 patties (roughly 5.5 oz each)
If you are grilling: Heat a gas grill to high. Brush the burgers with the oil. Grill the burgers until golden brown and slightly charred on the first side, about 3 minutes. Flip over the burgers. Cook beef burgers until golden brown and slightly charred on the second side, 4 minutes for medium-rare or until cooked to desired degree of doneness. Cook the burgers as for a grill, above. If you are using a grill pan: Heat a grill pan over high heat on top of the stove.
While the burgers are cooking, make the jalapeño aioli by adding all ingredients to a blender, food processor, or jar if using an immersion blender. Blend until smooth.
Build your burger! Place your burger patty on a large iceberg lettuce leaf, top it with shredded cabbage, guacamole, and more bacon, drizzle it with aioli. Carefully wrap the lettuce around it, using a few more leaves as necessary.
Enjoy.