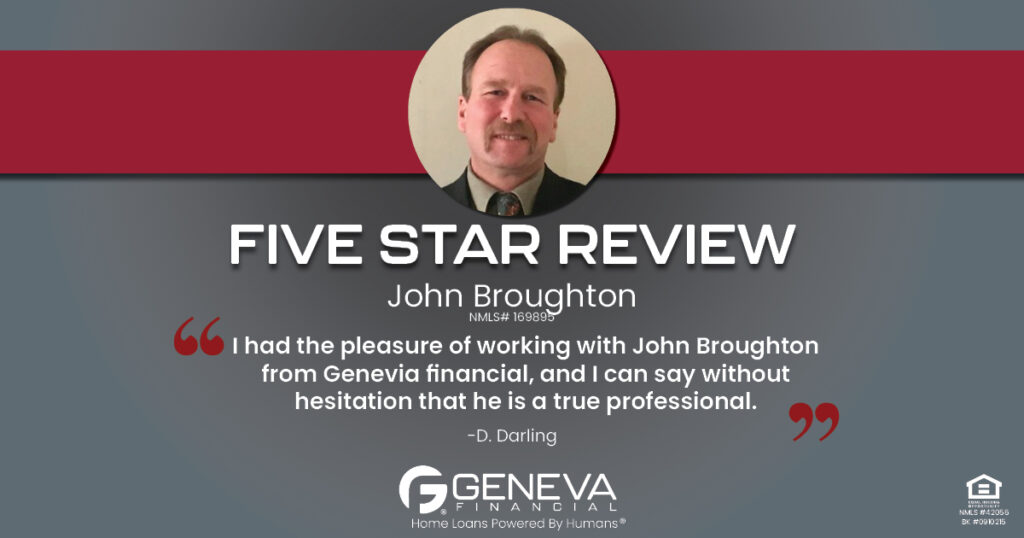 Loan Officer Review
Livonia, Michigan April 17, 2023
"I had the pleasure of working with John Broughton from Genevia financial, and I can say without hesitation that he is a true professional. John helped me throughout the home buying process and his expertise was invaluable. He was patient, knowledgeable, and always went above and beyond to ensure that I had a positive experience.
John has a wealth of knowledge when it comes to the ever-changing market, and he was able to guide me through each step of the process with ease. He was always available to answer my questions and provide me with the information I needed to make informed decisions. His professionalism and attention to detail made the entire process stress-free.
I highly recommend John Broughton for anyone who is looking for a reliable and experienced professional to help them with their financial needs. His expertise and dedication to his clients are truly outstanding, and I will definitely be using his services again in the future. Thank you, John, for all your hard work!"
John Broughton (NMLS#169895) serves the state of Michigan and Ohio for purchase, refinance, FHA, VA, USDA, renovation loans, debt consolidation mortgage refinancing, HomeSelect, down payment assistance, and more mortgage options!
John Broughton can be reached at:
734-377-7949
[email protected]
About Geneva Financial
Founded in 2007 by Aaron VanTrojen, Geneva Financial (NMLS 42056) is a direct mortgage lender headquartered in Chandler, Arizona with more than 130 branch locations nationwide. Our mission at Geneva Financial is to approach every aspect of our business from the "inside-out". With a culture-forward mindset, we focus on our loan originators and support staff first in order to ensure an unbeatable experience for our customers.

Our Core Values were created as a daily reminder to operate with the inside-out approach in mind. Core Value #1 is the backbone of all our Core Values, our mission, and our brand vision: Home Loans Powered by Humans®. Geneva Financial offers Home Purchase, Conventional, FHA, VA, USDA, Refinance, Reverse, Jumbo, and Condo Financing as well as Down Payment Assistance Programs, Low Credit, First-Time Homebuyer Programs, Physician Loans, Renovation Loans and Hero Loans for First Responders, Police, Firefighters, Nurses, and Teachers. Learn more about Geneva Financial Mortgage Home Loans at www.GenevaFi.com