Mother's Day is a celebration of motherhood, maternal figures, and moms across the nation. It is a special day to show our appreciation for the incredible humans that shape our lives.
It's pretty safe to assume that most of us have hand written a card or two during childhood. Shoe boxes and trunks all across the world overflow with heartfelt messages from the innocence of youth.
---
"My mom is my rock. We've been through so much together and it's only made us stronger! I owe all my successes in life to the NEVER QUIT ethic she instilled in me. We don't celebrate the job mothers do nearly enough. Happy YOU Day Mom!" – James Polinori, Chief Marketing Officer, Geneva Financial
To My Mom, MY Bestfriend. I do not know what I would do without you. You have consistently been my rock, guided me, provided for me, and shaped who I am as a person. I strive to live life with the same giving heart and loving personality as you and help as many people as I can along the way, as you always have. I am forever grateful for the values, drive, and passion you've instilled in me. I'll always be your snuggle bug. -Cierra Dootson
My sweet mama has the biggest heart, not just for our family, but for her whole world. She is the epitome of unconditional love! ❤️ She has taught, through example, how to be a good mother. I am beyond grateful to have her so close as I raise my own family.
Mom, thank you for choosing me. As an adopted child I can tell you that it was like hitting the lottery when you arrived to pick me up, there is no one I would have rather had to love and guide me through the obstacles and celebrations in life. Thank you for being you, thank you for loving me and thank you for always having my back. I love you, Darla.
Happy Mother's Day to the woman who loves her kids and grandkids more than anything! Thank you for your constant generosity, Angie Murillo! – We LOVE YOU!
My Mom, Mary Lou, is the most beautiful human.  She is the lady with tissues, candy and note pads in her purse for the church kids sitting next her. She is the lady that makes homemade goodies for all the nieces, nephews, grandkids, and neighbor kids on holidays. She is a blessing to all those she knows.
My mother Janice Dierks was very strong and dedicated mother of six children. She began a career in the mortgage business in the late 60's, she later started a Mortgage Compliance business where she was a respected mentor and valued for her knowledge of HUD. I followed her imprint of 40 years in the Mortgage business. She valued knowledge and was able to travel the world making it to ALL "7" Continents.
"Thank you for always being there as a support and cheerleader through all the good and tough times."
Sandy Hampton's selfless, caring, and unbridled love for her family does not go unnoticed. Happy Mothers day Sandy
You were my inspiration – my first best friend – my protector – my educator – you were the rock my waves smashed against during the storm – you were the star I followed to find my way home – rest well Mother – your arms still wrap around me today – my sincerest love – thank you – Sheff
So much love for a mother who, thankfully, is still with us at 80 years old. Her bible is worn out, her prayer journals have been filled and replaced over 20 times. Her patience, love, & understanding know no bounds. She is the Matriarch of our family and a phenomenal example to the 3 generations that follow her.
Here is to the most special mom that coached me through life and always made me feel like I was a super hero and can achieve anything I want. She put up with 2 mischief behaved brothers, and had her hands full while we ate 2 and 3 dinner plates of food every day. Love you mom!
"Happy Mother's Day Mama! I Love You with my entire being! Thank You for all the sacrifices you've made in your life to give us girls the best care and love that you could! My gratitude is beyond measure! I Love You!!"
Describing my mom and all the love she poured out on us kids and my father. She is a true Romines through and through. She is very loving and compassionate. She is always our cheerleader. She is the 1st one to put up a fight if anyone was messing with us. She just constantly poured out all her love for us. There is not a better mom in the world. I love ya mom!!!
Although you've passed to your greater reward, thank you Mom for all the lessons taught, the example you set for us girls & the love and care & hard work you gave unselfishly so that we would be provided for. Happy Mother's Day in Heaven!
"My mom has always been an example of service and love for others. I have been blessed as a mother to pay that forward to my children"
To my Mom who when the going got tough, she got going. As a single mother she spent every dime she had on our education to make sure we have the foundation to be a successful adult. For that I can never repay her. I love you mom for being my strength and my rock. I would not be where I am at today without your inspiration. Love, you, Jennifer Abke
"My mom who is 99 years young spent the last year in lockdown due to COVID in a Retirement Home. We only could talk on the phone during this time. So it's really exciting to celebrate her day in person this year."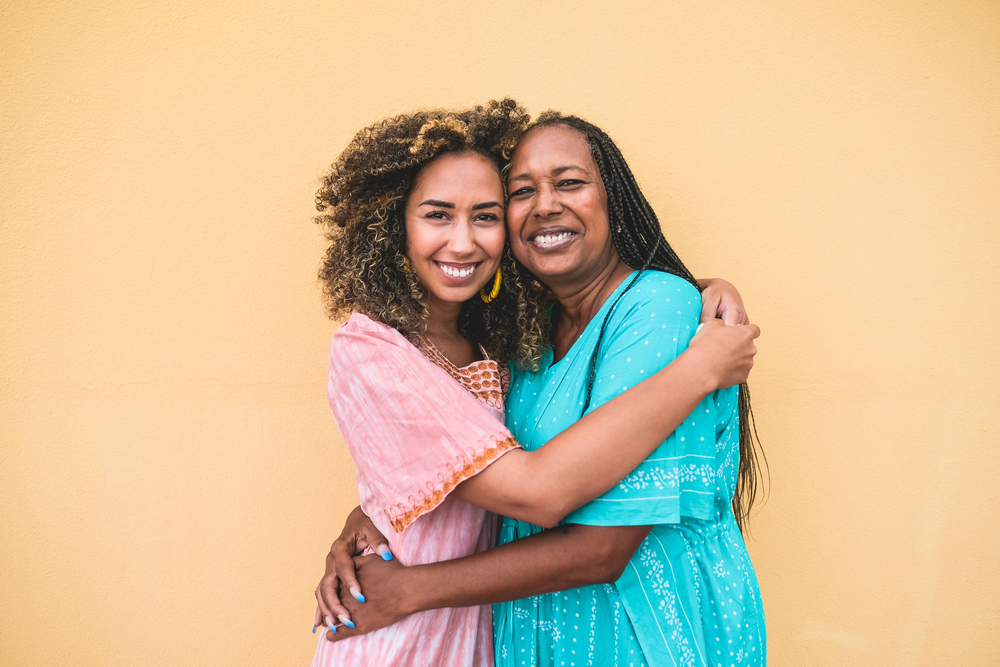 Mom's Give the Best Hugs
Thank you for always giving me encouragement even when my million crazy ideas are ridiculous and long winded, I love you!
My mom ~ never took being a single parent as a chore but relished in the time and memories we made even though we had little. She set the example for what it meant to work hard, appreciate the little things and love to the best of your ability.. I am forever grateful.. I love you mom!
To the world you are a mother, but to our family, you are the World! Happy Mother's Day ma! Love you so much!!
-Lucas, Makayla, Maureen, Kyle
"Dear Mom, Bonus Mom & Mom in Law, I love you All and I'm very Blessed to have each of you. Happy Mothers Day!"
My Mother is so genuine and loving. When I decided to bring an addition to our family by adopting my baby Jacole she has been nothing but supportive. She always call us and nothing else but to say she love us. The most important thing she could have done was introduce me to Christ at an early age. I love my MOM so much!!!!
It has been an overwhelming joy to watch my daughter become the most amazing selfless patient and loving Mother to our grandchildren. It is the meaning of life to watch in awe the generations of life continue to build! It is the greatest Mother's Day gift I could ever receive each year!
My daily inspiration and best friend I love you Mama ❤️
Do you want to recognize a mother figure in your life who is your HERO? Click the button below