Home>> Red White and Blue Cheesecake
Whip up this deliciously patriotic cheesecake to celebrate those individuals who have served our country.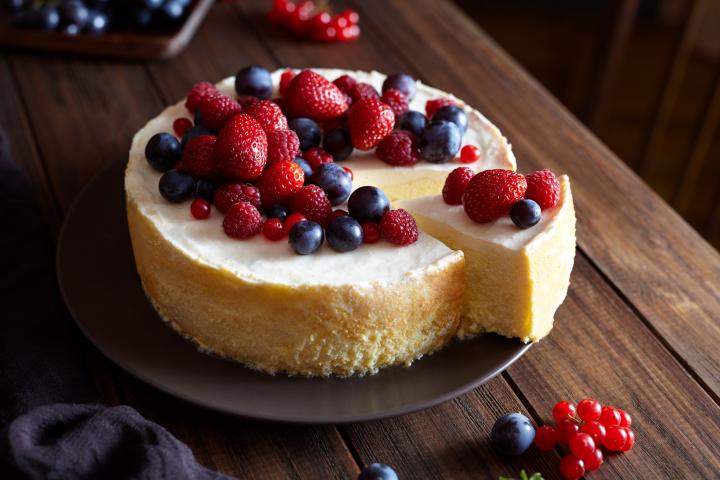 ---
INGREDIENTS
1–1/2 pounds cream cheese softened
1 cup sugar3 eggs, lightly beaten
1 teaspoon vanilla extract
3 tablespoons all-purpose flour
1/2 pint heavy cream
1/2 pint sour cream
1 pint small, ripe strawberries or raspberries
1 pint fresh blueberries
INSTRUCTIONS
Preheat oven to 325°F. Generously butter a round 8- to 9-inch springform or rectangular pan.
In the bowl of a stand mixer, or in a food processor, cream the cream cheese. Gradually add sugar and eggs, then vanilla, flour, and heavy cream. Beat or blend just until smooth. Pour batter into prepared pan and set it on the middle rack in the oven.
Set a large roasting pan containing about an inch of hot water underneath the pan, on a lower rack. Bake for 45 minutes to an hour, or until the center of the cheesecake jiggles slightly when you shake the pan gently.
Turn off the oven but leave the cake in it, letting the cake cool gradually (about 20 minutes), before refrigerating.
When you're ready to serve it, spread the sour cream over the top and arrange the berries.
ADDITIONAL RESOURCES:
Note: Both the low baking temperature and the steam from the pan of water will help prevent cracking. If a crack should form, it is no disaster; simply hide it with the sour cream.