Home>> Spicy Tuna Poke Bowl
Looking for a refreshing nutrient-packed lunch? A spicy tuna poke bowl will be sure to hit the spot and keep you feeling energized. This high-protein recipe is brought to us by Skinny Taste.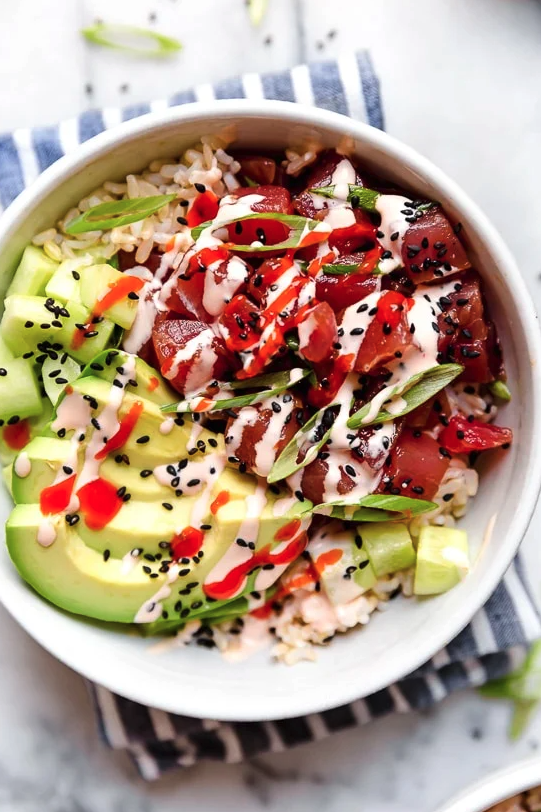 ---
Ingredients
For the tuna
1/2 pound sushi-grade tuna, cut into 1/2-inch cubes
1/4 cup sliced scallions
2 tablespoons reduced-sodium soy sauce or gluten-free tamari
1 teaspoon sesame oil
1/2 teaspoon sriracha
For the spicy mayo
2 tablespoons light mayonnaise
2 teaspoons sriracha sauce
For The Bowl
1 cup cooked short-grain brown rice or sushi white rice
1 cup cucumbers, (from 2 Persian) peeled and diced 1/2-inch cubes
1/2 medium Hass avocado, (3 ounces) sliced
2 scallions, sliced for garnish
1 teaspoon black sesame seeds
Reduced sodium soy or gluten-free tamari, for serving (optional)
sriracha, for serving (optional)
Instructions
In a small bowl combine the mayonnaise and sriracha, thin with a little water to drizzle.
In a medium bowl, combine tuna with scallions, soy sauce, sesame oil, and sriracha. Gently toss to combine and set aside while you prepare the bowls.
In 2 bowls, layer 1/2 the rice, 1/2 the tuna, avocado, cucumber, and scallions.
Drizzle with spicy mayo and sesame seeds and serve with extra soy sauce on the side, if desired.