Wondering how to make a 4th of July slab pie? Celebrate your favorite summer holiday with our star-spangled pie recipe. This easy-prep dish comes together with Pillsbury™ Pie Crust and fresh fruit flavors for a refreshing treat. If you're looking to make it fancy, top this 4th of July berry slab pie with pie crust stars to add a dazzling touch. This recipe brought to us by Pillsbury™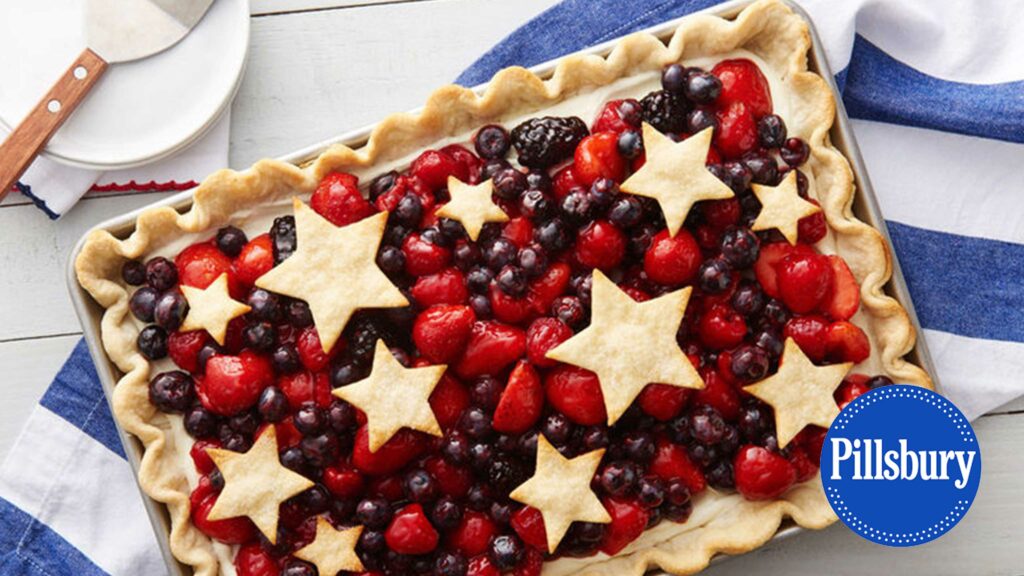 ---
Ingredients
3crusts from 2 boxes (14.1 oz) refrigerated Pillsbury™ Pie Crusts (2 Count), softened as directed on box
1/4cup sugar
2packages (8 oz each) cream cheese, softened
2containers (6 oz each) Yoplait® Original lemon burst yogurt
Juice and grated peel of 1 lemon (3 tablespoons juice and 1 teaspoon peel)
6cups assorted berries (sliced strawberries, blueberries, raspberries and blackberries)
1cup strawberry glaze (from 13.5-oz container)
Instructions
Heat oven to 450°F. Remove 2 of the pie crusts from pouches. Unroll and stack on lightly floured surface. Roll to 17×12-inch rectangle. Fit crust into ungreased 15x10x1-inch pan, pressing into corners. Fold crust even with edges of pan. Prick crust several times with fork.
Bake 10 to 12 minutes or until golden brown. Cool completely, about 30 minutes.
Meanwhile, remove another pie crust from pouch. On lightly floured surface, unroll crust. Roll to 12-inch circle. Cut stars using 1-, 1 1/2- and 2-inch cookie cutters. Place 1 inch apart on large ungreased cookie sheet. Brush with water; sprinkle with 1 tablespoon of the sugar.
Bake 5 to 7 minutes or until golden brown. Cool 1 minute on cookie sheet. Remove to cooling rack. Cool completely, about 15 minutes.
Meanwhile, in medium bowl, beat remaining 3 tablespoons sugar, the cream cheese, yogurt, lemon juice and lemon peel with electric mixer on high speed until smooth and creamy. Spread evenly into crust-lined pan. Refrigerate about 30 minutes or until chilled.
In large bowl, mix berries and glaze until well blended. Spoon berry mixture evenly on top of cream cheese-topped pie crust. Place pie crust stars on top of berry mixture.
---
More Healthy Summer Favorites