A refreshing hearty steak salad is the perfect healthy dinner option for a warm summer night. This delicious recipe is brought to us by Spoon Fork Bacon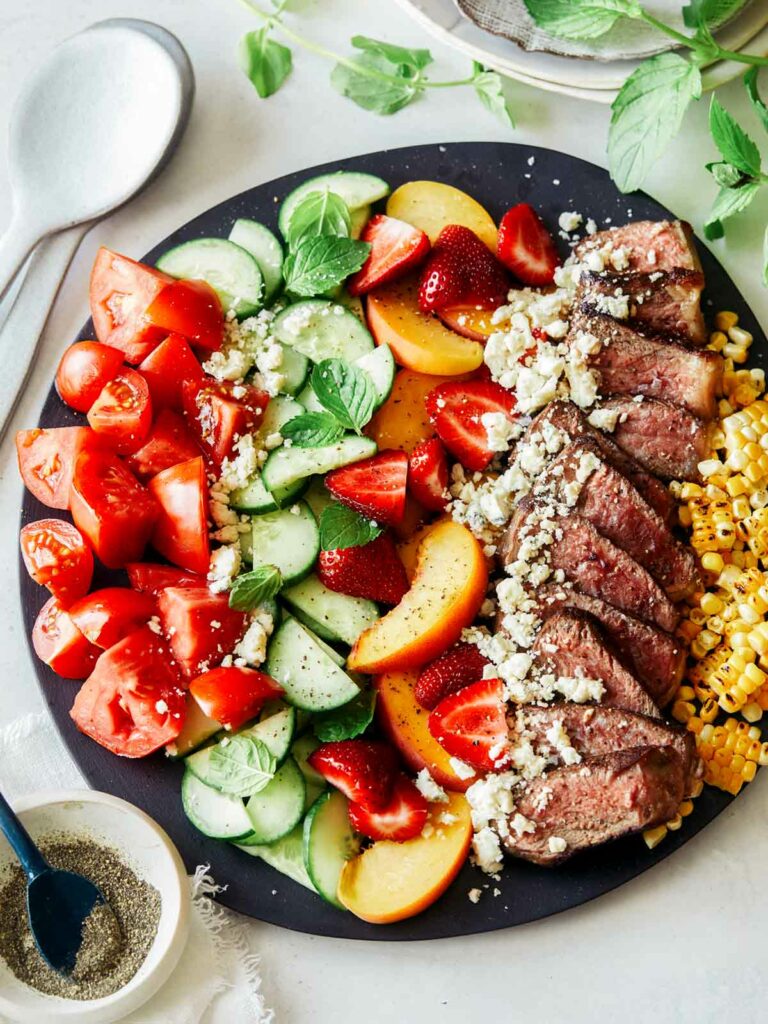 ---
Ingredients
bleu cheese dressing
▢½ cup plain yogurt
▢¼ cup sour cream
▢¼ cup crumbled bleu cheese
▢2 tablespoons white wine vinegar
▢1 tablespoon thinly sliced chives
▢salt and pepper to taste
salad
▢2 tablespoons olive oil or coconut oil or avocado oil
▢2 (12 ounce) grass-fed, boneless NY steaks (about 1 1/2 inches thick)
▢4 small heirloom (or vine-ripe tomatoes), quartered
▢2 peaches, pitted and thinly sliced
▢8 strawberries, hulled and halved
▢2 corn on cob, charred and removed from cobb
▢½ seedless cucumber, halved lengthwise and thinly sliced
▢6 to 8 fresh mint leaves
▢⅔ cup crumbled bleu cheese
▢Salt and pepper to taste
Instructions
Remove steaks from the refrigerator and allow them to sit at room temperature for 30 minutes. Generously season each steak with salt and pepper.
Preheat oven to 400˚F.
Place all dressing ingredients into a small bowl and whisk together until smooth. Add 2 tablespoons water to adjust consistency. Season with salt and pepper. Refrigerate until ready to use.
Place a large cast-iron skillet over high heat.
Add oil and swirl around the skillet. Add steaks to skillet and sear on each side for 2 minutes. Transfer skillet to oven and cook for about 7-8 minutes for medium-rare and 9-10 minutes for medium. Remove steaks from the oven and transfer them to a cutting board.
Allow steaks to cool, about 30 minutes. Tightly wrap each steak in foil and refrigerate for at least 1 hour and up to 12 hours.
To serve: Remove foil from steaks and slice into 1/2 inch pieces. Spread steak pieces onto a platter, lightly season with salt and pepper, and line with remaining ingredients.
Serve with bleu cheese dressing on the side and allow guests to grab however much or little they want from the platter.
---
NUTRITION
Calories: 448kcal
Carbohydrates: 17g
Protein: 30g
Fat: 30g
Saturated Fat: 13g
Cholesterol: 92mg
Sodium: 373mg
Potassium: 783mg
Fiber: 3g
Sugar: 10g
Vitamin A: 1069IU
Vitamin C: 24mg
Calcium: 170mg
Iron: 3mg
More Healthy Summer Favorites