Home >> Veggie and Hummus Sandwich
Whole grain bread is layered with fresh hummus, spinach, cucumber, avocado, tomato, red onion, sprouts and cheese, brought to us by Cooking Classy. This is a delicious sandwich and could be scaled down to pack for a short road trip!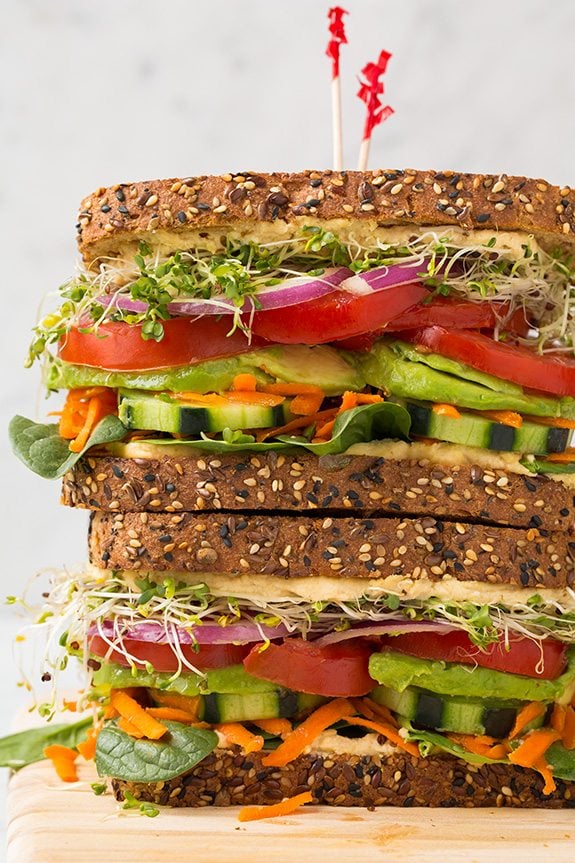 ---
Ingredients
4 slices hearty whole grain bread, toasted
1/3 cup hummus, see notes for recipe
2 slices havarti or provolone cheese (optional)
1 cup spinach
1/2 cup peeled and grated carrots
8 peeled cucumber slices
6 avocado slices
4 tomato slices
Salt
Small handful sliced red onion (optional), rinsed under water
1/2 cup broccoli or alfalfa sprouts
Instructions
For the sandwiches: Spread hummus over bread slices. Divide sandwich ingredients over two of the slices, season lightly with salt to taste (preferably over the tomato or cucumber layer).
Top with remaining slices. Serve immediately.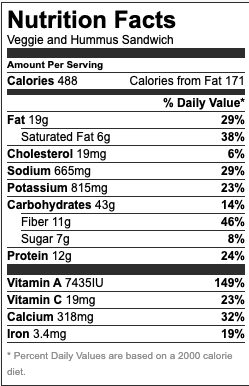 ---
More Road Trip Friendly Options: