Home>> Viral Upside-Down Puff Pastries
These pastries are everywhere on social media, and so versatile! Try these staple versions and then get creative with your own unique recipes! Brought to us by the Food Network.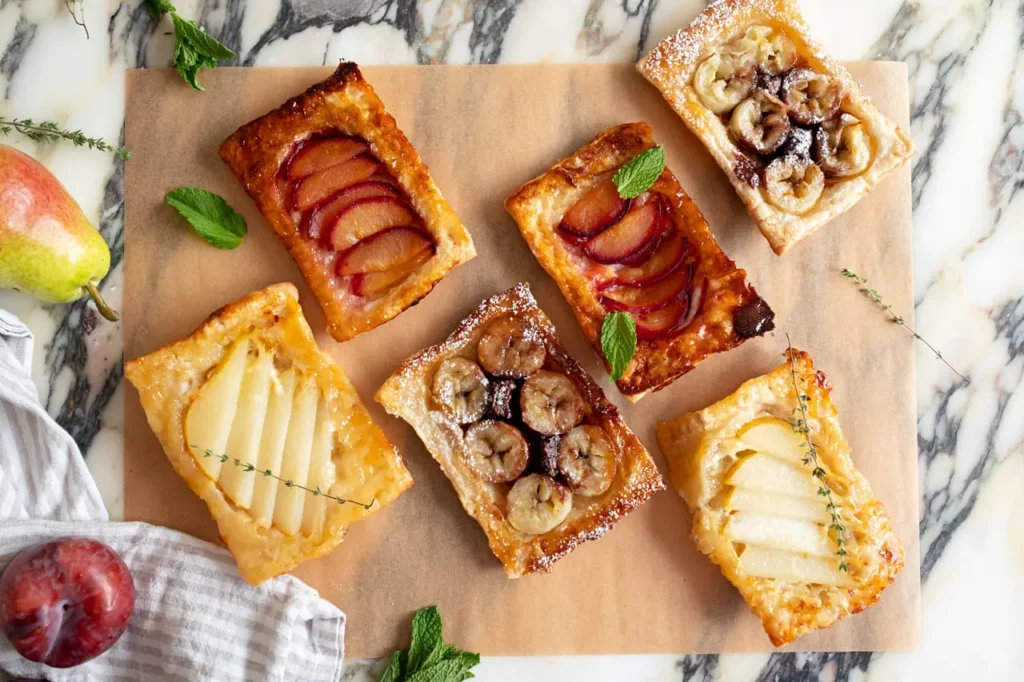 ---
INGREDIENTS
1 sheet store-bought puff pastry, thawed
4 tsp honey
1 Bartlett pear, sliced
1 wheel brie, sliced
1 ripe banana, sliced
2 Tbsp chocolate hazelnut spread
4 tsp honey
Balsamic glaze
1 peach or plum
1 egg for egg wash
INSTRUCTIONS
Step 1 – Preheat oven to 375°F and line a baking sheet with parchment paper, set aside.
Step 2 – Cut the thawed puff pastry into 6 equal rectangles, set aside.
Step 3 – For the honey pear tart: spoon 1 teaspoon of honey, arrange 4-5 overlapping slices of pears overtop of the honey, top with a slice of brie and cover with a puff pastry rectangle. Use a fork to crimp the edges to adhere to parchment.
Step 4 – For the banana chocolate hazelnut tart: arrange 6 banana slices in in two rows, add 1 tablespoon of chocolate hazelnut spread and cover with puff pastry rectangle, crimp edges with a fork to seal.
Step 5 – For the balsamic honey peach: spoon 1 tsp of honey, drizzle with balsamic glaze, arrange 4-5 overlapping peach or plum slices, another tsp of honey and cover with puff pastry and crimp edges with a fork to seal. Repeat with remaining puff pastry rectangles.
Step 6 – Brush the tops with egg wash and bake for 15 to 20 minutes until golden and bubbly.
Step 7 – Let the tarts cool for 5-8 minutes on the pan before flipping over.