Home>> American Flag Pie
This American Flag Pie is the perfect way to get into the spirit and celebrate Veterans Day!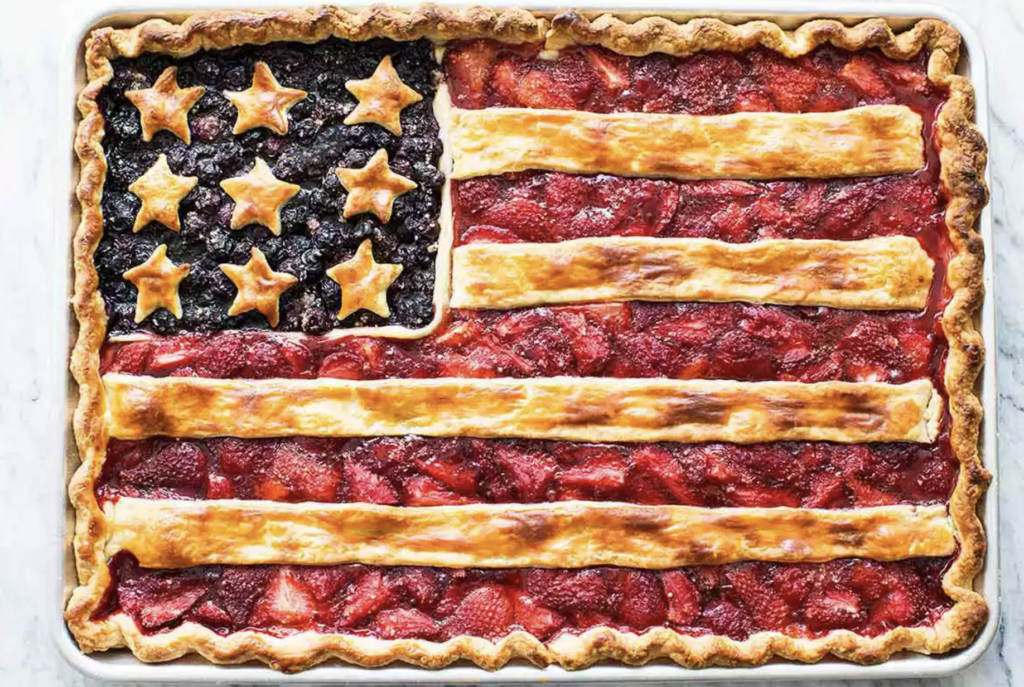 ---
INGREDIENTS
Crust:
3 1/2 cups all-purpose flour
3 1/2 teaspoons of sugar
1 1/2 teaspoons kosher salt
14 ounces butter (3 1/2 sticks), cut into cubes
7/8 cup sour cream (that's 3/4 cup plus 2 tablespoons)
Strawberry filling:
3 1/2 pounds strawberries, hulled, quartered
1/2 cup sugar
2 teaspoons orange zest
4 tablespoons cornstarch, flour, or minute tapioca
Blueberry filling:
1 pint blueberries (about 0.6 pounds, 280g)
3 tablespoons sugar
1/4 teaspoon cinnamon
1 teaspoon lemon zest
2 teaspoons lemon juice
2 tablespoons cornstarch, flour, or minute tapioca
Egg wash:
1 egg white
1 teaspoon milk or cream
INSTRUCTIONS
Make the pie dough:Cut the butter into cubes and let sit out for a 10 minutes to take the chill off. Whisk together the flour, sugar, and salt in a large mixing bowl.Add the butter and toss to coat with the flour. Using your (clean) hands, work the butter into the flour until the mixture resembles a coarse meal.Add the sour cream and mix with a fork until well incorporated.Knead with your hands until the mixture comes together as a ball. Divide into 3 equal sized balls of dough (it helps to use a kitchen scale).Form the balls into rectangular discs. Sprinkle with a little flour and wrap individually with plastic wrap.Chill for 1 to 2 hours or overnight (can freeze this point if making several days ahead).
Make the berry fillings:Put the quartered strawberries in a large bowl and toss with sugar, cornstarch (or flour, or minute tapioca), and orange zest.\In a separate smaller bowl, put the blueberries, sugar, cinnamon, lemon zest, lemon juice, and cornstarch (or flour or minute tapioca), and toss to combine.
Roll out the dough for the bottom crust: Line the bottom of a 13- x 18-inch rimmed sheet pan with parchment paper.
Remove two dough discs from the refrigerator and let sit for 10 minutes to soften a bit. On a clean, lightly floured surface, roll out one disk to 11- x 17-inches and arrange on half of the sheet pan, with an inch of edge over the sides of the sheet pan.Roll out the second disc and cover the other half of the sheet pan.Fold the dough over along the edges and crimp.Remove any excess dough from center. Form into a ball, then use your hands to roll into a long rope. Crimp that rope of dough and form a rectangle in one corner of the sheet pan. This is where your berries and stars will go. The dough will help keep the blueberries from running into the strawberries. (If you don't have excess dough at this point, no worries, you will later when you cut away the stars and stripes.)Put in the refrigerator to chill.
Make the egg wash:In a small bowl, whisk together the egg white and milk or cream.
Roll out the dough for stars and stripes: Remove third rectangular disc of dough from the fridge and let sit for 10 minutes to soften a bit. Roll out so that the longest point is 18-inches.
Use a dinner knife (blunt) or a pizza wheel to cut out stripes. You'll need 2 stripes that are about 18 inches long and 1 1/2 inches wide, and 2 stripes that are about 10 inches long and 1 1/2 inches wide. Use a star-shaped cookie cutter to cut out stars.
Place stars and stripes on a cookie sheet, sheet pan, or large plate. Brush with egg wash. Chill.
Preheat the oven:Preheat the oven to 450°F.
Fill the pie and top with stars and stripes:Spread the strawberries over the part of the sheet pan where the red and white stripes should be. Scoop the blueberries into the corner where the stars should be.
Arrange the stars and strips of dough on top of the berries to form the flag. Chill for 10-15 minutes before baking.
Bake:Bake at 450°F for 15 minutes. Then tent with foil and lower the heat to 375°F and bake for another 45 to 55 minutes or longer, until the filling is bubbling. Remove from oven and let cool for at least an hour before serving.
NUTRITION FACTS(PER SERVING)
531
CALORIES
31g
FAT
59g
CARBS
6g
PROTEIN
The nutrition provided is an estimate. It will vary based on the specific ingredients used.