Home>> Sunnydaze Backyard Round Fire Pit
This outdoor, wood-burning fire pit featuring a black cross-weave pattern provides ample room for the perfect-sized fire out on any patio, yard, or campsite.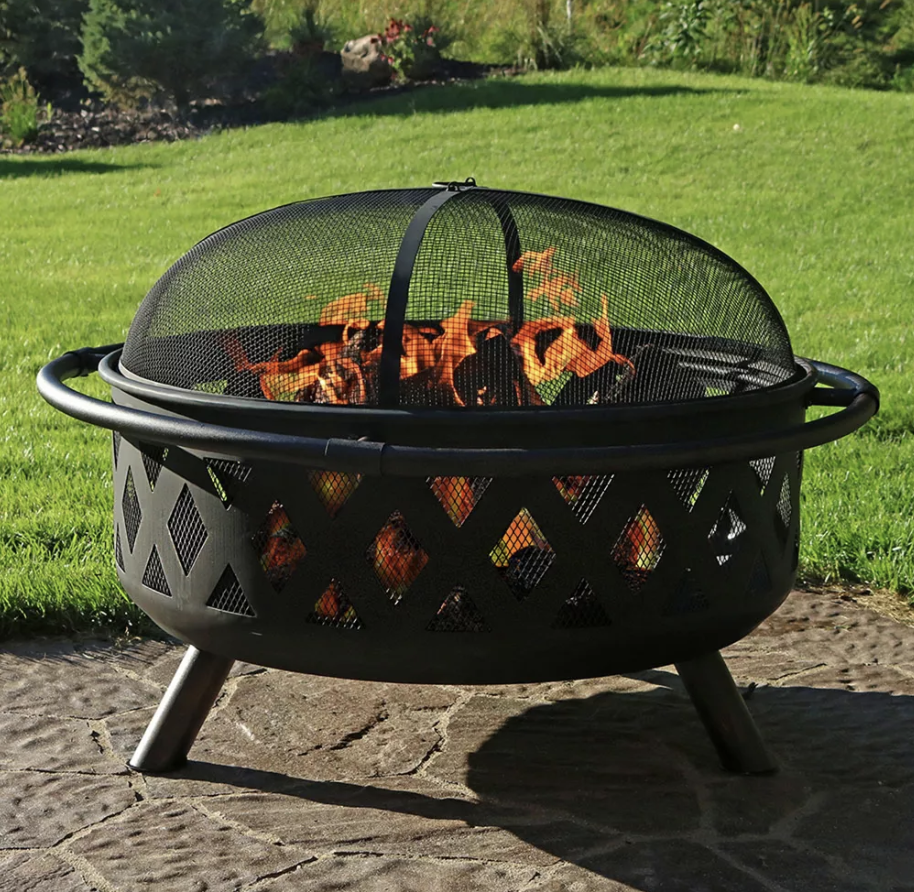 Details
This fire pit is also easy to tend to and clean. The overall fire pit rim to rim is 36″ diameter with a large 31″ diameter x 11″ deep bowl that is accented with a decorative cross weave pattern that glows at night to add style and charm to your outdoor space. This fire pit comes with a mesh cover and fire pit poker tool to keep flying embers contained and to easily maneuver the wood inside the pit safely. This is a wood-burning fire pit and with all fire pits, is not designed to burn on a deck unless a fireproof pad is used. Enjoy this sturdy steel fire pit with the decorative design in any backyard or patio today.
Outdoor wood-burning fire pit with cross-weave design
Features steel construction with high-temperature paint
Includes fire pit, spark screen, grate, protective cover, and poker tool
Dimensions: 24″ H with screen; 16″ H without screen x 36″ W from rim-rim; 31″ inner diameter x 11″ D bowl; 29 lbs
Reviews:
★★★★★
i bought this for my 21st anniversary gift…FIRE. i really liked how it came with a cover. My 12 year old helped me put it together. easy assembling.
★★★★★
The fire put us the bomb. It is the envy of my neighborhood. Mg family and friends love it. I am more than thrilled to have purchased it.
★★★★★
It is so beautiful and sturdy. We use our fire pit to burn sticks from the yard and this one is perfect for that. It burns everything nicely and it is beautiful. Definitely recommend!!
★★★★★
Definitely recommend it, you will have no regrets!
We have a plethora of articles with everything from Diy, Style Tips, Recipes, Renovation, Decor, and more. Check out HomebyGeneva.com