Home>> Bamboo and Glass Jar Set
Set of four glass jars with bamboo lids and an airtight seal, perfect for storing snacks, baking essentials, nuts, and more. These are very versatile and give a sleek elegant look.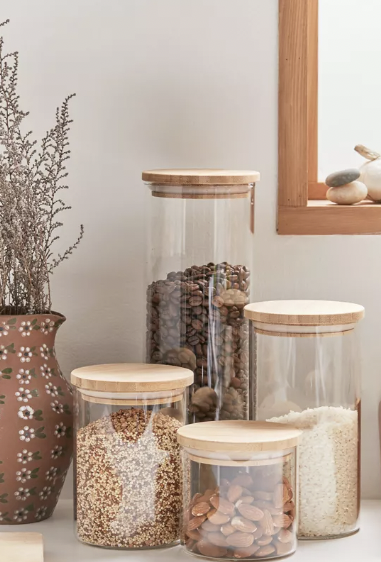 Features
– Includes small jar, medium jar, large jar, and extra large jar
– Bamboo, borosilicate glass
– Food safe
– Dishwasher safe – top rack only
– Not microwave or oven safe
– Imported
Size
Small
– 15.22 oz
– Dimensions: 3.94"dia x 3.86"h
Medium
– 23.67 oz
– Dimensions: 3.94"dia x 5.51"h
Large
– 33.81 oz
– Dimensions: 3.94"dia x 7.28"h
Extra Large
– 55.79 oz
– Dimensions: 3.94"dia x 11.77"h
Reviews:
★★★★★
great size and can be used for various things. the lids aren't as sturdy but wasn't a big deal for me
★★★★★
These are good quality and look good with my coffee and sugar etc. in them. good price for the set too 🙂
★★★★★
Awesome jars!
I will probably end up buying another set if I can. They're perfect for organizing countertop snacks.
★★★★★
Love Love Love
I love my new jars. The best part is they're clear so I can see what's in them. They seal really tight too.
We have a plethora of articles with everything from Diy, Style Tips, Recipes, Renovation, Decor, and more. Check out HomebyGeneva.com