Home>>Mortgage News>> Benefits of a VA home loan
A VA Loan is a home loan that is backed by Veteran Affairs. There are several loan types available to those who meet the qualifications.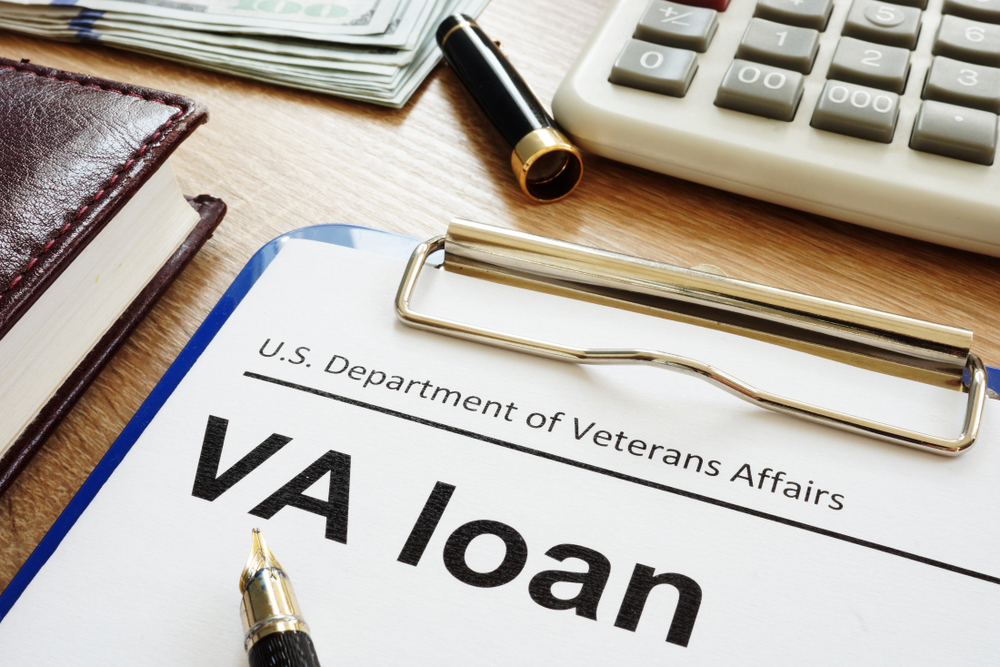 In order to qualify for a VA loan, the following must be true:
Qualify for a VA-backed home loan Certificate of Eligibility (COE)
Meet the designated standards for credit, income, and any other requirements
Will live in the home you're buying with the loan
VA Home Loan Benefits:
No down payment as long as the sales price isn't higher than the home's appraised value
Competitive terms and interest rates

than other loan types

No VA Loan Limit (for more information regarding VA Loan Limits please click here)
No need for private mortgage insurance (PMI) or mortgage insurance premiums (MIP)

PMI is a type of insurance that protects the lender if you end up not being able to pay your mortgage. It's usually required on conventional loans if you make a down payment of less than 20% of the total mortgage amount.
MIP is what the Federal Housing Administration (FHA) requires you to pay to self-insure an FHA loan against future loss.

Fewer closing costs, which may be paid by the seller
No penalty fee if you pay the loan off early
If you qualify for a VA-backed purchase loan, you can use the loan to:
Buy a single-family home, up to 4 units
Buy a condo in a VA-approved project
Buy a home and improve it
Buy a manufactured home or lot
Build a new home
Make changes or add new features (like solar power) to make your home more energy efficient
You can also:
Get a VA-backed home loan to buy your first home
Use your VA loan benefit to obtain a secondary loan
Assume a VA-backed home loan (which means that instead of opening a new mortgage loan, the buyer takes over the seller's loan)
What other loan types are available to veterans?
If you currently have a VA loan and are looking to reduce your monthly payment amount or change the terms of your mortgage a VA IRRRL may be right for you.
VA IRRRL (interest rate reduction refinance)
In order to qualify for a VA IRRRL, the following must be true:
Already have a VA-backed home loan
Are using the IRRRL to refinance your existing VA-backed home loan
Can certify that you currently live in or used to live in the home covered by the loan
What are the benefits of a VA IRRRL? You may be able to:
Lower your monthly mortgage payment by getting you a lower interest rate
Make your monthly payments more stable by moving from a loan with an adjustable or variable interest rate (an interest rate that changes over time) to one that's fixed (the same interest rate over the life of the loan)
Cash-Out Refinance
If you currently have an existing VA Loan and are looking to take cash-out for home renovation projects, education funds, consolidating debt, or other reasons, a cash-out refinance may be for you.
A VA Cash-Out Refinance may help you to:
Take cash out of your home equity to pay off debt, pay for school, make home improvements, or take care of other needs
Refinance a non-VA loan into a VA-backed loan
In order to obtain a cashout refinance out the following must be true:
Qualify for a VA-backed home loan Certificate of Eligibility
Meet VA's and the lender's standards for credit, income, and any other requirements
Will live in the home you're refinancing with the loan
Curious to see what your loan payment could look like? Try our interactive mortgage calculator below:
House Payment Calculator:
FIND A LICENSED MORTGAGE LOAN OFFICER
Homes for Heroes & First Responder Mortgages