Home>> Covid-19 Mortgage Relief Options: What You Should Know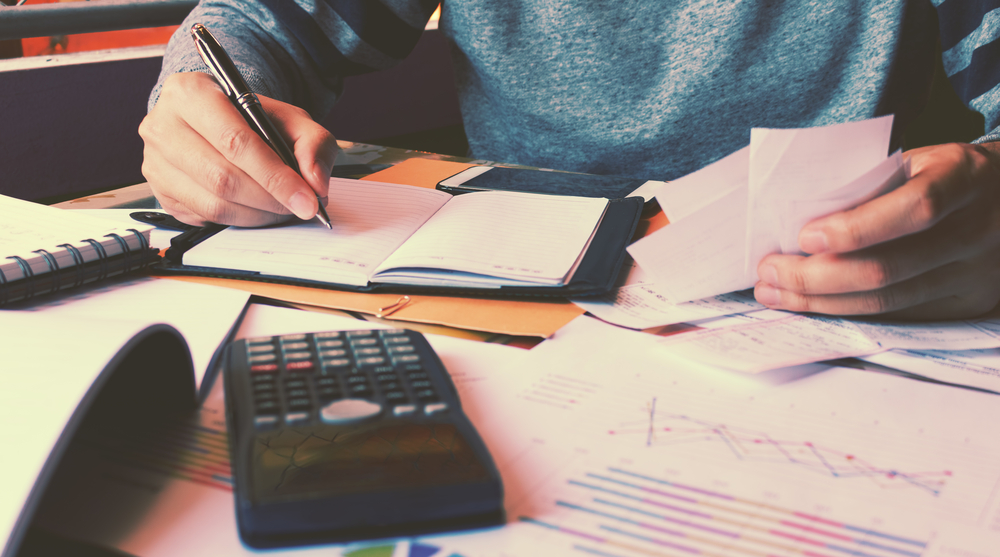 As we continue to navigate through these challenging times, some of us may have sought out forbearance or relief options to help assist with your mortgage payment. We've decided to gather the information you should know before utilizing Covid-19 mortgage relief.
First, let's start with what's stopping consumer from using financing: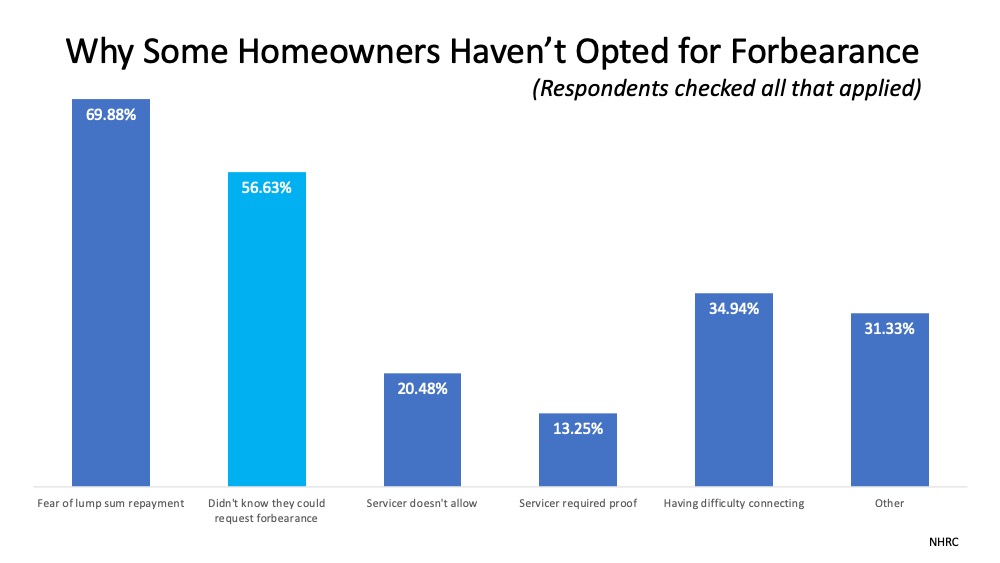 The Urban Institute explained:
"530,000 homeowners who became delinquent after the pandemic began did not take advantage of forbearance, despite being eligible to ask for the plan…These responses reflect a need to provide better information to all homeowners. (Lump-sum payment is not the only repayment option.)

Additionally, 205,000 homeowners who did not extend their forbearance after its term ended in June or July became delinquent on their loans. We need to examine who these people are and why are they not extending their option."
If your mortgage is backed by Fannie or Freddie read about your options by clicking here.
What are my options?
It's important to note that any homeowner experiencing financial hardship has the right to request forbearance. If you're unfamiliar with the plans available, contact your mortgage provider (the company you send your mortgage payment to each month) to discuss your options. It is a necessary next step, as you may qualify for mortgage relief options or forbearance.
One option many homeowners may not realize they have is the ability to sell their house in this time of need. With the growing equity that homeowners have available today, making a move might be the best option to protect your financial future.
There are four types of options available to you. Not all of them require a lump sum. Let's dive into your options if you have a federally backed mortgage:
Repayment Plan: This option allows you to spread the sum of your forbearance amount over a certain time period. For example, if you went into forbearance for three months (total of $3,500) you could spread your payment out over the agreed-upon time frame (say 1 year) adding only a few hundred each months to your payment until that balance is satisfied.
Payment Deferral: A payment deferral allows you to "defer" your payments until the end of the loan via a home sale or refinance. For example, you would continue making your regular mortgage payments and then once you sell your home or refinance, you would pay back the entire forbearance amount using the proceeds you obtain from said sale/refi.
Loan Modification: This option allows you to work with your servicer to rearrange the term of your loans. This is a good option for those with long-term changes such as a permanent job loss. You may resign loan terms for a longer term than your mortgage currently holds you to, but this option would allow you to wrap the forbearance balance into the loan. For example, if you are currently on a 15-year loan, and you cannot afford the payment you could modify your loan to a 30 year for a lower monthly payment.
The fourth and final option is the Lump Sum payment: this is exactly as it sounds. Once the time period for forbearance is up you will owe the entire balance of the missed payments at once. This option can tend to be a little harder for those experiencing continuous financial hardship. This is why we have covered the other options available to you.
Whichever situation best meets your needs is up for your to decide. Talking with a licensed loan officer can help. What you need to know about mortgage forbearance is that it can help those experiencing tough times out. What we would like for you to understand is those in foreclosure, will most likely not lose their home to foreclosure, and here is why:
1. Almost 50% Leave Forbearance Already Caught Up on Payments
According to the Mortgage Bankers Association (MBA), data through March 28 show that 48.9% of homeowners who have already left the program were current on their mortgage payments when they exited.
26.6% made their monthly payments during their forbearance period
14.7% brought past due payments current
7.6% paid off their loan in full
This doesn't mean that the over two million still in the plan will exit exactly the same way. It does, however, give us some insight into the possibilities.
2. The Banks Don't Want the Houses Back
Banks have learned lessons from the crash of 2008. Lending institutions don't want the headaches of managing foreclosed properties. This time, they're working with homeowners to help them stay in their homes.
As an example, about 50% of all mortgages are backed by the Federal Housing Finance Agency (FHFA). In 2008, the FHFA offered 208,000 homeowners some form of Home Retention Action, which are options offered to a borrower who has the financial ability to enter a workout option and wants to stay in their home. Home retention options include temporary forbearances, repayment plans, loan modifications, or partial loan deferrals. These helped delinquent borrowers stay in their homes. Over the past year, the FHFA has offered that same protection to over one million homeowners.
Today, almost all lending institutions are working with their borrowers. The report from the MBA reveals that of those homeowners who have left forbearance,
35.5% have worked out a repayment plan with their lender
26.5% were granted a loan deferral where a borrower does not have to pay the lender interest or principal on a loan for an agreed-to period of time
9% were given a loan modification
3. There Is No Political Will to Foreclose on These Households
The government also seems determined not to let individuals or families lose their homes. Bloomberg recently reported:
"Mortgage companies could face penalties if they don't take steps to prevent a deluge of foreclosures that threatens to hit the housing market later this year, a U.S. regulator said. The Consumer Financial Protection Bureau (CFPB) warning is tied to forbearance relief that's allowed millions of borrowers to delay their mortgage payments due to the pandemic…mortgage servicers should start reaching out to affected homeowners now to advise them on ways they can modify their loans."
The CFPB is proposing a new set of guidelines to ensure people will be able to retain their homes. Here are the major points in the proposal:
The proposed rule would provide a special pre-foreclosure review period that would generally prohibit servicers from starting foreclosure until after December 31, 2021.
The proposed rule would permit servicers to offer certain streamlined loan modification options to borrowers with COVID-19-related hardships based on the evaluation of an incomplete application.
The proposal rule wants temporary changes to certain required servicer communications to make sure borrowers receive key information about their options at the appropriate time.
A final decision is yet to be made, and some do question whether the CFPB has the power to delay foreclosures. The entire report can be found here: Protections for Borrowers Affected by the COVID-19 Emergency Under the Real Estate Settlement Procedures Act (RESPA), Regulation X.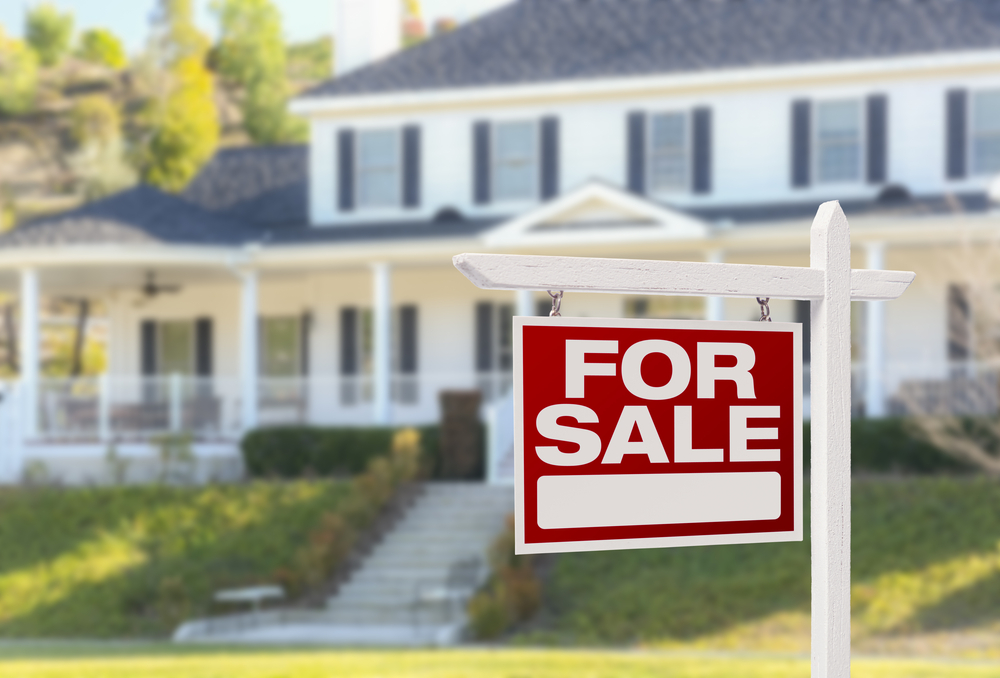 4. If All Else Fails, Homeowners Will Sell Their Homes Before a Foreclosure
Homeowners have record levels of equity today. According to the latest CoreLogic Home Equity Report, the average equity of mortgaged homes is currently $204,000. In addition, 38% of homes do not have a mortgage, so the level of equity available to today's homeowners is significant.
Just like the banks, homeowners learned a lesson from the housing crash too.
"In the same way that grandparents and great grandparents were shaped by the Great Depression, much of the public today remembers the 2006 mortgage meltdown and the foreclosures, unemployment, and bank failures it created. No one with any sense wants to repeat that experience…and it may explain why so much real estate equity remains mortgage-free."
What does that mean to the forbearance situation? According to Black Knight:
"Just one in ten homeowners in forbearance has less than 10% equity in their home, typically the minimum necessary to be able to sell through traditional real estate channels to avoid foreclosure."