Home>> Easy Pesto Pasta
This is proof that great meals can be assembled! This basil pesto pasta is the perfect meal to eat at home or as a take-along to an outing since it is served at room temperature. It also heats up nicely in the microwave if you prefer it hot. Brought to us by Keeping It Simple.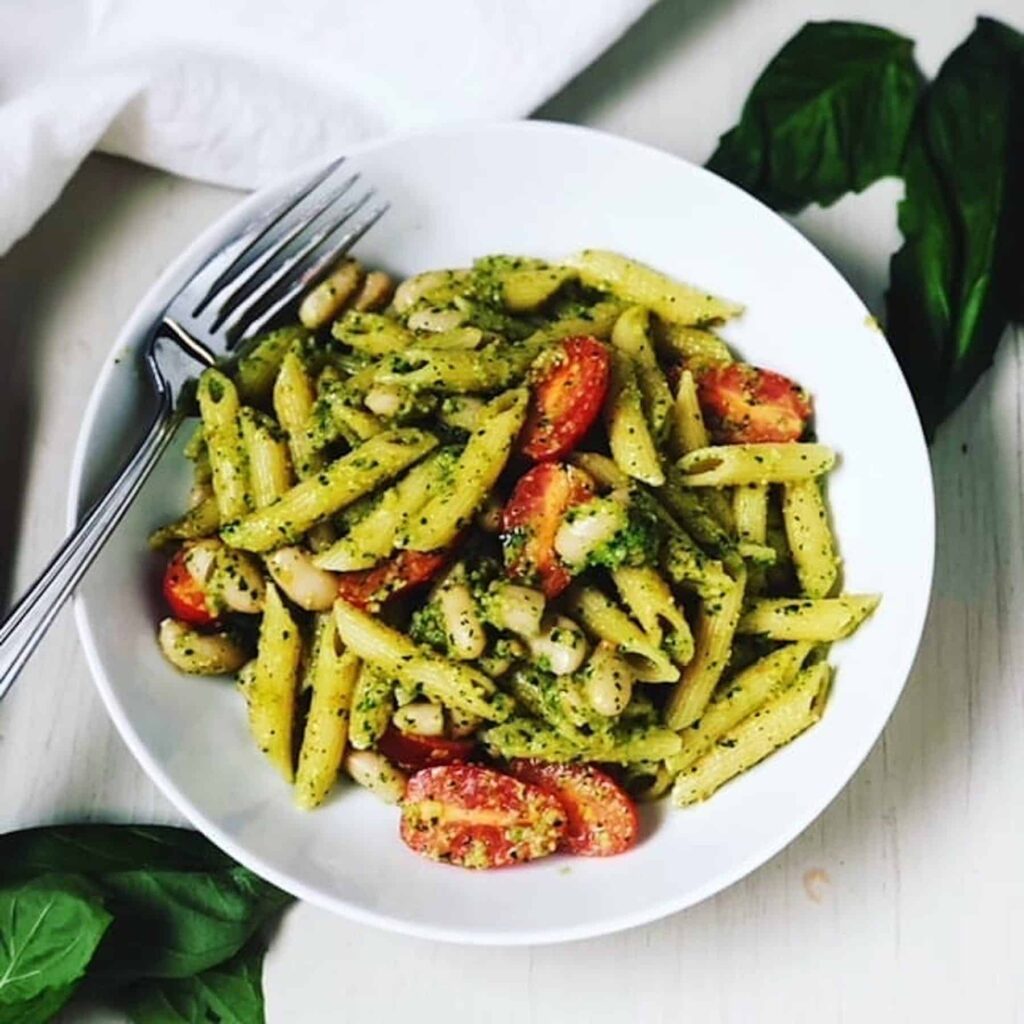 ---
INGREDIENTS
½ cup Chopped fresh basil packed down
⅓ cup Walnuts toasted. You can also use almonds or pine nuts.
½ cup Shredded fresh parmesan
3 tablespoon Olive oil
3 tablespoon Vegetable oil
2 tablespoon Lemon juice
½ teaspoon Kosher salt
1 tablespoon garlic minced about 4 cloves
1 tablespoon Water plus more to thin if necessary
1 lb penne pasta choose a shape that holds the pesto well like corkscrew or penne
1 pint of cherry tomatoes
15 oz can of cannellini beans rinsed well and drained
2 tablespoons of balsamic vinegar
kosher salt and pepper to taste
INSTRUCTIONS
For Pesto
Add all of your pesto ingredients to a food processor starting with your liquids first so they are at the bottom. 1 tablespoon garlic minced, ½ cup Chopped fresh basil, ½ cup Shredded fresh parmesan, 3 tablespoon Olive oil, 3 tablespoon Vegetable oil, ⅓ cup Walnuts, 2 tablespoon Lemon juice, ½ teaspoon Kosher salt, 1 tablespoon Water.
Pulse your ingredients until they begin to come together and form a pesto.
Do not over mix your pesto or it will be too smooth; you want a little texture.
Taste for seasoning and add any salt or pepper as needed.
For Pasta
Cook pasta according to the package instructions1 lb penne pasta
In a large bowl, combine the drained beans, pesto, tomatoes, and balsamic vinegar. 1 cup pesto, 1 pint of cherry tomatoes, 15 oz can of cannellini beans rinsed well and drained, 2 tablespoons of balsamic vinegar.
When pasta is fully cooked, strain it and add it to the bowl
Toss pasta and ingredients together well to combine
Taste for seasoning and see if salt or pepper is needed. Kosher salt and pepper to taste