Home>> Ekobo Recycled Bamboo Dinnerware
A set of matching plates and bowls is a certain version of domestic bliss: they stack neatly in the cupboard, line up precisely in a dishwasher or drying rack, and give a fully set table a sense of order and calm. This set of matching plates and bowls is nearly unbreakable, comes in a range of bright, gorgeous colors, is made of renewable bamboo (with no BPA, PVC, or phthalates!), and is light enough to pack for a cookout or the beach but sturdy enough for everyday use.
This dishwasher-friendly, 4-piece set comes with a low-rimmed square dinner plate and salad plate, a high-rimmed square pasta bowl, and small square bowls in our favorite colors—like petal pink, light gray, and charcoal—for mixing and matching.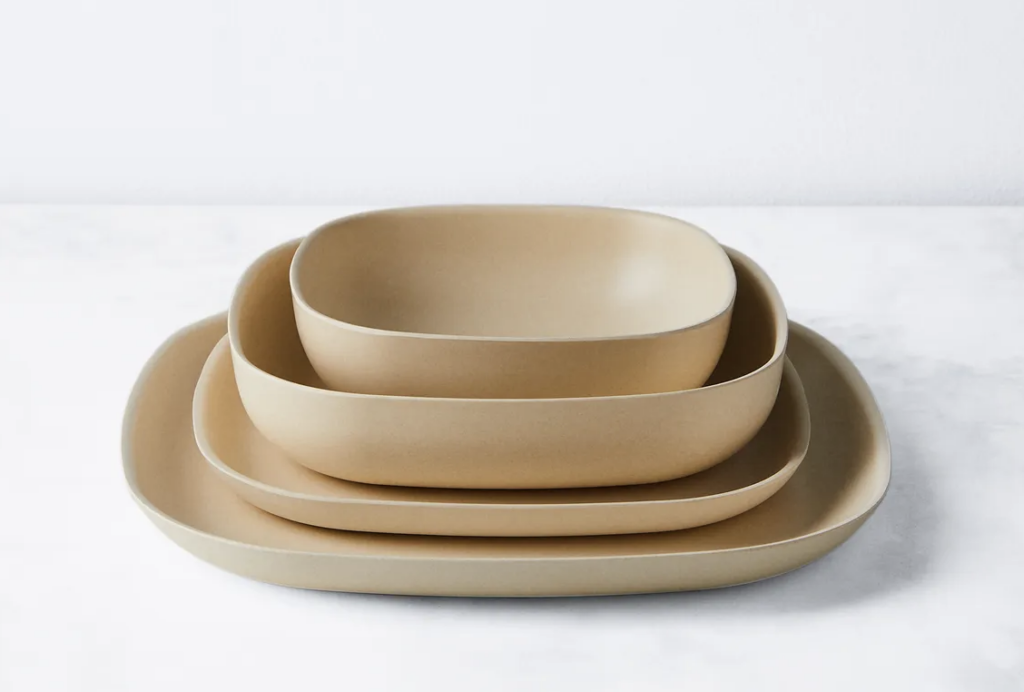 Reviews:
★★★★★
No matter how careful we were with ceramic tableware there was always a casualty. We decided to get something that would not break so easily. Absolutely love our new Ekobo dishes. I bought 2 sets of graphite and 2 sets of petal, F52 did a wonderful job at curating the color sets. They go together well and look lovely on my table.
★★★★★
I live alone and was chipping up my real dishes so I decided I needed just a few place settings of something simple to use instead for just myself. I really love these–light weight, pretty, good size. The ONLY thing I don't like is that I can't put them in the dishwasher. The description says 'top shelf only'. Well I don't know about you, but a dinner plate is not going to fit on the top shelf of my dishwasher. But it's only me and not a big sink full of plates, so not a deal breaker. If it's not for you either, you won't be disappointed. They are really nice.
★★★★★
Well made, great design
We have a plethora of articles with everything from Diy, Style Tips, Recipes, Renovation, Decor, and more. Check out HomebyGeneva.com