Home>> Garlic Bread Chicken Pot Pie
After a fun and eventful day at the pumpkin patch, the last thing you want to do is spend all evening cooking dinner. This garlic bread chicken pot pie recipe from LouLouGirls is delicious, easy to make, and only take 30 minutes to prepare!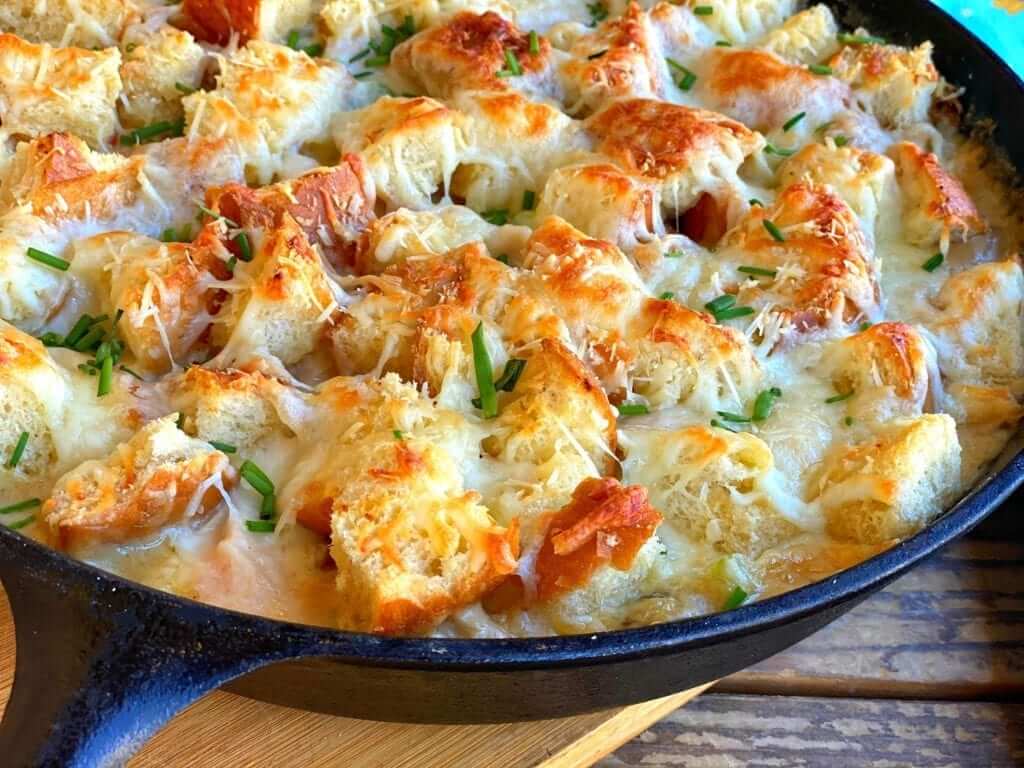 ---
INGREDIENTS
1 tbsp. olive oil
4 tbsp. butter
4 tbsp. flour
1 cup of heavy cream
1 1/2 cups of chicken broth
4 cups cooked chopped turkey or chicken, diced
1 1/2 cups frozen peas
2 celery stalks, chopped
1 carrot, peeled, chopped
2 to 3 garlic cloves, minced
1 onion, finely chopped
small package mushrooms sliced
salt and pepper, to taste
Garlic Bread Topping:
4 tbsp. salted butter
4 to 5 tbsp. parmesan cheese, grated
1 cup mozzarella cheese, shredded (enough to cover most of top)
5 packed cups French bread chunks-1″ cubes
2 garlic cloves, minced using a garlic press or grab a tube of minced garlic
INSTRUCTIONS
Preheat oven to 350° degrees
Topping: Stir together melted butter and garlic. Place bread chunks in a bowl, drizzle over butter, toss. Set aside.
Heat oil in an oven-proof skillet over high heat. Add the mushrooms and cook until browned – about 4 minutes. Remove.
Lower heat to medium-high. Melt butter in the same skillet. Add onion and garlic, cook for 2 minutes.
Add carrot and celery then cook for 1 minute.
Add flour, cook for 1 minute. You'll have a pasty mix.
While stirring, add the whipping cream, chicken stock and mix quickly to dissolve the paste into the liquid. Add the salt and pepper, stir.
Cook for 2–3 minutes, stirring regularly. It should start steaming and bubbling a bit, and the sauce will thicken.
Add chicken or turkey, peas and mushrooms, and mix into the sauce.
Top with bread spread to cover the surface. Grate over parmesan if using, top with melting cheese.
Bake: Bake for 12 – 15 minutes or until the cheese gets some brown spots. Tent foil over so it doesn't stick to the cheese, then bake for a further 10 minutes.
Serve: Sprinkle with additional parmesan if desired, then serve!