Mortgage News>>Geneva Named A Top 100 Company For Women By Comparably.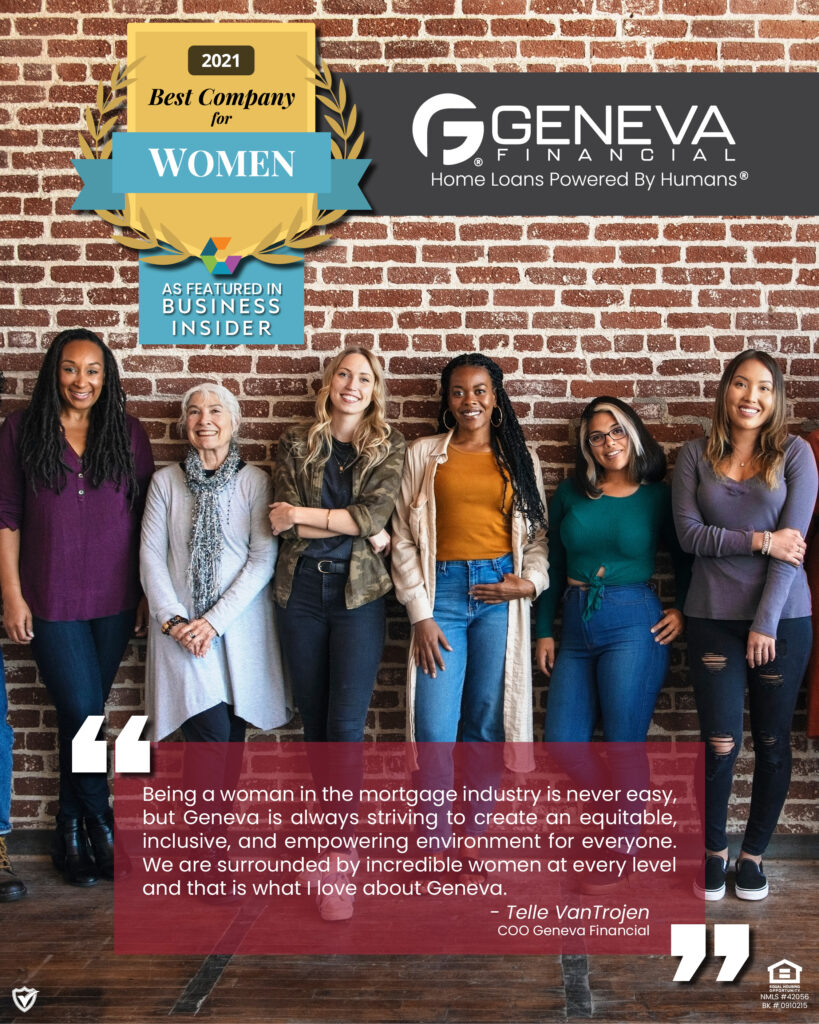 Geneva Financial is honored to announce that we have placed as a Top 100 Best Companies For Women, an honor bestowed to 100 of the best companies for women around the country. This award is based on anonymous employee feedback on Comparably.com to a variety of questions regarding an employee's overall satisfaction and happiness with the environment for women at their companies. Geneva Financial has among other outstanding companies like Adobe, Microsoft, and Google according to female employees.
Geneva is busting down barriers in the mortgage industry and beyond, and we couldn't do it without our incredible employees and leadership team pushing to create a culture of inclusivity and empowerment right here at Geneva.
See what Business Insider has to say about Geneva Financial at https://www.businessinsider.com/top-rated-large-companies-women-employee-ratings-comparably-2021-12#heres-the-full-list-of-large-companies-companies-with-over-500-employees-26
Want to hear what our female employees have to say?
"Making the leap of faith to join Geneva has proved to be one of the best decisions of my career. I now know that there really are CEO's and Sr. Mgt who want to see women excel. The constant sense of belonging and being encouraged to keep growing is overwhelming. Knowing that my work family cares for me the way my home family does brings such comfort and motivates me to continually want to be the best leader and supporter I can. As they say, "you get what you give" and at Geneva it goes both ways and everyone wins!" – Nicole Z., Branch Manager
"Geneva has helped me to do what I love every day while making a positive impact on others, achieving wealth at the same time, and giving my family a life we used to only dream of. All of this without sacrificing my self-worth. I am surrounded by such uplifting and inspiring people that I can't help but spread the same positivity. With Geneva, we are all family…." – Jamie B., Branch Manager
"Since joining Geneva Financial in December of 2020, I have really had to transition myself from the feeling that I need to compete to be part of the team, to accept that I am part of the team. I love that we create an environment where we share ideas and collaborate without fear of competition. Geneva has allowed me to see my vision and that motivates me." -Bobbie B., Branch Manager
"Being surrounded by phenomenal female branch managers and leaders makes me feel empowered and motivated to be at my best. Having female role models that support and understand you is a great feeling and I don't think it's something you can find just anywhere but it's definitely here at Geneva Financial" – Nicole G., Loan Officer
"I think as women, we are pulled harder in different directions. Think about your career, think about your family, making a family, provide for your family, spend more time with your family, etc. I wholeheartedly appreciate 1. Being treated incredibly well and like family 2. Having the space to develop my career in my own terms without having to sacrifice my time with my child. I feel like it motivates me even more. Mom guilt doesn't seem like a thing." – Vanessa B., Loan Officer
"Geneva Financial empowers me to live my dreams. I feel supported and encouraged to be human and to create what I wish to see, both in mortgage and in the world. The fierce and bold style of our leadership is inspiring to me each and every day! ❤" – Julie D., Branch Manager
"Geneva Financial has empowered me in so many ways! The ability to make as much money as I do and get to spend more time with my family is something I thought I'd never find! I'm truly grateful for the support and family like the atmosphere here at Geneva." -Ashley H., Loan Officer
"Geneva financial has empowered me to have the work-life balance I could have only dreamt of. As a professional female mortgage loan originator, who wishes to learn the business better and thrive, I highly recommend Geneva Financial!" – Janelle B., Loan Officer
"Geneva has not only made me feel comfortable as a younger woman in the mortgage industry but has also helped me feel valued and unstoppable. The opportunity is endless here and I know I have all the support I need to be as successful as I want!" – Tiffany S., Loan Officer
At Geneva, our #1 Core Value is "Be Human". We strive to humanize both the consumer and employee experience. We have worked hard to develop a culture that is conducive to the needs and wants of our employees. We strive to deliver the most inclusive, passionate, and efficient work environment to all of our employees.
Our leadership team is accessible and always willing to roll up their sleeves and help whenever needed. Our desire to consistently live and breathe our "Be A Good Human" motto from the inside out has significantly contributed to the ability to deliver an above satisfactory work-life balance to each and every one of our employees. This award means so much to our company and highlights the true nature of our team.
Want to read more? Check us out on Comparably by clicking here.