Mortgage News>>Aaron VanTrojen, Named a Top 100 CEO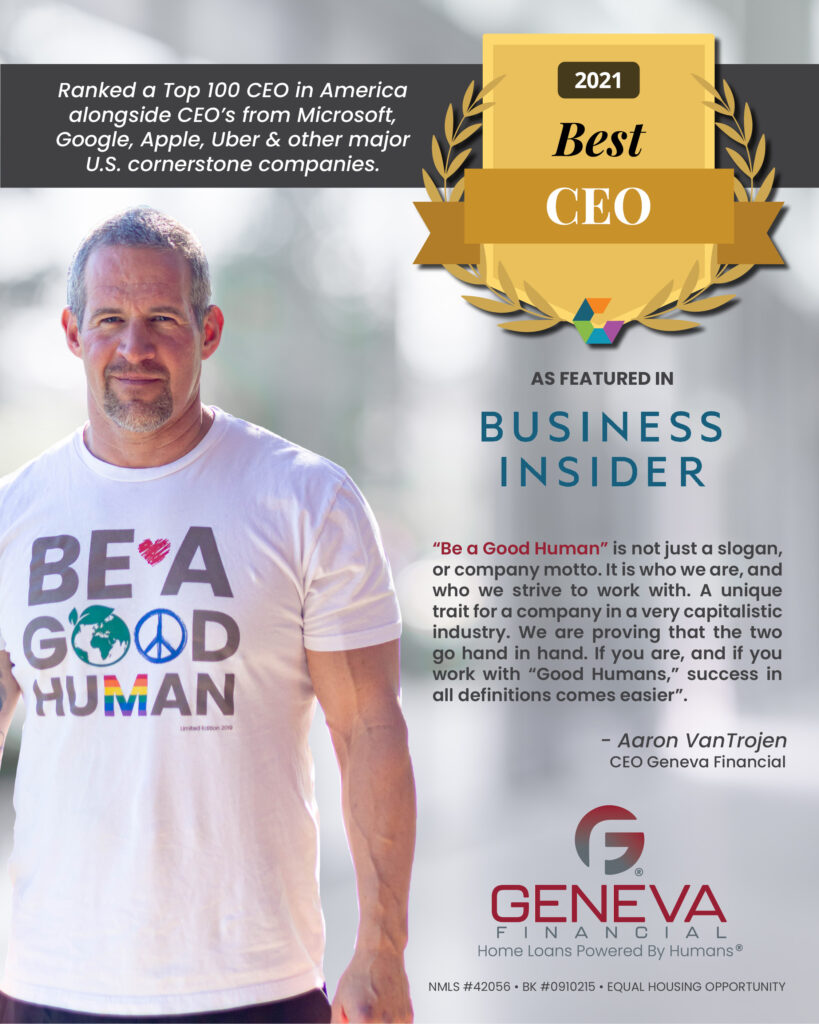 Geneva Financial is honored to announce that our very own CEO and founder has been named the Best CEO, an honored bestowed to 100 of the best CEOs around the country. The award for CEO is based on anonymous employee feedback on Comparably.com to a variety of questions regarding an employee's overall satisfaction with their Chief Executive Officer.
See what Business Insider has to say as Aaron is ranked among other CEOs of companies like Microsoft, Google, Apple, and more! https://www.businessinsider.com/top-ceos-large-companies-per-comparably-ranking-2021-12
VanTrojen believes that if you employ good humans, and pay them what they are worth, the sky is the limit. He specifically touches on how motivated he is today to open a door for real success to as many as possible.
At Geneva, our #1 Core Value is "Be Human". We strive to humanize both the consumer and employee experience. We have worked hard to develop a culture that is conducive to the needs and wants of our employees. We strive to deliver the most inclusive, passionate, and efficient work environment to all of our employees.
Our leadership team is accessible and always willing to roll up their sleeves and help whenever needed. Our desire to consistently live and breathe our "Be A Good Human" motto from the inside out has significantly contributed to the ability to deliver an above satisfactory work-life balance to each and every one of our employees. This award means so much to our company and highlights the true nature of our company.
Want to see what our employees are saying?
Q. What do you like best about the leadership team?
They are great to work with, they are quick to respond like you are the only one who works here. They are knowledgeable and always there to assist. We are well compensated and rewarded for hard work. Great team/family environment. Be a Good Human rings true here.
Transparency! Not only do I feel very informed about what is going on within Geneva but we are often given valuable insight on the industry as a whole. Geneva makes it easier to be a professional in this industry.
The ability to reach out to them – from our Regional Mgr to our CEO
The team continues to always improve operations and training. They respond quickly to inquiries and are always creating better ways of doing business. Simply the Best.
Our leadership team treats me like a human being, not a number added to their bottom line. It's unbelievable until you are here for some time and see that it is true. Leadership here DOES care about their employees. And not just their employees' pocketbooks, but their mental health as well.
Want to read more? Check us out on Comparably by clicking here.