Home>> Mortgage News>>FHFA Conforming Loan Limits Raised To $647,200
Geneva Financial Home Loans updates their conforming loan limits following the announcement from FHFA (Federal Housing Finance Authority), for 2022 the conforming loan limit for one-unit properties will be $647,200, an increase of $98,950 from $548,250 in 2021, keeping pace with steadily rising home prices across the country.
We are excited to now offer higher conforming loan limits in order to serve more consumers. This is great news for buyers and owners alike. This increase reaffirms the health of the housing market and any decision to invest in a home. With this increase, buyers have more purchasing power. Homeowners may be able to refinance their "jumbo" loan into a lower rate conforming loan and have the possibility to drop mortgage insurance.
High-Cost Area Limits
For areas in which 115 percent of the local median home value exceeds the baseline conforming loan limit, the applicable loan limit will be higher than the baseline loan limit. HERA establishes the high-cost area limit in those areas as a multiple of the area median home value, while setting a "ceiling" at 150 percent of the baseline limit. Median home values generally increased in high-cost areas in 2021, which increased their CLL. The new ceiling loan limit for one-unit properties will be $970,800, which is 150 percent of $647,200.
Special statutory provisions establish different loan limits for Alaska, Hawaii, Guam, and the U.S. Virgin Islands. In these areas, the baseline loan limit will be $970,800 for one-unit properties.

Geneva Financial is pleased to allow its consumers more options when it comes to home financing.
What does a loan limit increase mean for you as a buyer or owner?
Buyers may be able to borrow more money through a conventional, typically lower-rate loan.
Owners may be able to refinance their "jumbo" loan to a lower rate conforming loan and possibly drop mortgage insurance, too.
Combining (or avoiding) smaller 1st and 2nd mortgages may now be an option.
The increase reaffirms the health of the housing market and your decision to invest in a home.
Curious to see what loan limits look like in your area, use our interactive loan limit lookup tool below:
Why are increased loan limits are helpful? The average market price for a home has risen significantly, over the past year many people have had to resort to jumbo loan pricing to accommodate the purchase price of the home and obtain financing. Jumbo home loans are often more stringent with qualifying guidelines.
The CoreLogic HPI Forecast indicates that home prices will increase on a month-over-month basis by 0.1% from September 2021 to October 2021, and on a year-over-year basis by 1.9% from September 2021 to September 2022.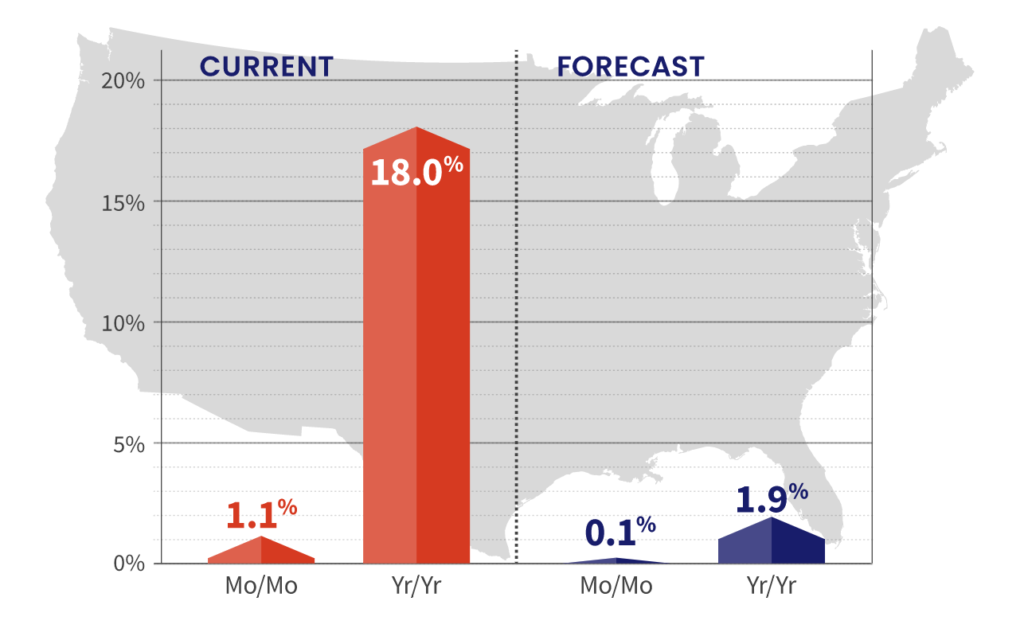 As demonstrated in the above graph, home prices are expected to continue rising, and having higher loan limits ensures that more buyers can be accommodated. This gives more buyers and owners the capability to qualify for homes, typically through conventional loan programs.
Conventional loans typically require the following:
Primary residence or investment
3% Down (first-time homebuyer only)
Minimum 620 credit score
NO Mortgage Insurance if more than 20% down
Down payment can be a gift
Seller allowed to contribute towards closing costs
Down payments for non first-time buyers range from 5-20% (if your down payment is less than 20% Mortgage Insurance may be required)
About Geneva Financial
Founded in 2007 by Aaron VanTrojen, Geneva Financial (NMLS 42056) is a direct mortgage lender headquartered in Chandler, Arizona with more than 130 branch locations in 46 states. Our mission at Geneva Financial is to approach every aspect of our business from the "inside-out". With a culture-forward mindset, we focus on our loan originators and support staff first to ensure an unbeatable experience for our customers.
Our Core Values were created as a daily reminder to operate with the inside-out approach in mind. Core Value #1 is the backbone of all our Core Values, our mission and our brand vision: Home Loans Powered by Humans®.
FIND A LICENSED MORTGAGE LOAN OFFICER
Homes for Heroes & First Responder Mortgages