Home>> Hawaiian BBQ Chicken
This delicious recipe is perfect for a labor day weekend cookout, or whenever you are in the mood for a flavorful dinner! This recipe is brought to us by, Dinner At The Zoo.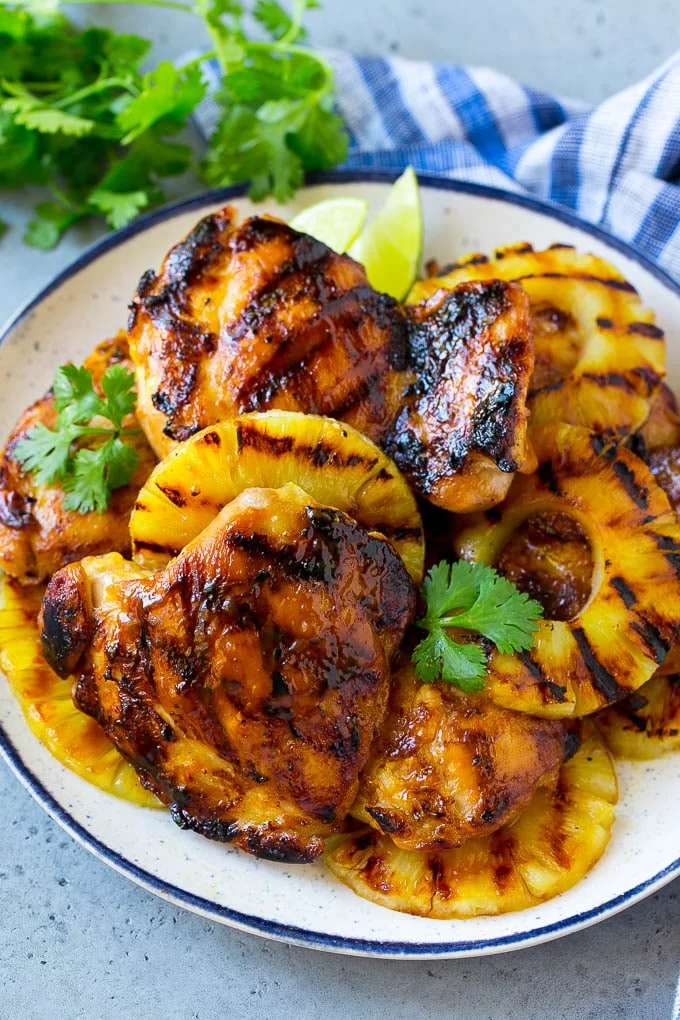 ---
Ingredients:
For the chicken
1 1/2 pounds boneless skinless chicken thighs
1/2 cup low sodium soy sauce
1/4 cup water
1/4 cup packed light brown sugar
1/2 teaspoon minced garlic
1 teaspoon sesame oil
1/2 cup light coconut milk
1/4 cup pineapple juice
1 cup pineapple slices fresh or canned
For the coconut rice
1 cup white rice I prefer short grain for this recipe
1 1/4 cup light coconut milk
1/2 cup water
3/4 teaspoon kosher salt
2 teaspoons brown sugar
cilantro leaves and lime wedges for garnish optional
Instructions
Chop up chicken tenders into small 1-inch or smaller pieces and place in a bowl.
Pour Buffalo Sauce over chicken and mix to coat.
Put 1/4 of the buffalo chicken, blue cheese, and lettuce into each wrap.
Wrap each tortilla and secure with a toothpick if desired.
Enjoy immediately or store up to 3 days in the refrigerator and enjoy cold or with reheating directions above.
For the chicken: Combine the soy sauce, water, brown sugar, garlic, sesame oil, coconut milk, and pineapple juice, then pour into a container or resealable bag.
Add the chicken and marinate anywhere from 2-24 hours.
Heat the grill to medium. Remove the chicken from the marinade and grill for 6-7 minutes on each side or until the chicken is cooked through.
Add the pineapple to the grill and cook for 2-3 minutes per side. Arrange the pineapple and chicken on a serving plate.
For the rice: Bring the coconut milk and water to a boil. Add in the salt and rice. Cover, reduce heat to low, and simmer for 18 minutes. Stir in the brown sugar.
Serve the chicken and pineapple with coconut rice. Garnish with lime wedges and cilantro if desired.
NUTRITION
Serving: 1g | Calories: 568kcal | Carbohydrates: 65g | Protein: 38g | Fat: 15g | Saturated Fat: 8g | Cholesterol: 161mg | Sodium: 743mg | Potassium: 640mg | Fiber: 1g | Sugar: 20g | Vitamin A: 785IU | Vitamin C: 44.4mg | Calcium: 50mg | Iron: 2.7mg
Tried this Recipe? Tag me Today! Mention @DinnerAtTheZoo or tag #dinneratthezoo!