Home>> The Premium Beach Umbrella
The Premium Beach Umbrella in Antique White redefines the word "chic." This best-selling umbrella has you covered for any beach outfit matchup or occasion.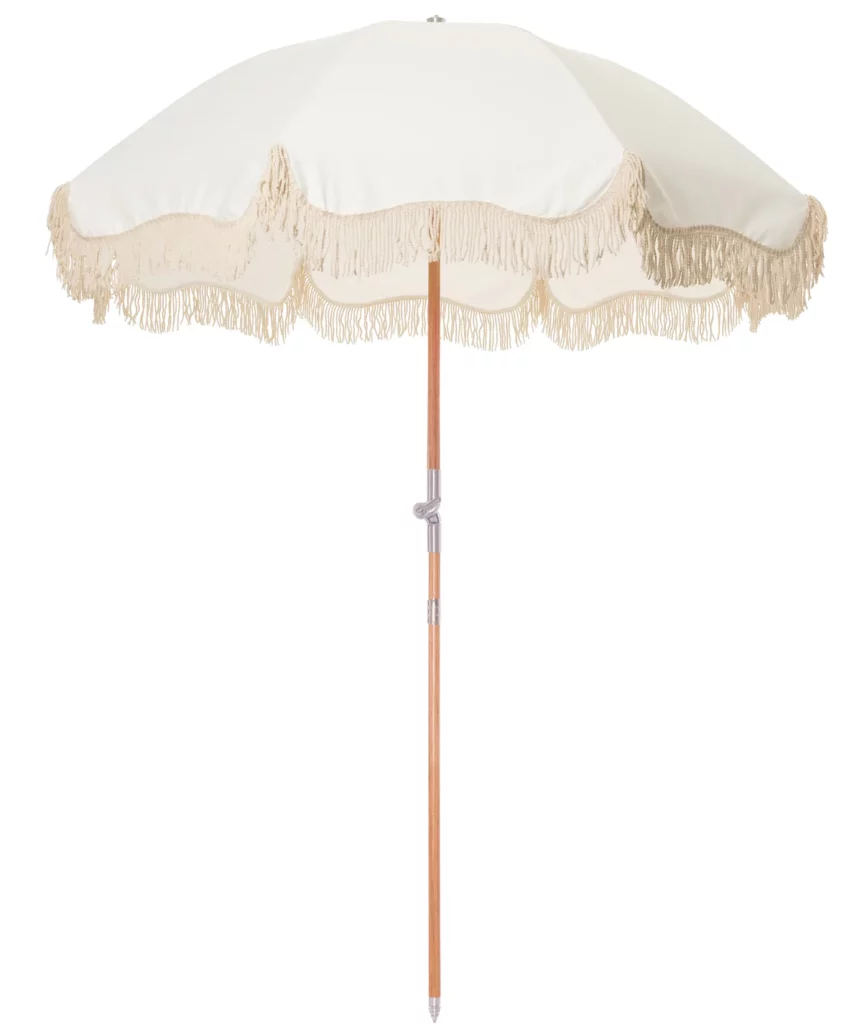 Features
Lie under luxury with your loved ones. This Premium Umbrella is the Ferrari of the Beach. This beauty has been perfected over the last 5 years & no details have been spared. Enjoy 6′ of shade when open & then pack down into a matching carry bag to transport to and from the beach with ease. 
Reclaimed timber laminated wood pole.
Marine grade hand polished aluminum hinge and handle.
UV- and water-resistant canopy with fiberglass ribs.
98% Block out & UPF 50+.
The canopy is trimmed with a natural cotton fringe.
Comes with a matching canvas carrier bag.
SPECIFICATIONS
In Use: 7′ H x 6′ W ( 213cm x 183cm)
In Carry Bag: 48″ L x 4″ W x 4″ ( 122cm x 10cm x 10cm)
Pole diameter: 1.125″ ( 2.85cm)
Weight: 9lbs (4kgs)
Set up Time: Less than 1 Minute
CARE
Always store indoors, inside the carry case in a dry area when not in use to preserve its beauty.
Avoid the use of chemicals, spot clean with mild, soapy water.
If the item gets wet, allow it to air dry completely before storing away.
Keep free from any water, chlorine, or salt residue.
Reviews:
★★★★★
The color, the quality, the fabric… everything about this umbrella is beyond perfect! We are so, so happy with the product!
★★★★★
I run a luxury picnic business, and I knew that I have to include the Premium Umbrellas to my picnic packages because they add the "wow" factor like no other. One of the most common question I get is "Where did you get your umbrellas?"
★★★★★
Such a beautiful umbrella & easy to put together! Looks great on our patio next to the pool & does a great job of providing shade. Ended up buying another after I received the first one and saw what great quality it was & couldn't be happier with them!
★★★★★
we love this umbrella! it can fold to a 90° angle which is great for the blazing sun at the end of the day and also if you're at a somewhat crowded beach and feel like being in your own bubble both of which we experience regularly.
★★★★★
The elegant, chic, and classic umbrella brings distinction to our beach enjoyment. Of course, they're paired with matching chairs! I had seen these on the beach and became obsessed with trying to find them. And for our deck, I got the accessory stand with the wheels. It serves both on the beach and on the deck. The umbrella is easy to set up.
We have a plethora of articles with everything from Diy, Style Tips, Recipes, Renovation, Decor, and more. Check out HomebyGeneva.com