Home>> EKET Storage Combination with legs
The EKET Storage Combination with legs you can build your storage big, small, colorful, or discreet to either display or hide your things. And if your space and needs change, you can easily change your EKET solution too.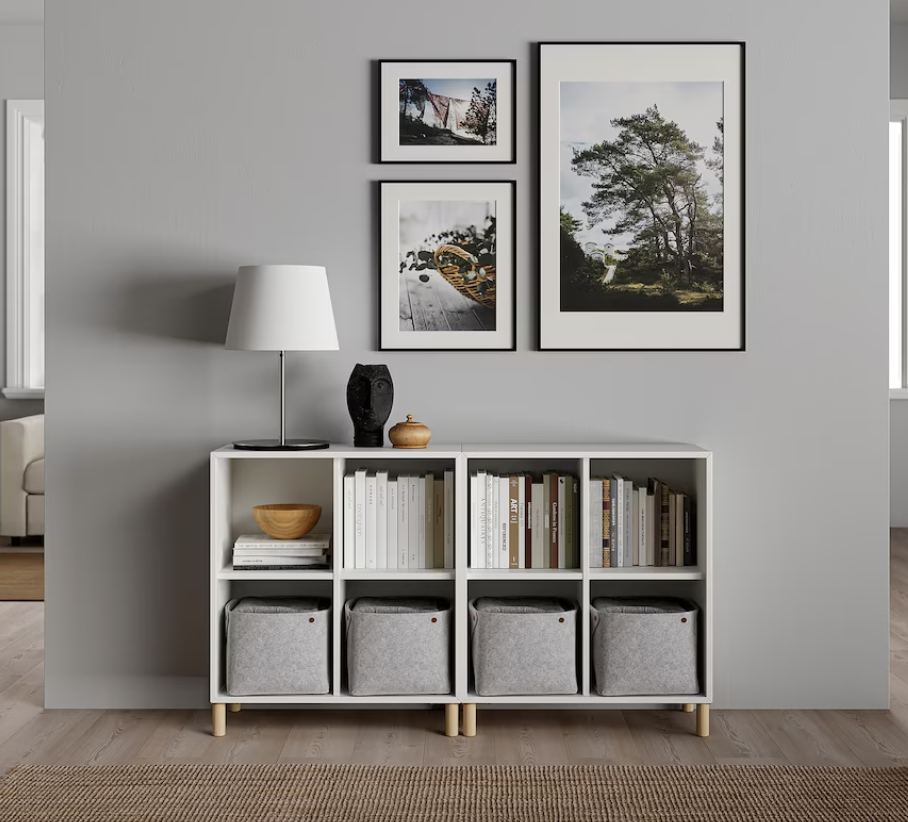 Features
A low combination provides convenient storage space under a window, stairs, etc.
Can be used as a utility bench in the bedroom or hallway.
Assembly is quick and easy, thanks to the wedge dowel that clicks into the pre-drilled holes.
Wooden legs give a natural look to your EKET combination and make it easier to keep the surface under your storage clean.
SPECIFICATIONS
Length: 27 ½ "
Width: 55 "
Depth: 13 ¾ "
Height: 31 ½ "
CARE
Storage combination with legs
Wipe clean using a damp cloth and a mild cleaner.
Cabinet with 4 compartments/leg
Wipe dry with a clean cloth.
Check regularly that all assembly fastenings are properly tightened and retightened when necessary.
Reviews:
★★★★★
Surprisingly easy to be put together, they look great and met my purpose of record storage and Stereo stand.
★★★★★
Very happy I went with this version of the eket as a hallway bookshelf. I got another 4-chamber eket + wooden legs too to make it longer. I will say, I LOVE building ikea furniture and I found this one sort of challenging because it wasn't the usual screw-in model. Instead, there were a lot of points where you needed body strength to fit things together. I ended up stripping some of the connection areas which led to minor cosmetic imperfections. Not enough to upset me, just a word of warning.
★★★★★
We needed storage space in our son's room. He picked this out and while he is away at college, we put it together and it looks great!
★★★★★
It's worth the money
We have a plethora of articles with everything from Diy, Style Tips, Recipes, Renovation, Decor, and more. Check out HomebyGeneva.com