National Pretzel Day is April 26th. Here is a savory pretzel recipe for you to try out to celebrate the day, and elevate your pretzel game – a recipe brought to us by Baker By Nature.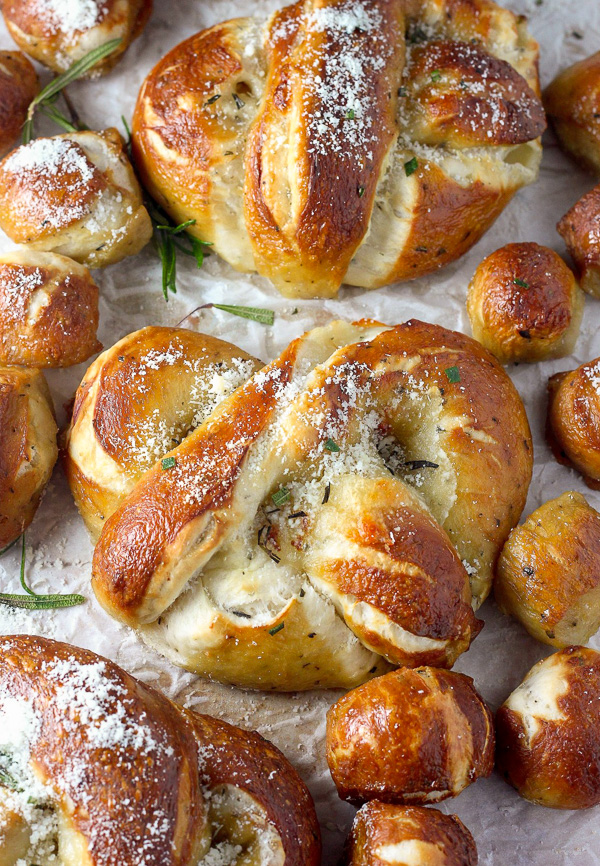 Ingredients
Dough:
1 and 1/2 cups warm water (between 110-115 degrees F)
1 package Rapid Rise yeast
1 and 1/2 tablespoons sugar
1 and 3/4 teaspoons salt
2 tablespoons fresh rosemary, chopped
4 and 1/4 cups all-purpose flour
6 tablespoons unsalted butter, very soft
Cooking Liquid:
10 cups water
3/4 cup baking soda
Fillings:
1 cup mozzarella cheese, shredded
1/4 cup parmesan cheese, grated
Egg wash:
1 egg, beaten
1 tablespoon water
Toppings:
2 tablespoons melted butter (optional)
1/4 cup parmesan cheese, grated
1/2 tablespoon fresh rosemary
1/2 teaspoon garlic powder
1/2 teaspoon black pepper
Pinch of salt
Instructions
For the Dough:
Combine water, yeast, sugar, and salt in a stand mixer bowl fitted with the dough hook attachment. Let stand for 10 minutes, or until mixture begins to foam.
Add the rosemary, flour, and butter and knead on medium speed for 12 minutes.
Cover dough with a warm damp cloth and place in a warm area of your house to rise for an hour, or until dough has doubled in size.
Assembly and Cooking:
Combine the shredded mozzarella cheese and parmesan in a small bowl. Place the bowl in the freezer until needed.
Preheat oven to 425 degrees (F). Line two large baking sheets with parchment paper; set aside.
Add water and baking soda to a large pot or dutch oven; bring to a boil.
In the meantime…
Divide dough into 8 equal rounds.
Roll each round out into a 16″ rope.
Roll each rope out so it's 4 inches wide.
Remove cheese from freezer. Add 2 tablespoons of cheese filling evenly along the rope.
Tightly roll the dough back into rope, jelly roll style, pinching the edges together.
Make a U shape with each rope of dough, holding the ends.
Cross the ends over each other, pinching ends onto the bottom of the dough.
Place pretzels – one at a time – into the boiling cooking liquid. Cook for 30 seconds each. Remove pretzels with a slotted spoon, allowing any excess water to drip back into the pot before transferring to prepared baking sheet.
Once all pretzels have been boiled, brush the tops of each with egg wash.
Place baking sheet in the oven and bake for 16-18 minutes.
Allow pretzels to cool on the baking sheet for 5 minutes before touching.
Awesome Pretzel Variations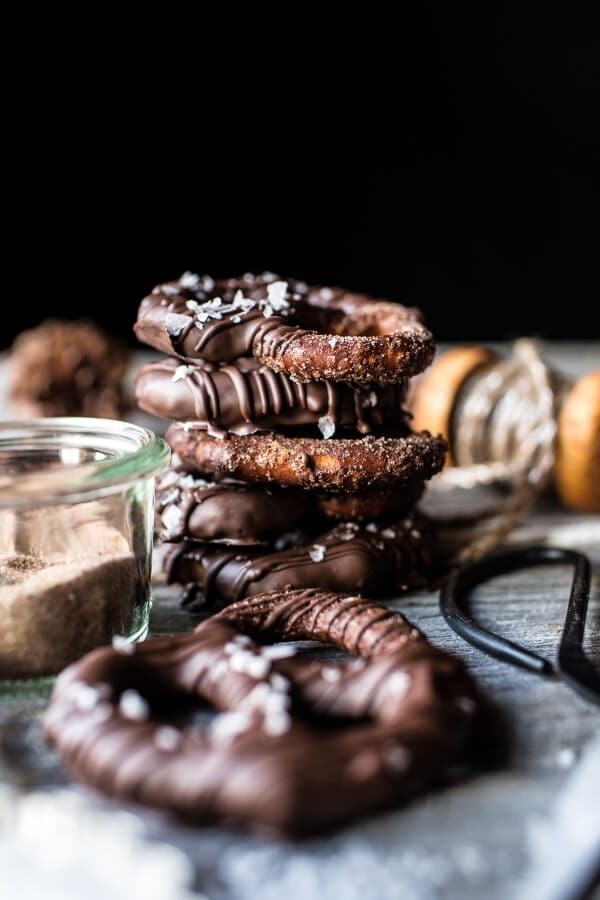 Have a sweet tooth? Try these delicious chocolate-covered cinnamon sugar pretzels via Half Baked Harvest