Home>> Pumpkin Cheesecake Brownies
So, you finally finished decorating your home for the holiday. Now it's time to reward yourself with a delicious treat. This quick and easy recipe from Delish only takes about 15 minutes to prepare and can bake while you make your home more festive for the season!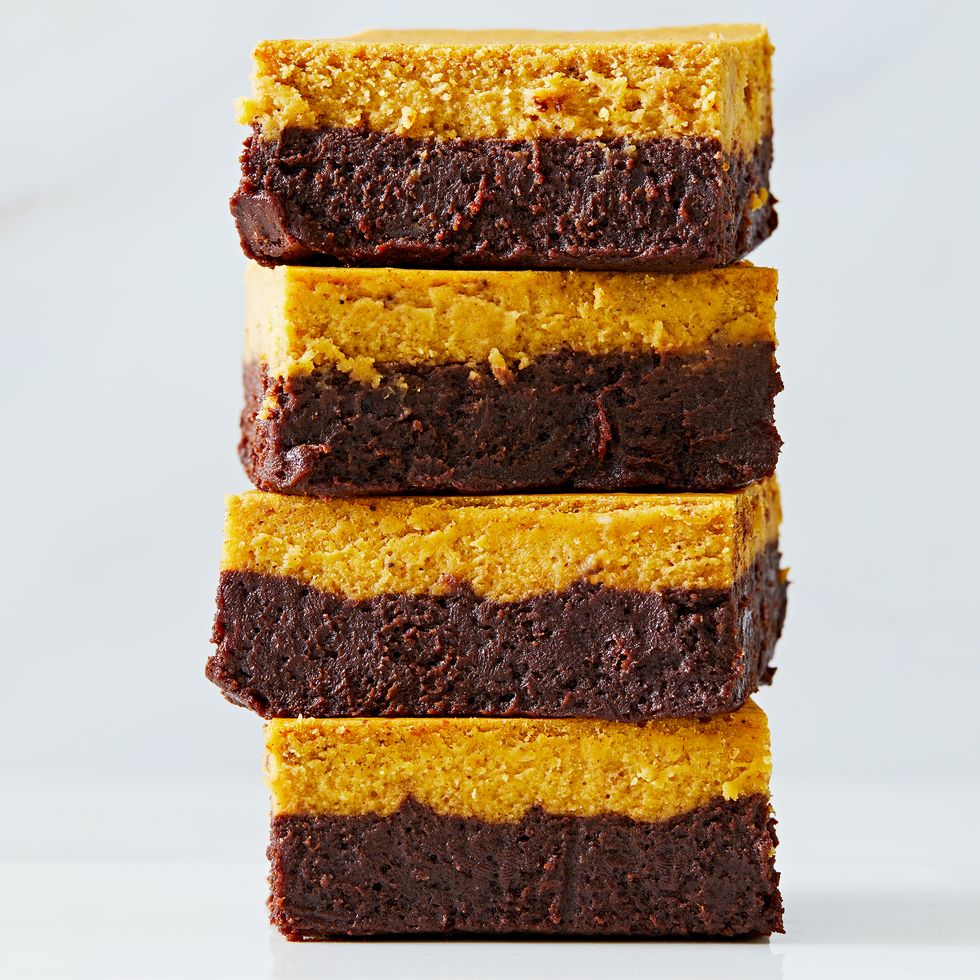 ---
INGREDIENTS
Brownie Batter
Cooking spray
1/2 cup (1 stick) unsalted butter
3 oz. chocolate (60% cacao), chopped
1 tsp. pure vanilla extract
1/2 tsp. espresso powder
1/2 tsp. kosher salt
3/4 cup granulated salt
1/4 cup packed light brown sugar
1/4 cup unsweetened cacao powder
1/2 cup all-purpose flour
2 large eggs, room temperature
Pumpkin Cheesecake and Assembly
8 oz. cream cheese, room temperature
1 large egg
1/2 cup canned pumpkin puree
1/3 cup granulated salt
1/4 cup all-purpose flour
1 tsp. pure vanilla extract
1 tsp. pumpkin pie spice
1/2 tsp. kosher salt
Unsweetened cocoa powder, for dusting (optional)
INSTRUCTIONS
Brownie Batter
Preheat oven to 350°. Grease an 8″x8″ metal baking pan with cooking spray. Line pan with foil, leaving an overhang on 2 opposite sides. Grease foil with cooking spray.
In a small pot over medium heat, melt butter. Remove from heat, add chocolate, and stir with a rubber spatula until melted and smooth. Stir in vanilla, espresso powder, and salt.
In a large bowl, whisk granulated sugar and brown sugar. Whisk in chocolate mixture until smooth. Add eggs, one at a time, whisking to blend after each addition, then continue to whisk until batter is well combined, about 30 seconds more. Fold in flour and cocoa powder with a spatula just until combined.
Pumpkin Cheesecake and Assembly
In a large bowl, using a handheld mixer on medium-high speed, beat cream cheese until smooth, 2 to 3 minutes.
Add egg, pumpkin puree, granulated sugar, flour, pumpkin pie spice, vanilla, and salt and continue to beat until well combined and smooth.
Pour brownie batter into prepared pan. Using a spatula, spread in an even layer. Top brownie batter with pumpkin cheesecake batter and gently spread, making sure not to merge layers together.
Bake brownies until set and a tester inserted into the center comes out with a few crumbs attached, 40 to 50 minutes. Let cool before slicing. Dust with cocoa powder (if using).