Home>> Shrimp Taco Salad
Shrimp taco salad with cilantro lime dressing is flavourful, delicious, and easy to make. It has all the fixings and flavors of shrimp tacos but without the mess. Brought to us by Ahead Of Thyme.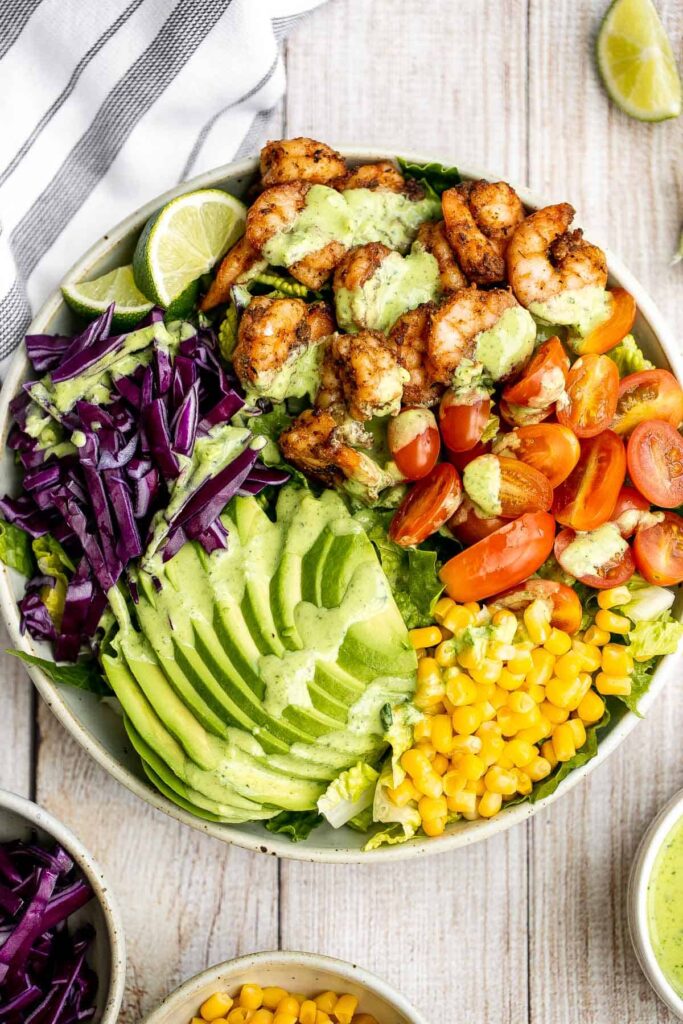 ---
INGREDIENTS
For the shrimp:
1 pound white shrimp, peeled, deveined, and tails removed
1 tablespoon olive oil
1 teaspoon ground cumin
1 teaspoon chili powder (optional for a kick)
½ teaspoon paprika
½ teaspoon garlic powder
½ teaspoon dried oregano (or Italian seasoning)
½ teaspoon salt
¼ teaspoon ground black pepper
For the salad:
1 head romaine lettuce, chopped (about 6-7 cups
1 cup grape tomatoes, halved
½ cup purple cabbage, diced
1 medium ripe avocado, sliced
1 cup corn kernels (canned or cooked from frozen)
1 cup tortilla chips, crushed (or tortilla strips)
lime wedges (optional, for garnish)
INSTRUCTIONS
In a medium bowl, add shrimp, olive oil, cumin, chili powder, paprika, garlic powder, oregano, salt, and pepper. Toss well to coat and set aside to marinate for 15 minutes (if you have the time).
Cook the shrimp in the oven, air fryer, or over the stove.

To cook in the oven: Spread the shrimp evenly on a parchment-lined quarter sheet baking pan and bake in a 400 F preheated oven for 8-10 minutes until the shrimp turns pink.
To cook in the air fryer: Cook the shrimp in the air fryer at 350 F for 8-10 minutes, shaking the basket once halfway through.
To cook on the stovetop: Sauté over medium-high heat for 5 minutes until shrimp turns pink and nicely browned.

In a large serving bowl, add all salad ingredients including lettuce, tomatoes, purple cabbage, avocado, corn, tortilla chips (or tortilla strips), and cooked shrimp.
Drizzle cilantro lime dressing on top and toss to combine.
NOTES
How to store: If you anticipate having leftovers, serve the tortilla chips and shrimp on the side, and add it to your individually portioned-out salad. This will prevent your chips from getting soggy and your shrimp from spoiling the rest of the salad if they go bad first. Plus, when stored separately you can easily reheat the shrimp and add it to the leftover salad the next day. The salad base will last in an airtight container in the refrigerator for up to 5 days. The shrimp will keep for 3-4 days in an airtight container in the refrigerator.
How to substitute with other protein: If you are craving this salad but are thinking of using other protein, you totally can. Consider using salmon, cod, scallops, or another one of your favorite kinds of seafood in its place. Keep in mind that this recipe is designed to let the flavor of the shrimp come through, so proteins like chicken or beef are not the best substitution.
Serves 6
Serving Size: 1 serving
Calories Per Serving: 229
% DAILY VALUE
15%Total Fat 11.4g
41%Cholesterol 124mg
20%Sodium 452mg
6%Total Carbohydrate 16.5g
Sugars 4.4g
37%Protein 18.6g
54%Vitamin A 486.5µg
17%Vitamin C 15.5mg