Home>> Spinach Feta Chicken Penne
If you're looking for a light yet nutritionally balanced recipe, this is our new favorite! Brought to us by tasteofhome, this spinach feta chicken penne is both good for the soul and good for a healthy diet!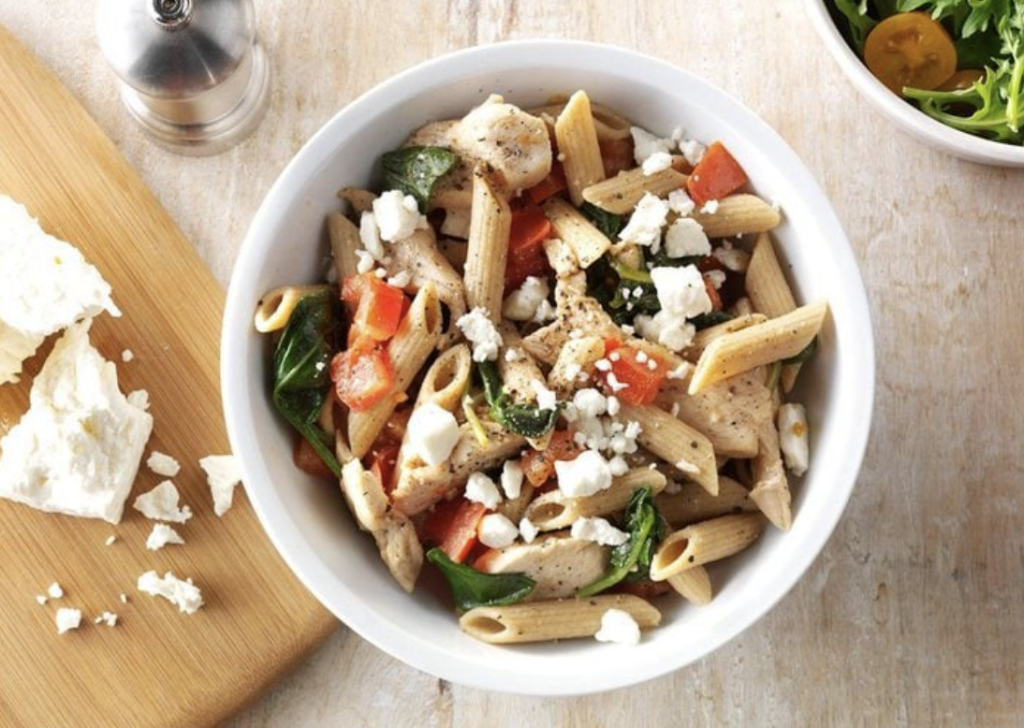 ---
INGREDIENTS
1 package (12 ounces) whole wheat penne pasta
1-1/2 pounds boneless skinless chicken breasts, cut into 1/4-in.-thick strips
3 tablespoons olive oil, divided
3/4 teaspoon salt, divided
1/4 teaspoon pepper
3 garlic cloves, minced
1/2 cup reduced-sodium chicken broth
1/2 cup dry white wine or additional broth
6 plum tomatoes, chopped
2 cups fresh baby spinach
3/4 cup crumbled feta cheese
INSTRUCTIONS
In a 6-qt. stockpot, cook pasta according to package directions. Drain; return to pot.
Meanwhile, toss chicken with 2 tablespoons oil, 1/2 teaspoon salt and pepper. In a large skillet, cook and stir chicken, half at a time, over medium-high heat 3-5 minutes or until no longer pink; remove from pan.
In same skillet, heat remaining oil over medium heat. Add garlic; cook and stir 1-2 minutes or until tender. Add broth and wine. Bring to a boil, stirring to loosen browned bits from pan; cook 2 minutes. Stir in tomatoes and remaining salt; cook until tomatoes are softened. Stir in spinach until wilted.
Add chicken and tomato mixture to pasta; heat through, tossing to combine. Serve with cheese.