Home>> Teriyaki Chicken Thighs
Pack in the protein and the flavor with this Teriyaki Chicken Thigh recipe, and is the perfect dish for your tailgate! We love it over steamed white rice with veggies! Brought to us by the Food Network.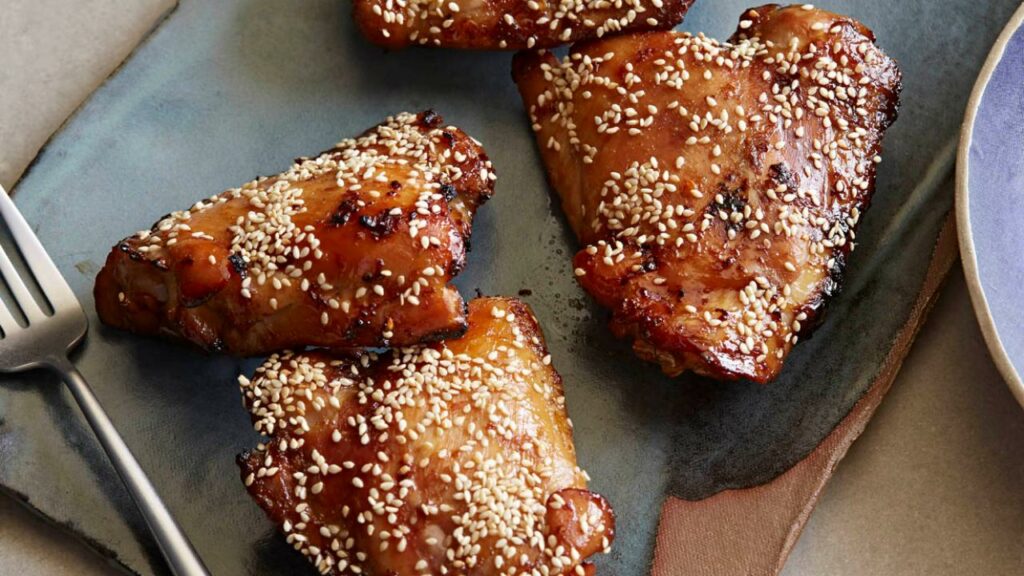 ---
INGREDIENTS
1/4 cup low-sodium soy sauce
2 tablespoons brown sugar
2 tablespoons dry sherry
2 tablespoons rice vinegar
2 garlic cloves, crushed with a garlic press or minced
1 teaspoon finely grated fresh ginger
1/4 teaspoon red pepper flakes
2 pounds skinless chicken thighs
2 teaspoons sesame seeds
INSTRUCTIONS
Combine the soy sauce, sugar, sherry, vinegar, garlic, ginger and red pepper flakes and stir until the sugar dissolves. Transfer to a resealable plastic bag and add the chicken. Seal the bag and marinate the chicken in the refrigerator, turning once, for 1 hour. The chicken can be marinated for up to 4 hours.
Heat the broiler to high. Arrange the chicken on a broiler pan skin side down and broil until brown and crispy, 8 to 10 minutes. Flip the chicken and broil until almost cooked through, about 8 minutes longer. Sprinkle with sesame seeds and cook until the seeds turn golden brown and the chicken is done, 1 to 2 minutes longer.