Home>> Bacon-Wrapped Spinach Dip Crostini
Treat your guests this Thanksgiving with these delicious Bacon-Wrapped Spinach Dip Crostini's from the Food Network! These crostini's will make for a great Thanksgiving day appetizer the family can eat before the main feast. With only 45 total minutes of combined cook/prep time, there's no better time to try this out than for the holiday!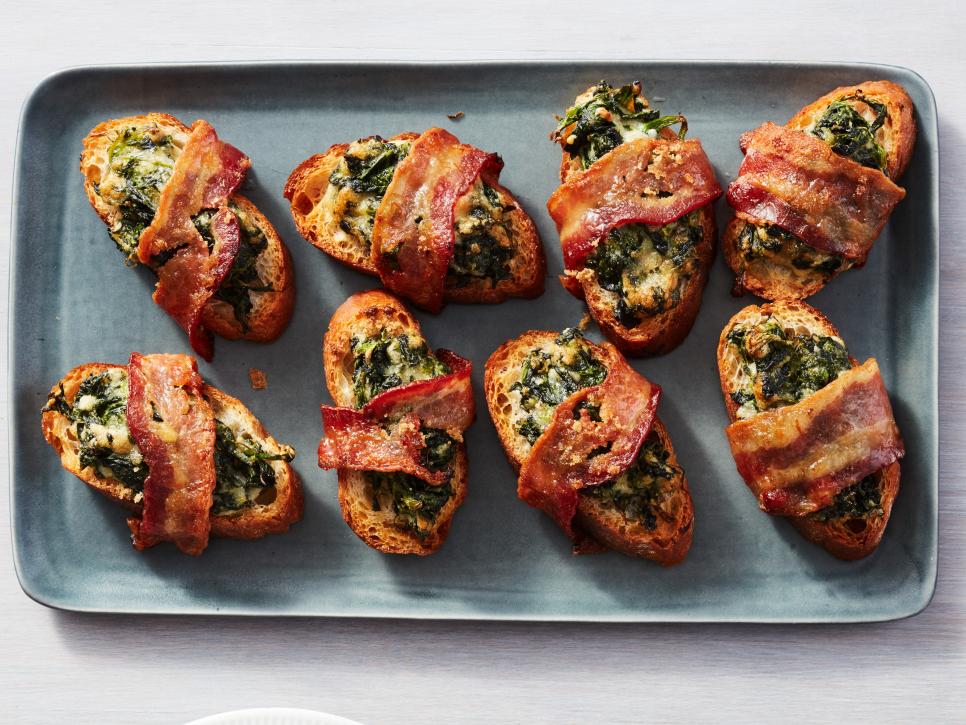 ---
INGREDIENTS
This recipe 8-12 servings (24 crostini)
12 slices bacon, cut in half crosswise
2 tablespoons dark brown sugar
Nonstick cooking spray, for spraying the baking sheet
One 9-ounce box frozen chopped spinach, thawed and squeezed dry
One 8-ounce package cream cheese, at room temperature
1 cup freshly grated Parmesan
1/4 cup mayonnaise
2 cloves garlic, grated
Freshly ground black pepper
24 bias-cut slices baguette (1/4 inch thick; from 1 baguette)
INSTRUCTIONS
Preheat the oven to 425 degrees F. Toss the bacon with the brown sugar in a medium bowl until evenly coated. Arrange the bacon on a baking sheet and bake until light golden around the edges but still very soft, about 7 minutes. Transfer to a plate. Wipe the baking sheet clean, then spray with cooking spray.
Stir together the spinach, cream cheese, Parmesan, mayonnaise, garlic and 1/4 teaspoon pepper in a medium bowl.
Spoon 1 tablespoon of the spinach mixture onto each slice of bread and wrap it with a piece of bacon so that the ends are tucked under the bread (it should look a bit like a belt). Arrange the crostini on the prepared baking sheet and bake until the bacon is dark golden, about 15 minutes. These are best served warm.