Home>> FANGOR Bluetooth Movie Projector
Take your movie-viewing experience to the next level with this Bluetooth Movie Projector from FANGOR!
This projector is perfect for an outdoor movie night! With a sharp 1080p resolution and an innovative high-refraction 6-layer glass lens, it is sure to give you the ultimate show. Paired with a built-in stereo surround speaker, this projector is your one-stop shop to provide cinema-like quality to your backyard.
This projector provides support for HDMI, AV, and SD cards, and a WiFi connection to play your media which means you can watch your favorite content! Plug in your favorite streaming stick to have all your favorite shows at your disposal!
Features:
NATIVE 1080P FULL HD RESOLUTIONS: With a native resolution of 1920*1080 and a contrast ratio of 10000:1, the Fangor-506 1080p Projector provides sharp and detailed HD images. Combining an innovative high-refraction 6-layer glassed lens ensures the best video experience.
WIRELESS WiFi CONNECTION: Latest WiFi connecting function is compatible with IOS and Android systems. You do not need converting cable such a troublesome thing, just a one-time WiFi connection and you can connect your device with the Portable home Bluetooth projector whenever you want to use it. (Attention: Make sure both your phone and the 1080p Wi-Fi Bluetooth projector are connected to the same WiFi network )
BLUETOOTH & SURROUND SPEAKER: Build-in stereo surround speaker, 1080p HD projector restores every detail sound effect to let you enjoy the pleasure sounds in different scenes. With Bluetooth, you can connect your ideal Bluetooth speaker wirelessly at any time. (Note: smartphone not supported connecting with FANGOR native 1080P wifi projector to transfer data by Bluetooth)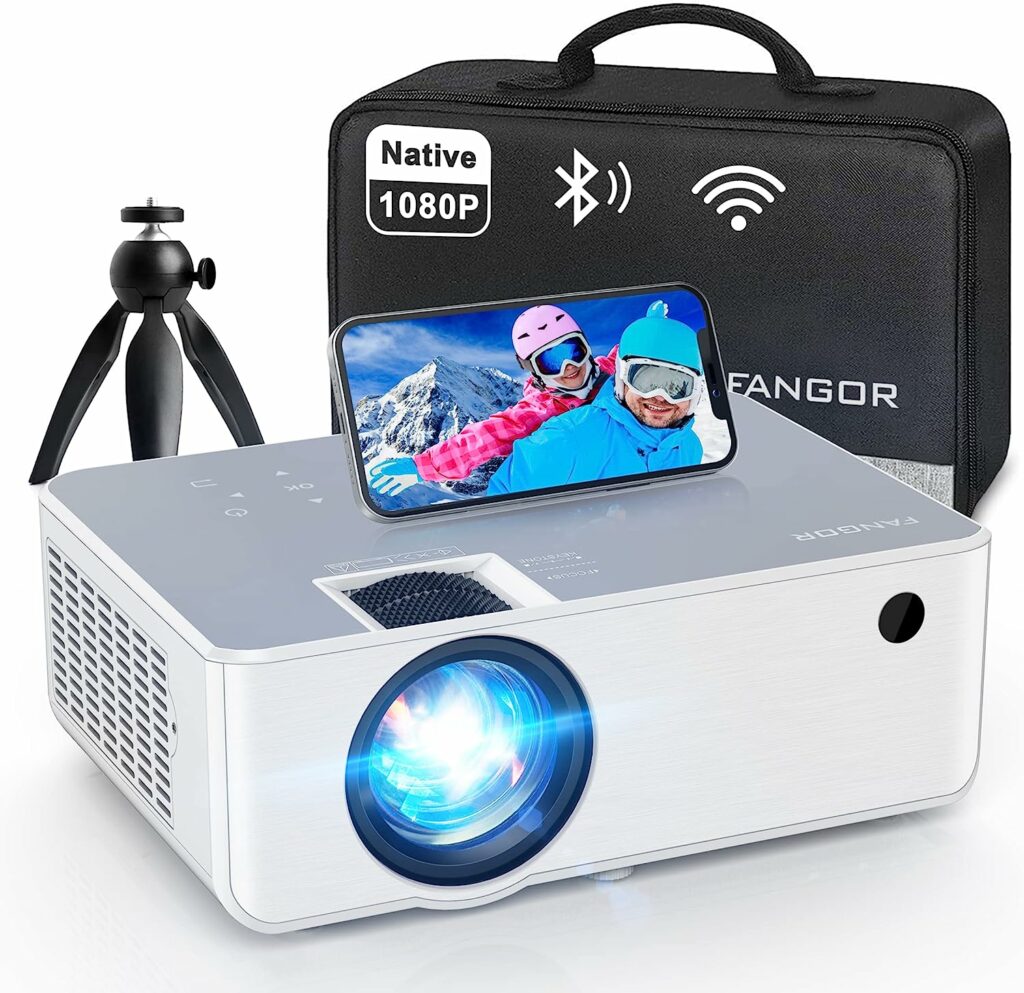 Reviews:
★★★★★
Projects well and has many adjustments. Multiple input and output capabilities. We have watched many movies with zero issues. Flips the screen as well for reverse protection. Excellent quality.
★★★★★
I absolutely love this projector. The picture quality is great! I used a 14ft inflatable screen in my backyard. Can't wait for the kids to watch movies!
★★★★★
Bought for my daughter's birthday over a year ago. This gets used a lot and left on quite a bit. No problems, clarity is very good for the price. She uses Roku, Netflix, Amazon Prime, and other streaming services with great quality
We have a plethora of articles with everything from Diy, Style Tips, Recipes, Renovation, Decor, and more. Check out HomebyGeneva.com