Home>> French Onion Soup
'Tis the season… For soup that is! Cozy up on a cold winter day with this hot bowl of French Onion soup. This recipe is brought to us by Taste of Home.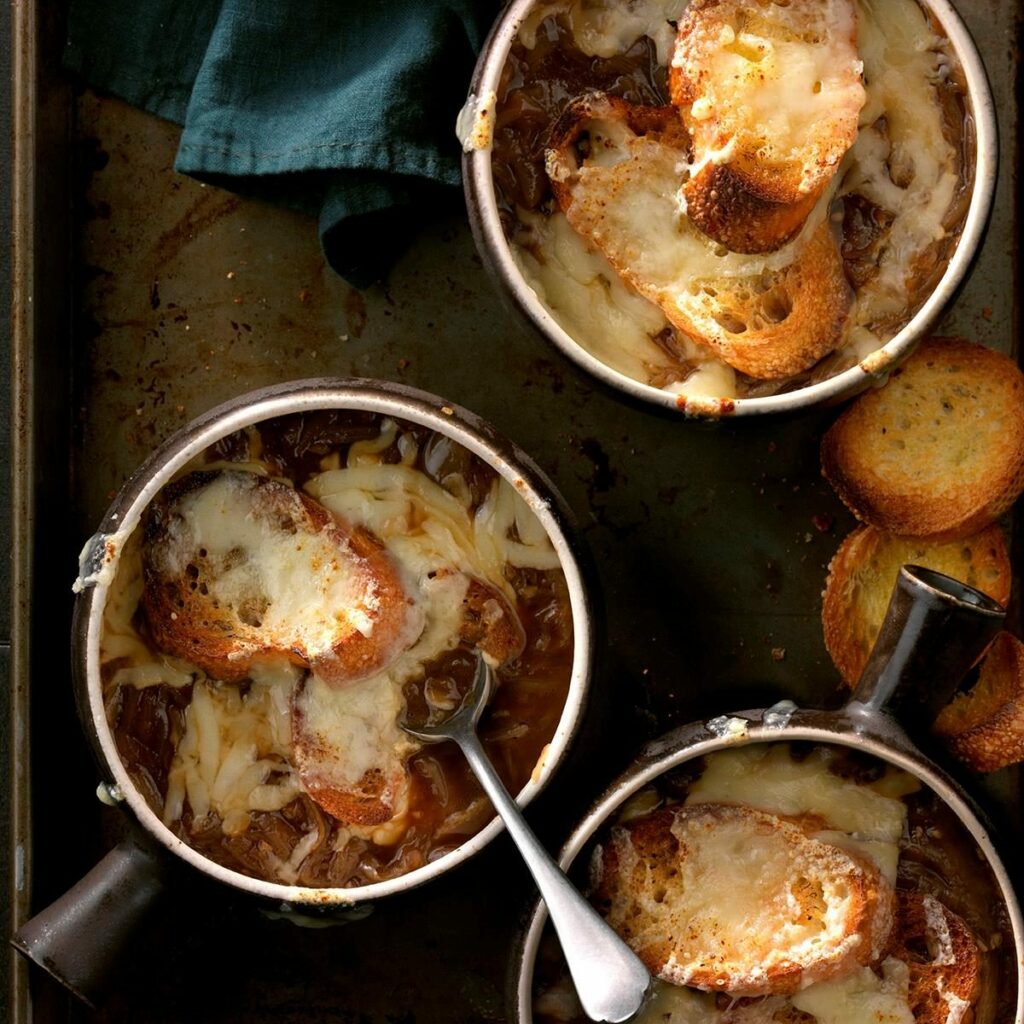 ---
INGREDIENTS
5 tablespoons olive oil, divided
1 tablespoon butter
8 cups thinly sliced onions (about 3 pounds)
3 garlic cloves, minced
1/2 cup port wine
2 cartons (32 ounces each) beef broth
1/2 teaspoon pepper
1/4 teaspoon salt
24 slices French bread baguette (1/2 inch thick)
2 large garlic cloves, peeled and halved
3/4 cup shredded Gruyere or Swiss cheese
INSTRUCTIONS
In a Dutch oven, heat 2 tablespoons oil and butter over medium heat. Add onions; cook and stir until softened, 10-13 minutes. Reduce heat to medium-low; cook, stirring occasionally, until deep golden brown, 30-40 minutes. Add minced garlic; cook 2 minutes longer.
Stir in wine. Bring to a boil; cook until liquid is reduced by half. Add broth, pepper and salt; return to a boil. Reduce heat. Simmer, covered, stirring occasionally, for 1 hour.
Meanwhile, preheat oven to 400°. Place baguette slices on a baking sheet; brush both sides with remaining 3 tablespoons oil. Bake until toasted, 3-5 minutes on each side. Rub toasts with halved garlic.
To serve, place twelve 8-oz. broiler-safe bowls or ramekins on baking sheets; place 2 toasts in each. Ladle with soup; top with cheese. Broil 4 in. from heat until cheese is melted.
Chef Notes:
Three-Cheese Onion Soup: Omit oil. Arrange bread slices on an ungreased baking sheet. Combine Gruyere and 3/4 cup shredded mozzarella cheese. Sprinkle over bread. Broil 4 in. from the heat for 1-2 minutes or until cheese is melted. Ladle soup into serving bowls; top each with two pieces of toast. Sprinkle with 1/2 cup Parmesan cheese.
Test Kitchen tips Common olive oil works better for cooking at high heat than virgin or extra virgin oil. These higher grades have an ideal flavor for cold foods, but they smoke at lower temperatures. Depending on your region, sweet onions may be available only during the warmer months of the year. You can use regular yellow onions in the soup recipe.