Home>> Homemade Pumpkin Chili
Once you're back from a long night of trick or treating and binging your favorite Halloween classics, the last thing you want to do is cook dinner. This easy to prepare pumpkin chili recipe from BudgetBytes can be made in less than an hour, and can stay warm in your slow cooker while everyone is out having a fun Halloween!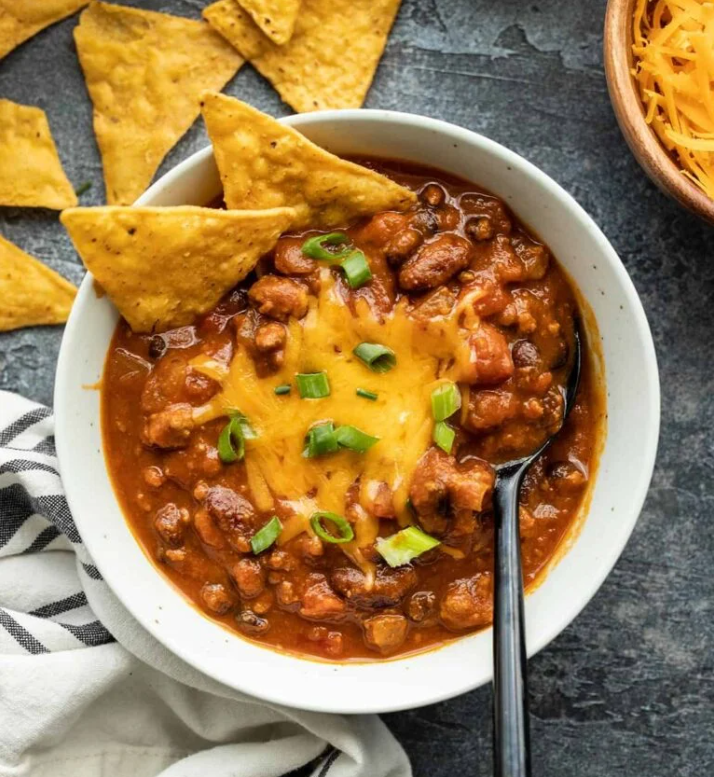 ---
INGREDIENTS
Chili
2 cloves gralic
1 yellow onion
2 Tbsp olive oil
1 lb. ground beef
1 15oz. can kidney beans, drained
1 15oz. can black beans, drained
1 15oz. can petite diced tomatoes
1 15oz. can pumpkin purée
1/2 6oz. can tomato paste (5Tbsp)
2 cups water
Chili Seasoning
1 Tbsp chili powder
1/2 tsp. smoked paprika
1 tsp ground cumin
1/4 tsp. garlic powder
1/2 tsp. onion powder
1/4 tsp. freshly cracked black pepper
1 tsp. salt
*You can use your own store-bought chili seasoning or your favorite mix of chili herbs and spices.
INSTRUCTIONS
Mince the garlic and dice the onion. Add the garlic, onion, and olive oil to a large pot. Sauté the onion and garlic over medium heat until the onions are tender (about 5 minutes).
Add the ground beef and continue to cook until the beef is browned and cooked through.
Add the kidney beans (drained), black beans (drained), diced tomatoes (with juices), puréed pumpkin, tomato paste, water, chili powder, smoked paprika, cumin, garlic powder, onion powder, pepper, and salt to the pot. Stir to combine.
Place a lid on top of the pot and allow the chili to come up to a simmer, stirring occasionally. Allow the chili to simmer for 30 minutes.
After simmering for 30 minutes, give the chili a taste and add salt if needed. Serve hot with your favorite toppings (sour cream, cheese, green onion, corn chips, etc.)