Home>> Vintage Lantern LED Light
Warm up your home with these vintage LED lantern lights from Amazon! These lanterns are a great way to decorate your home for the fall or set the mood for a scary movie night!
Features:
Dual-mode – This dancing flame lantern with normal lighting mode and flame mode, can be easily switched by the button or remote. It can be used as a flashlight or atmosphere light.
Infrared Remote Control – This decorative outdoor lantern with a remote, can be controlled via a remote or switch button. You can choose the flame mode or lighting mode as you like.
Convenient to Use – This portable flame vintage lantern with a hook, you can hang it on a tree or wall or put it on the table, ground when you are fishing, camping, or others. It is light and portable.
Wide Application – This outdoor hanging lantern can be used in the garden, room, tent, cafe, bar, hotel, nightclub, party, church, fishing, camping, Emergency, Halloween.
Retro Style – LED vintage rustic lantern, classical design, perfect package, It is a nice gift for people who like the nostalgic and classical style. Pack of 2 flame lanterns.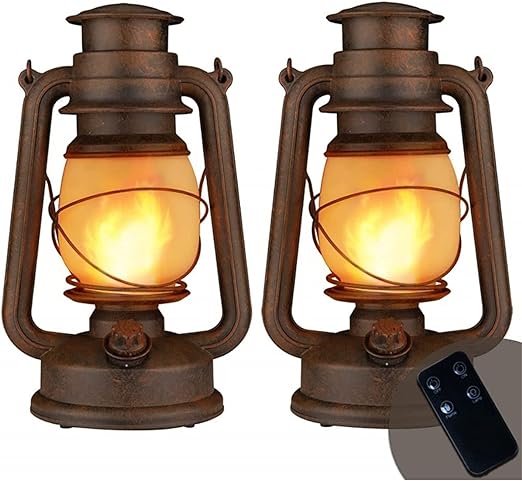 Reviews:
★★★★★
I have these in my Halloween decorations outside and they do look very good – especially when they are lit at night. I love the flame look and the brightness is good. Very nice for the money.
This was the best package product I have received, works as stated, great night lighting.
★★★★★
These are honestly amazing for the price. If you are hesitant I would say just do it you wont be disappointed!
We have a plethora of articles with everything from Diy, Style Tips, Recipes, Renovation, Decor, and more. Check out HomebyGeneva.com