Home>> Insulated Wicker Picnic Basket
Go outside and enjoy the wonderful Fall weather with this Insulated Wicker Picnic Basket! This basket is the perfect you'll need to spend quality time with your loved ones and enjoy a relaxing meal in the process.
Work on your Fall reset by catching some sun rays and go for a nice picnic outdoors!
Features:
Sturdy woven willow handmade with insulated cooler interior
Wicker picnic basket measures 15.8″ x 11.8″ x7″ with eye-catching suitcase style
Picnic set Includes high quality porcelain plates, wine glasses and stainless steel flatware, napkins, corkscrew, pepper and salt shaker, plus a waterproof blanket and wine bag.
This comes with a shoulder strap for perfect on the go capabilities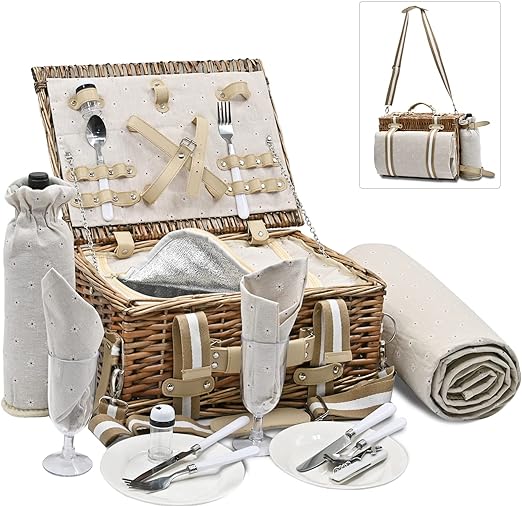 Reviews:
★★★★★
I searched for the perfect basket for us to take our wine and food to the beach and to the pool. We LOVE this basket!!! We use it very often. It keeps our wine and foods cold, it has all you need to take with you fastened down not to mention light to carry. I am getting one for my daughter and her fiancé now!!
★★★★★
I bought this for my son and his girlfriend for Christmas. They absolutely loved it! The quality is great and it looks very elegant. Perfect for anyone who enjoys picnics!
★★★★★
I like the insulation section inside the basket. The plates are small for snacks and there are only two. Perfect for an intimate lunch or the beach.
We have a plethora of articles with everything from Diy, Style Tips, Recipes, Renovation, Decor, and more. Check out HomebyGeneva.com