Home>> Merrick Lane Backless Stool
Modern form and function come together in this space-saving stackable stool featuring a backless, lightweight design and sturdy metal frame. Under-seat cross bracing with plastic caps adds extra stability and prevents scratching of the finish when stacked. Protective floor glides prevent damage to flooring. This all-weather use stool is great for indoor and outdoor settings but care should be taken to protect from long periods of wet weather.
Features:
Cross bracing with plastic caps for strength and durability holds up to 500 lbs.
Integrated floor glides for smooth movement.
Stacks 4-8 high for easy storage.
All weather materials (protect from long periods of wet weather).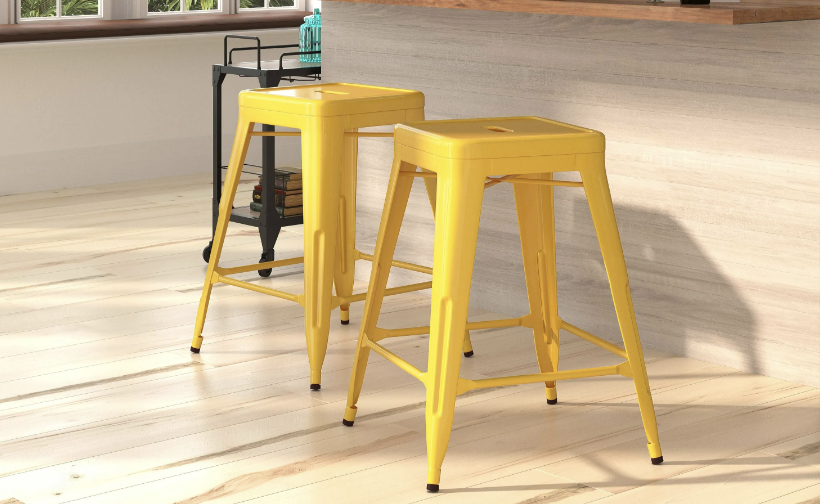 Reviews:
★★★★★
I love these stools. They come in many different colors. They are very well made and good quality. They are very sturdy and solid. You can use them indoors or outdoors. Very affordable and they don't take up much space. 
★★★★★
I have had barstools in the past that were wonky. I would put them together or buy them already together and they would be unbalanced. And no way to fix it. This came out of the box level. I attached the seat and had no issues. It feels strong and looks great. 
★★★★★
This bar stool is just too cool for school! The color is deep and rich and the finish is shiny and slick looking. It was easy to install the seat and just the right height for my grandkids to sit on and help with kitchen chores. Nice and sturdy as well.
We have a plethora of articles with everything from Diy, Style Tips, Recipes, Renovation, Decor, and more. Check out HomebyGeneva.com