Home>> Minetom Halloween Christmas Projector
If you're setting up for Halloween at the last minute, consider these awesome projector lights to wow trick-or-treaters and show off your holiday spirit! These projector lights make getting your house ready for the holidays quick and easy with minimal setup!
Features:
Unique Design: 2 motor drivers with 10 colors switchable and 16 patterns changeable, weather resistant, -31F°- 100F°operating temperature with 1 built-in ventilation fan, 13.1 Ft optimal projecting range and 2137 sq. Ft. max projecting coverage, adjustable safe degree from -75 to 90 and recommended 30 degree working angle, giving you a kind of freely operating experience.
RF Remote Control: The RF wireless remote control will conveniently turn on or off the projector light, it's not affected by direction. The color or pattern projecting respectively, create a fine and dynamic effect by setting the patterns flash and speed mode, the color mode of single or multicolor, and the color speed. Select 2H, 4H or 6H timer for automatic turning off when leaving it alone.
IP65 Waterproof & Easy to Install: The body of the light is designed with an IP65 waterproof rating makes this suitable for rain and snow weather. It is easy to install and use. The Christmas light projector is adjustable that can be inserted on the ground, fixed on the wall, ceiling, or placed on the ground with the base to meet the needs of different venues.
Proper Occasions: Great for festival, holiday and commercial ambient decorations, also a gift for family, relatives, friends, classmates or colleagues.
Kid's Love: This dynamic projector includes all kinds of colorful patterns, so attractive that the kids will enjoy it in their daily life.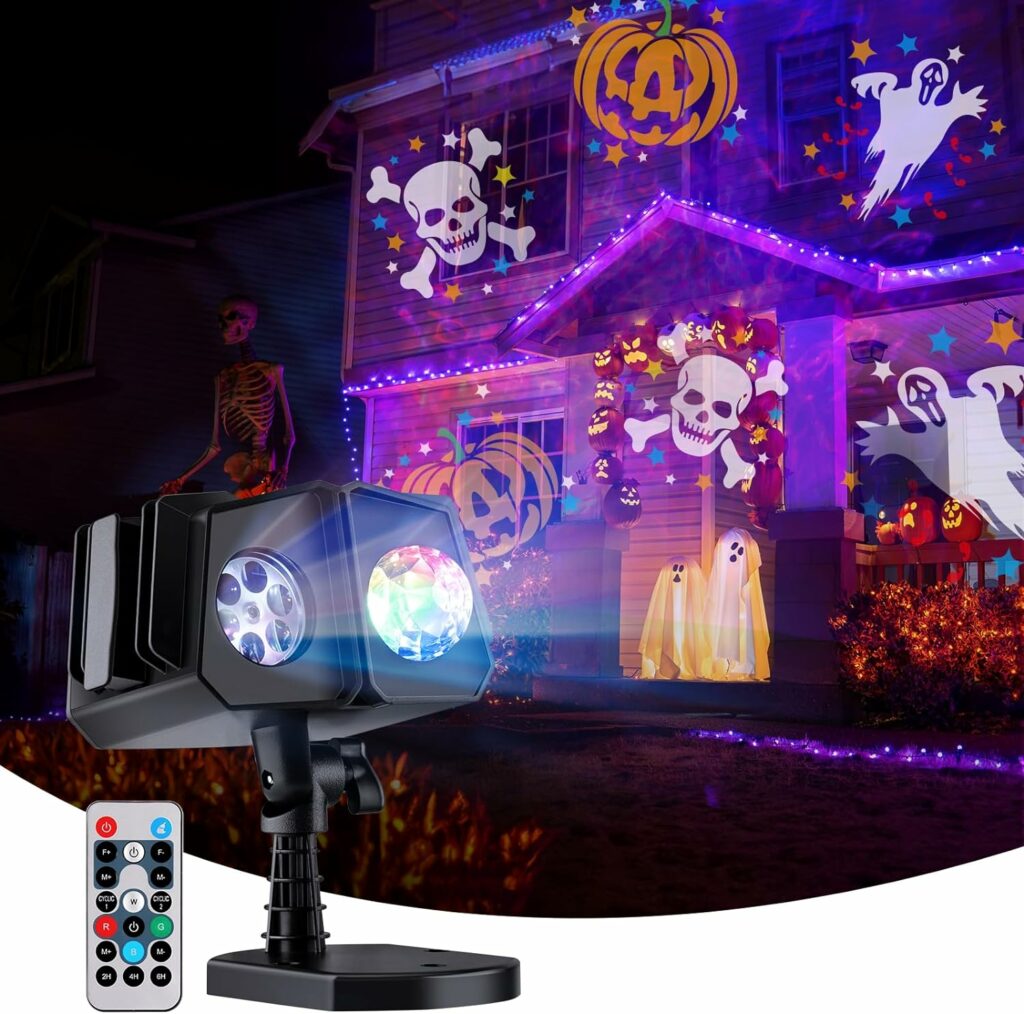 Reviews:
★★★★★
This unit came with many slide options for Halloween and Christmas. Even included a couple winter and Valentines slides. The projections were clear and sharp.
Bought this in early October. Projector has seen rain and snow and a month in, doing what it should! We just switched from Halloween to thanksgiving slide and point it at our garage from about 15 ft away. Picture is clear and the timer function has been great!
★★★★★
Fantastic waterproof projector. Easy to use. Came with slides for all the typical holidays, plus a couple of patriotic slides. Programmable run time that repeats automatically when nightfall comes. Very happy with this purchase.
We have a plethora of articles with everything from Diy, Style Tips, Recipes, Renovation, Decor, and more. Check out HomebyGeneva.com