Home>> Philly Cheesesteak Sliders
Time to prep for 4th of July! If you're looking for a main event for your next backyard get-together, these delicious and easy-to-make sliders are definitely a crowd-pleaser. Brought to us by the Latina Homemaker.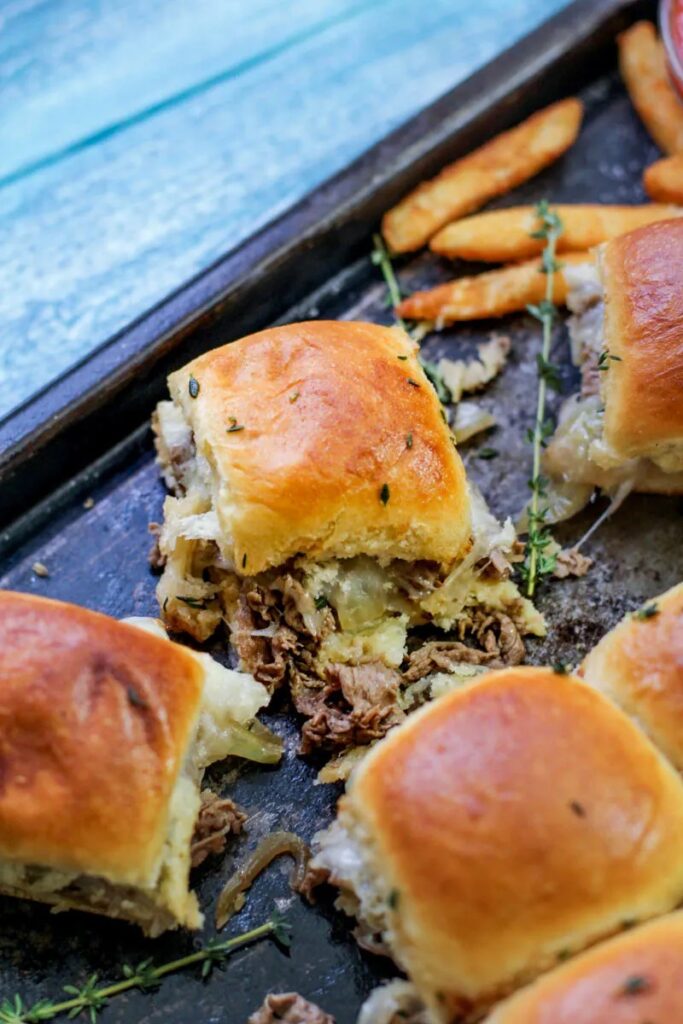 ---
INGREDIENTS
1 tablespoon of olive oil
1 large onion, thinly sliced
1 large green pepper, thinly sliced
1⁄2 pound of fresh shaved steak
1 tablespoon of Worcestershire sauce
1⁄2 teaspoon of ground garlic powder
salt and pepper to taste
1 – 12 pack of sweet bread buns
6 slices of provolone cheese
1 tablespoon of melted butter
1 teaspoon of dried thyme (not ground)
1⁄2 teaspoon of Worcestershire sauce
INSTRUCTIONS
Preheat oven to 400 degrees Fahrenheit.
In a large pan, heat oil and add in onions and green peppers. Cook over medium high heat, stirring occasionally until peppers and onions have softened.
Next, add shaved steak, Worcestershire sauce, garlic powder, and salt and pepper. Cook steak, breaking it apart with two forks to prevent steak from clumping. Cook until the steak is no longer red. Set pan to the side.
Slice sweet rolls in half horizontally, while keeping the 12 pack of buns intact. Place onto a baking sheet. Spread steak mixture over the bottom half of the buns, evenly. Top with cheese slices and the top half of the buns.
In a small bowl, mix together melted butter, dried thyme, and Worcestershire sauce together. Brush butter mixture generously over the top of the buns.
Place sliders in the oven and bake for 17-20 minutes or until the top of the buns are golden and the cheese has melted. Serve and enjoy!