Home>> Waterdrop Glass Water Bottle
Disposable bottles are out: the popular classic made of high-quality and robust borosilicate glass not only helps you Drink More Water on the go but also reduces your ecological footprint.  Available in 14, 20, or 34 oz.
Features:
→ Drinking bottle made of robust, odorless, and tasteless borosilicate glass
→ Capacity: 14, 20, or 34 oz
→ Heat and scratch-resistant
→ High quality, extra leak-proof cap made of bamboo
→ Easy to clean through extra-wide opening
→ Innovative soft square shape for easy handling
→ Maintenance: Glass Bottle is dishwasher safe. Hand wash bamboo cap.
→ Glass bottle incl. protective and insulating neoprene sleeve*
*The neoprene sleeve contains a small hole at the bottom, so you can slip your bottle in more easily – pure physics.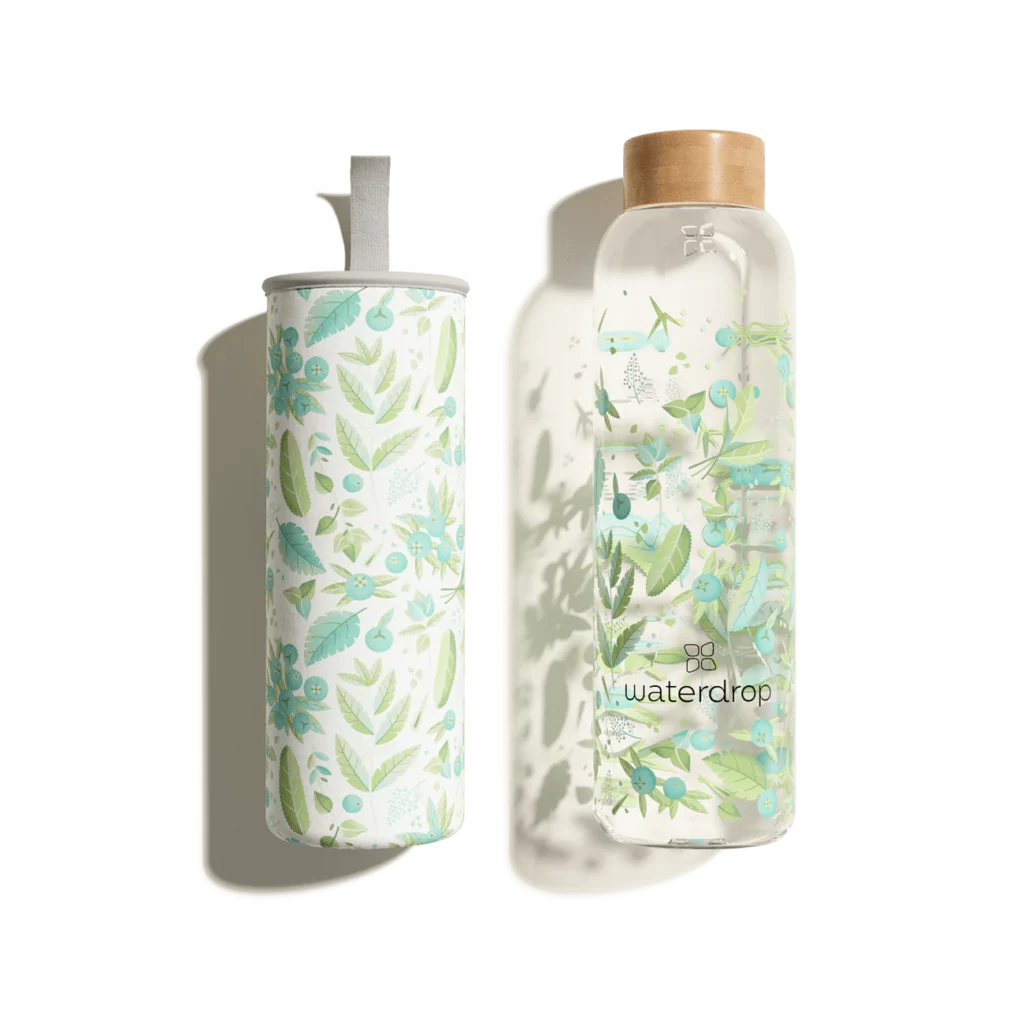 Reviews:
★★★★★
The starter set full package with 20oz glass is perfect assortment to give you a real sense of the essence of Waterdrop! And, 20oz is the perfect size for a good healthy guzzle of water. The flavors showcase exotic fruits and herbs in non-conventional flavor combinations, which are each uniquely satisfying. Subtly sweet with just the right hint of sweetness, certainly not cloying in any respect. I unconsciously find myself drinking more water than ever before, often drinking 3 full 20oz Waterdrops (and wanting to drink them!) in the same time it would usually take me to finish a single can of Polar seltzer. You'll notice GLOW (starfruit blend) is missing, which means it was my favorite flavor yet! I just placed my second order for a full-sized 5+1 assortment pack along with a new flavor that I'm really excited about (SKY – pineberry blend) as well as the microenergy sampler, and also bought a starter pack for my mom, who loved the mini Waterdrop cube assortment I put together for her and and sent her home with. Loving my Waterdrop! 
★★★★★
This glass bottle is beautiful and well-made. It is thick and sturdy, so it will likely survive a fall without breaking. That goes double if the included AND MATCHING sleeve is on the bottle. It's slim and tall so it doesn't take up a lot of storage space when not in use. You are definitely going to want to have a bottle washing brush though since the opening is too small even for a child's hand. Between the bottle and the sleeve, I have had no problem with my drink staying nice and cold for at least an hour. I can't say beyond that because the drinks are so good they don't last longer than that! The sleeve is also well made, with quality stitching. Also, as you can see in the picture, the whole thing is only a little taller and thicker than a 16 oz soda. The bamboo cap isn't necessary but it adds a much nicer look overall than a plastic cap would. I was skeptical of the price of it, but after receiving and using the product, it is well worth the money for the quality you get. I'm looking forward to getting more!
★★★★★
I saw an ad on Instagram for Waterdrop. I checked out the website and decided to buy one of the Starter Kits to try.
I love the fact that there are so many beautiful and colourful designs for the bottles. I chose the one I wanted and paid for my order. It arrived within a few days and I was so happy with what was in the box. I love the sleeve that comes with the glass bottle and have used that every time I've taken my bottle out of the house. And the taster tabs are absolutely gorgeous. I have now tried each of the flavours that arrived and have decided my favourite is Youth. I love the peachy notes in it. I tend to only use one of the tabs a day, and for the rest of the day I drink just plain water, or Chai tea. I have now ordered the double pack of Youth, along with a Limited Edition flavour too. This also arrived within a few days of ordering too.
I also downloaded the App and am half way through the 21 day challenge. I have to say I've definitely been more aware of the amount of fluids I'm now drinking and this can only be a good thing. I have spent the last two weeks raving about your product to a lot of my friends and, I believe, two of them will be purchasing their own starter kits soon.
Thank you for coming up with such a great idea!
We have a plethora of articles with everything from Diy, Style Tips, Recipes, Renovation, Decor, and more. Check out HomebyGeneva.com