Home>> YETI Hopper Flip® 12 Soft Cooler
The YETI Hopper Flip® 12 Soft Cooler has all the features you're looking for in a portable soft-sided cooler for a great day out with a friend. Perfect to pack up lunch and a few drinks whether you're headed to work, the beach, the glaciers, or anywhere else your adventure takes you.
Fits 24 cans (only)
Fits 16 lbs of ice (only)
EXTERNAL DIMENSIONS
(36.3W X 27.2D X 30.5H CM)
INTERNAL DIMENSIONS
11.4″W x 8.5″D x 9.5″H
(29.0W X 21.6D X 24.1H CM)
EMPTY WEIGHT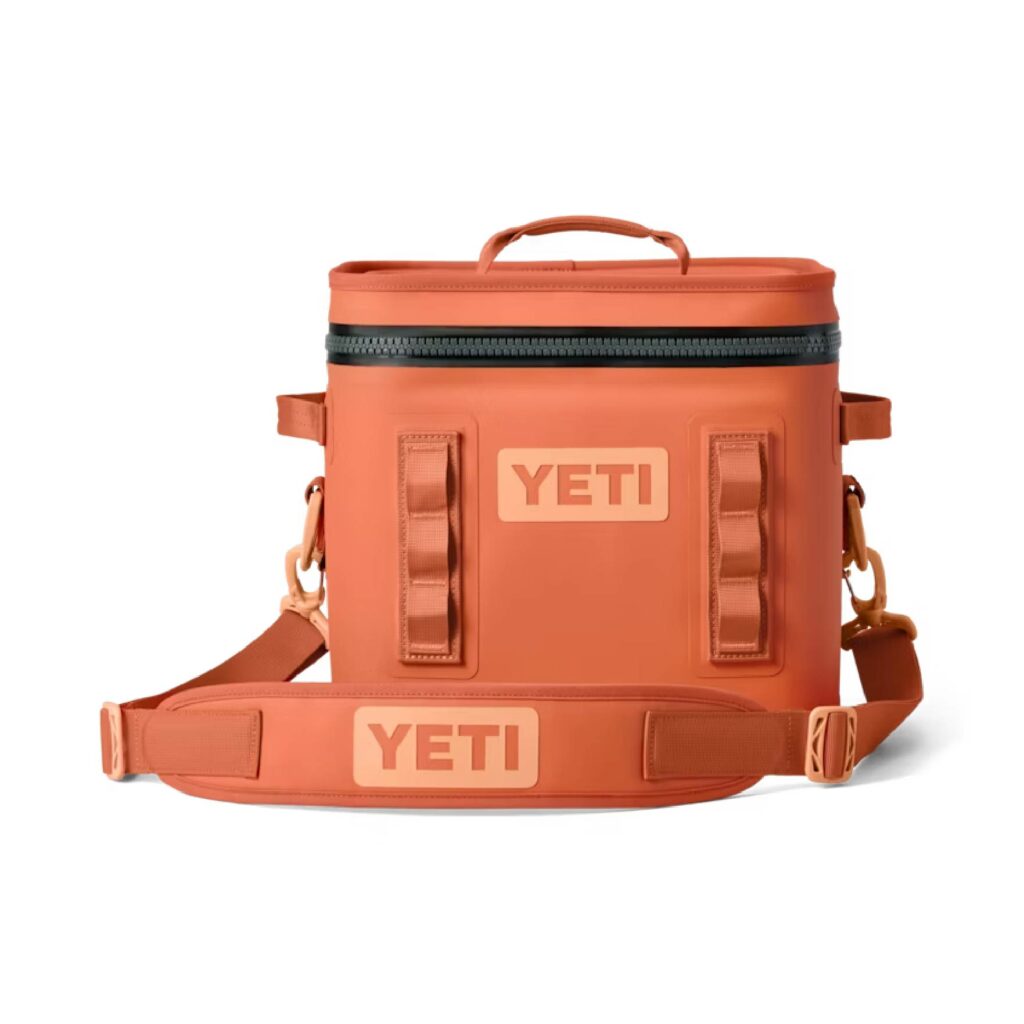 Reviews:
★★★★★
It is well constructed and has a fantastic design. The zipper is pretty stiff but I believe it's because it's water proof and needs a tight seal to prevent leakage. I bought two 2 lbs Yeti Ice inserts and they really keep everything pretty cold for 10 plus hours easily! I work Law Enforcement on patrol duties, I keep my Yeti Hopper Flip 12 seatbelted in the right front passenger seat all shift with the rest of my gear. It's a perfect size, big enough but not too oversized for my needs. I bought the charcoal black model, I soon realized that It may have been a bad idea because when it sits in direct sunlight in my patrol car, the outside surface heats up pretty hot on a sunny day. But I doesn't heat up inside with the awesome Yeti insulation technology along with the frozen Yeti Ice inserts inside. It was a great purchase, no regrets! Also if you're a first responder, use the ID.ME at check out to receive a 25% discount at Yeti.com. Trust me, it helps a lot. Thank you Yeti for taking care of first responders! Especially during this time of the COVID-19 pandemic going on, we work long shifts and with a lot of restaurants closed now, it's even more essential to pack our meals for our shifts out in the field.
★★★★★
I bought the Hopper 12 to use as a beer cooler and lunch box. I drink michelob ultra bottles and was worried if they would fit. But have no fear my fellow bottle drinkers, they fit extremely well!
★★★★★
Great product for when I go fly fishing . Offers better size and weight advantages. Because of the actual shape of the cooler if feels as if it will spin upside down do to where the strap points are located on the cooler . I have to hike a bit in the mountains for a good fishing hole and that's mainly when I feel this, so I attach the strap to the handles just above the d ring point to get majority of the weight under the attached points .When it comes to the hoppers , This is what I use for just me. Fits couple beers and a sandwich . My hopper twenty is plenty for two or three but is obviously bulkier but does seem to travel better other than its heavier weight . As for the accessories the Molle bottle opener goes great with it . As for the sidekick it's actually to big for the hopper 12 , the width is too big. Would love if they make a smaller one as I have grown used to the sidekick on my other hopper. Real test is time with these zippers the product otherwise will last until personal damage
We have a plethora of articles with everything from Diy, Style Tips, Recipes, Renovation, Decor, and more. Check out HomebyGeneva.com