Home>> DreamBox
The DreamBox is an all-in-one craft room in any room. With accessible organization, unbelievable storage, and a dedicated workspace, you'll craft three times as much as you do now and have way more fun doing it.
Finally, a workspace that is as serious about creativity as you are. Say goodbye to the winter blues with this incredible organization system.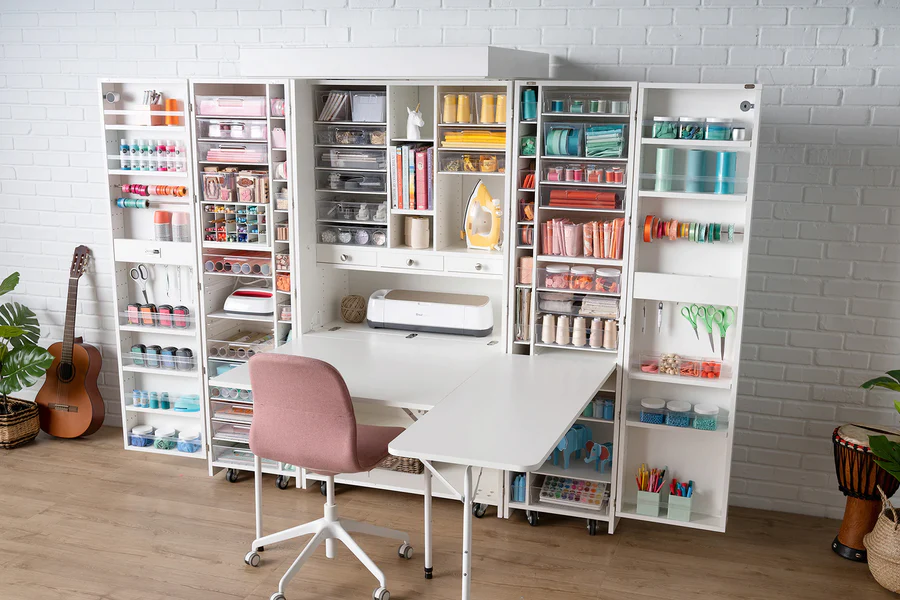 Details
Visible — Keep track of materials big and small with the InView™ Totes, clear jars, hooks, rods, and shelves. No more double buying!
Accessible — A new way to craft—with everything in reach from the comfort of your chair.
Spacious — Gather up your supplies from around the house. With over 85,000 cubic inches of total storage space, there is room for it all in the DreamBox.
Adjustable — Who says change isn't easy? Use the recommended shelving and tote layout or create your own. The DreamBox innovative Tote Track System allows you to adjust your setup anytime as needed.
Versatile — Enjoy three table height options: standing height (91.44 cm), drafting, and sitting height (73.66 cm).
Customizable — Upgrade your DreamBox with additional table space, LED lighting, or accessories designed specifically for your crafts.
Durable Exterior — It uses CARB (California Air Resource Board) approved wood with a melamine finish to prevent warping in humid weather and to ensure that the shelves fit perfectly.
Fold Away — Close up your DreamBox anytime to make room for more activities, or keep it open to show off all your treasures (we won't judge)
Reviews:
★★★★★
Love how the instructions were easy to follow and I now have everything organized in one place. Love it!!
★★★★★
I was so excited to receive my Dream Box after years of longing for one! My daughter, granddaughter, son and a neighbor helped get it into the house and put it together. I have so much more room to craft now than when I was trying to keep everything in rolling carts in my granddaughter's bedroom! I have the light plugged into a smart plug so I only have to open it up and ask Alexa to turn on the craft light. I am having so much fun!
★★★★★
I took my time building my DreamBox. I watched a few different videos to see the process and any hints, so I had no issues! It is a solid, well-designed cabinet with the best-written instructions and labeled parts I've ever seen (and I've put together a lot of RTA furniture over the years!!) This amazing unit has enabled me to finally organize all the boxes, bins, bags, etc of craft, sewing, floral & gift wrap supplies… so my guest room will be uncluttered and I can see everything I have in a glance once it's open. It's awesome!!! I haven't completely filled and labeled my totes yet, so I'll take more pictures when it's all set up. So glad I made the investment!!
We have a plethora of articles with everything from Diy, Style Tips, Recipes, Renovation, Decor, and more. Check out HomebyGeneva.com