Home>> Gneiss Spice Magnetic Jars and Organic Spices
Keep your spices at arms reach and revolutionize your cooking! These magnetic spice jars hold to your fridge, freeing up cabinet space. With spices in sight, you'll use them more often, dishing up fabulous flavorful food! The hexagonal shape fits together creating a spice-colored honeycomb pop of color. Organize your spices, save cabinet space, and avoid buying three jars of cumin. 
Standard Spice Kit Includes:
Glass hexagon magnetic jars for your fridge
Filled with organic spices
Air-tight lids to keep spices fresh
Silver lids hand-stamped with spice names
Strong magnets keep jars from sliding
Magnet cover separates magnets and spices
Includes optional clear spice label stickers
Small jars measure 1.75" wide by 2" tall; 1/4 cup volume. These jars are smaller than traditional spice containers. Smaller amounts of spice stay fresh. Refill with Gneiss or in bulk at your local natural foods store. Also available in larger jars. 
All spices are certified organic and ethically harvested:
basil
chili (flakes)
cinnamon (ground)
cumin (ground)
garlic
ginger
onion
oregano
paprika
rosemary
thyme
turmeric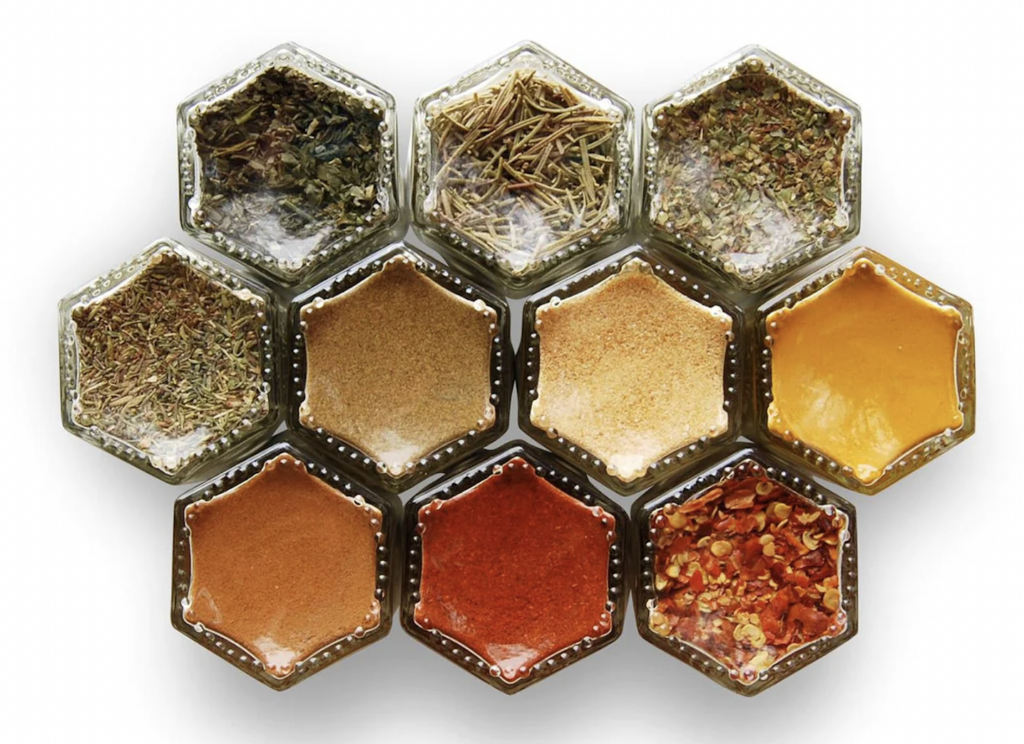 Reviews:
★★★★★
So pretty! The perfect wedding gift for a young couple starting out. The basic set has a great assortment of spices.
★★★★★
Perfect collection of spices for my small condo. These are the spices I commonly use most often. Absolutely adorable in the pretty little magnetic jars that I affixed to my refrigerator. Everyone who sees them loves it!
★★★★★
Love my gneiss spice! A great way to save space and reduce waste – love the glass and waste-free refills. Plus I like looking at the spices on my refrigerator instead of keeping them hidden in a cabinet – lovely pop of natural colors.
We have a plethora of articles with everything from Diy, Style Tips, Recipes, Renovation, Decor, and more. Check out HomebyGeneva.com