Home>> Hatch Restore Sunrise Alarm
This unique alarm clock can help you wake with more ease during the dark winter months. By gently waking you up with light instead of sound, the Restore Sunrise Alarm mimics a natural dawn, moving from red to orange to white before your chosen alarm sounds. This gradual exposure to light prompts your brain to release cortisol, the hormone that cues your body to wake naturally and gently.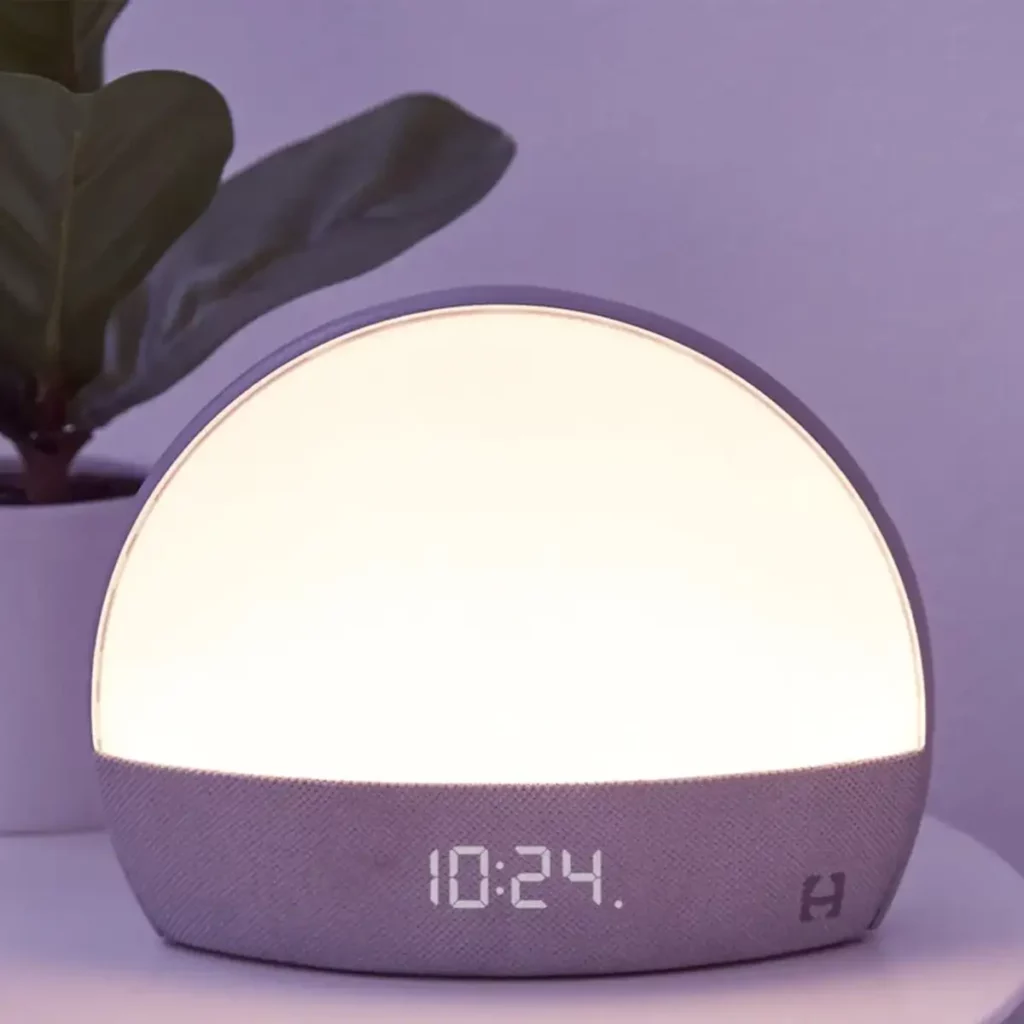 What's Included
Restore device – routines for a wind-down, sleep, and wake up to leave you feeling refreshed
Exclusive Channels-Curated sleep content like relaxing soundscapes, stories, and mind/body exercises
60-night money-back guarantee– If you don't love your Restore after 60 nights, we'll take it back.
Sunrise alarm-Wake gently with a sunrise alarm light that can double as a nighttime reading light
Soothing sleep sounds-Mask sounds and disruptions with music, white noise, and more
Reviews:
★★★★★
As a restless sleeper, I've tried nearly everything to create better night time habits for myself. The Hatch WORKS. I've since purchased 2 for close friends who would say the same. My favorite part is the Hatch allows your routine to be customizable — there is truly something for everyone. Love my Hatch 🙂
★★★★★
I initially bought the Hatch Restore for the noise machine because our upstairs neighbors just had a baby and I thought we were going to need it. The white noises are indeed very nice, but my favorite feature by far is the sunrise light! I live in the redwood forest which is beautiful but so very dark in the mornings, making it really difficult toRead more about review stating Sunrise lamp is a game changer!
wake up. With the sunrise lamp, I absolutely notice that it's easier to get up in the mornings
★★★★★
I moved to the east coast recently and was finding it impossible to get out of bed with my alarm in the mornings because it was so dark so late into the mornings. The hatch has worked perfectly, lighting the room and making it so much easier to get out of bed in the mornings.
★★★★★
Very comforting pathway to a good night's sleep. Covers up background noise and puts you in a restful state. Lighting options take some getting used to, but I think they are a cool complement to the audio.
We have a plethora of articles with everything from Diy, Style Tips, Recipes, Renovation, Decor, and more. Check out HomebyGeneva.com