Home>> Monos Carry-On Pro Plus
Meet the Carry-On Pro Plus, the larger and upgraded sibling of the award-winning Carry-On. Featuring a built-in front compartment for easy access to your travel essentials, the Carry-On Pro Plus is designed for seamless, functional travel. Fits a 15″ laptop and keeps it protected under the same aerospace-grade polycarbonate as the rest of the case. Designed to fit in the luggage sizers and overhead bins of major US airlines (but may need to be checked on smaller planes).
Outfitted with an unbreakable polycarbonate shell, ultra-sturdy telescopic handle, TSA-approved lock, whisper-quiet wheels, vegan leather details, and all-premium materials. When you're not traveling, the Carry-On Pro Plus suitcase nests inside any of Monos' Check-In sizes for easy storage.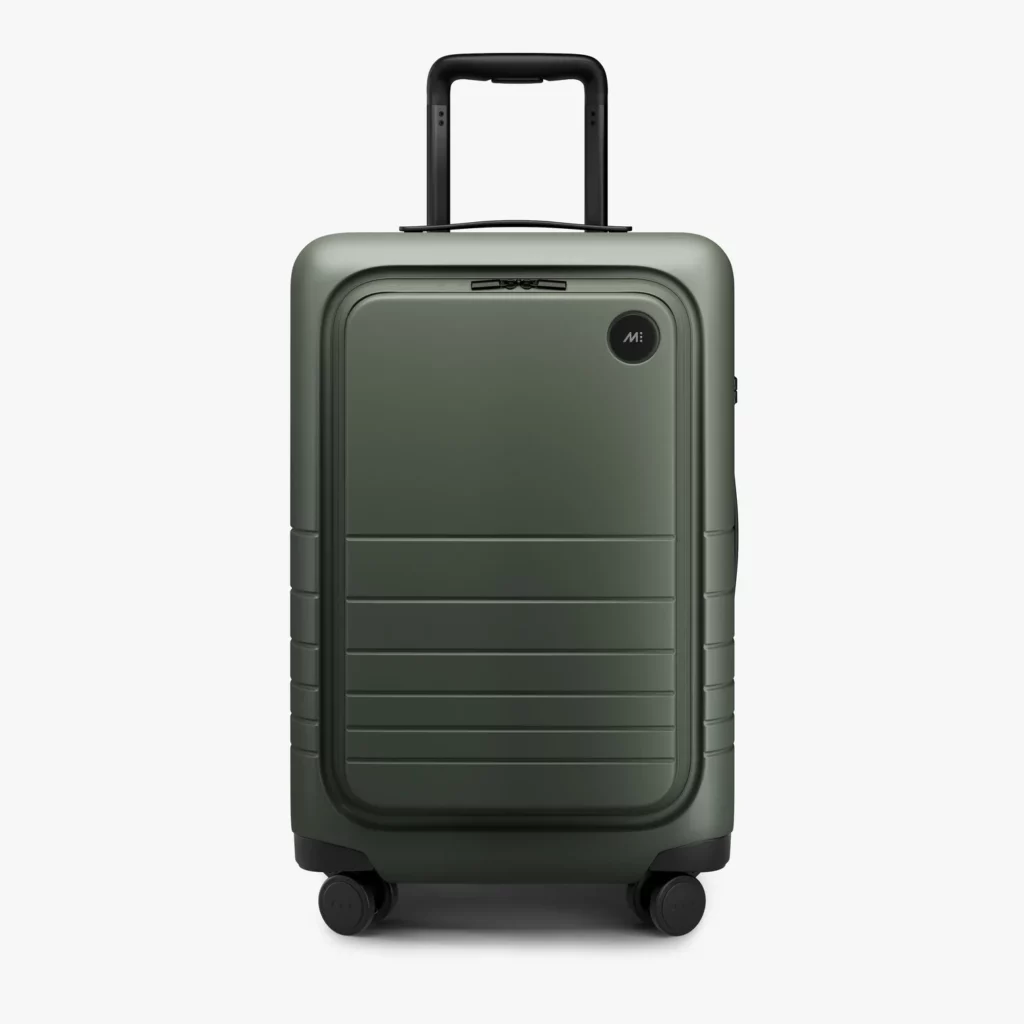 Details
Front pocket:
Aerospace-grade, water-resistant German polycarbonate hard shell
Lockable YKK reverse coil zipper
Three interior pockets can fit a 15″ laptop, tablet, or magazines
Three interior zippered pouches fit phones, batteries, cables, passports, sunglasses, or other small items
Suitcase:
Aerospace-grade, water-resistant German polycarbonate hard shell
High-performance 360° spinner wheels
Luxuriously soft 350D anti-microbial interior fabric
Adjustable telescopic handle with 4 height settings
Ultra-microfibre vegan leather details
TSA-approved combination lock
Color-coordinated YKK reverse coil zippers
Built-in compression pad
Reviews:
★★★★★
I absolutely love this brand! there is storage built into every component and it's beautiful. The wheels, zippers, and handle are top-notch and the entire build is durable and of better quality than any other carry-on I've ever had. It's super easy to change the lock and it's not heavy. I'm able to fit a lot with the compression pad and the front pocket could not be better. If you are putting something slightly bulky in the front pocket like a book I recommend using one of the others, it's a bit hard to put like a laptop and a book or big magazine in at once. but there's still so much storage in this front pocket. I really recommend this over the regular carry-on plus because it's really important to have access to things quickly. This is worth the purchase
★★★★★
I discovered Monos by looking up other suitcase companies and Monos stood out for looking minimal, retro, and practical. Once I received my Carry-On Pro Plus all of this was true and more! The packaging is meticulous with detail and eco-friendly. You are really given the complete package and money's worth with the name tag, shoe bag, dirty clothes bags, and magic eraser for the exterior. My suitcase in Terracotta looks great although it looks like in reviews that the standard Carry-On are less maroon and more orange colored. I took mine on a week-long trip with multiple flights and it held up perfectly and even got some compliments. Also, the wheels are extremely smooth, the extending handle with four positions was really handy, and the lock was very easy to set and use. I highly recommend the Carry-On Pro Plus!
★★★★★
I purchased the Carry-On Pro Plus and the Medium Check-in bag in Desert Taupe. The color is beautiful! I obviously haven't traveled yet, but I did pack my bags and took them for a spin around my home. I was surprised how much could fit in the carry-on plus, the compression pad is amazing. In the front pocket, I was able to fit both my 13in laptop and my Ipad. Besides having slim devices, no bulky items fit in the front pocket. Monos' customer service is also exceptional. I first thought I wanted the carry-on plus without the pocket and that's why I have luggage in the picture to compare the pro and non-pro. Bianca, their customer specialist help me process my return and I do not regret paying a bit more for the pocket. I'll have to update my review once I finally use my luggage.
★★★★★
It's the perfect size carry on but I really like that the front pocket allows me to store my electronics so I don't have to make my tote bag heavier than it already is by adding my laptop, wires, headphones, etc. The interior of the suitcase it soft but sturdy, and where most will skirt the inside design to make the outside perfect, that isn't the case with this one. The quality is overall really outstanding! I did a lot of research comparing Monos and Away, and I'm happy to say that the sturdiness, design, and quality of Monos is impeccable.
We have a plethora of articles with everything from Diy, Style Tips, Recipes, Renovation, Decor, and more. Check out HomebyGeneva.com